Pending free agents:
Top 10 2015 cap hits:
Notable coaching changes:
Draft:
No. 21 overall pick
No traded draft picks
Other:
Overview
For the fourth straight season, the Bengals, head coach Marvin Lewis, and quarterback Andy Dalton finished better than .500 and earned a postseason berth. And for the fourth straight season, Cincinnati was eliminated in the wild card round, this time via a 26-10 loss to Andrew Luck and the Colts. As such, it's hard to qualify the 2014 Bengals season as either a success or a failure — instead, Cincinnati seems to be stuck in some kind of middle ground, good enough to have a high floor, but flawed enough that they'll never reach a higher ceiling.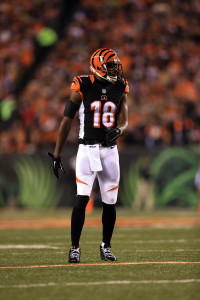 Under new coordinator Hue Jackson, the Bengals' offense never really took off — although the freshly-extended Dalton completed a career-high 64.2% of his passes, he still threw 17 interceptions against just 19 touchdowns, finishing as the 21st-best QB in the league per Pro Football Focus (subscription required). In his defense, Dalton didn't have many options to throw to, as Marvin Jones and Tyler Eifert combined to appear in one game, while A.J. Green, Jermaine Gresham, and Giovani Bernard missed significant time dealing with their own injuries. While rookie running back Jeremy Hill was a bright spot, rushing for more than 1,100 yards and nine touchdowns, the offense was below-average as a whole, finishing 21st in DVOA.
The more surprising regression occurred on defense, where the Paul Guenther-led unit fell from the No. 5 DVOA ranking in 2013 to 14th last season. Some of that fall could be attributed to the loss of former DC Mike Zimmer, who took the Vikings' head coaching job, but injuries also plagued the defense. Star linebacker Vontaze Burfict dealt with numerous ailments throughout the year, and ultimately played in just five games. Defensive tackle Geno Atkins, dominant until tearing his ACL in 2013, never looked fully healthy. The unit also failed to generate any sort of pass rush, finishing last in the league with just 20 sacks.
Key Free Agents
The Bengals' crop of pending free agents is primarily made up of role players, but there are three FAs who have been significant factors in recent years. Tight end Jermaine Gresham, a first-round selection in 2010, caught 62 passes for 460 yards and five touchdowns last year, but wasn't a great blocker in either the pass or the run game. Reports at the end of the season indicated that teammates were upset with Gresham's inability to play through pain, and while that might not factor into Cincinnati's thinking, it doesn't help his chances of being re-signed. He's never been a great fit for the Cincinnati offense, and given that Eifert will look to take on a larger role in 2015, Gresham probably won't return.
On the other hand, guard Clint Boling should be retained, as he's started 44 games during the past three seasons, becoming a key cog on an excellent offensive line. The 2011 fourth-round pick finished as PFF's No. 19 overall guard among 81 qualifiers, especially excelling in the run game. The Bengals tend to re-sign their own contributors who perform well, so Boling should be brought back on a multi-year pact, probably on a ~$4MM salary.
Linebacker Rey Maualuga is the third key free agent on the Bengals' to-do list this offseason. He's been consistently average during his career — nothing more, nothing less. But he's solid against the run, knows the scheme after starting 84 games during his career, and has the ability to fill in at middle linebacker if Burfict is out. The 28-year-old might be allowed to test the market, but if he doesn't find a deal in free agency, he'll likely be back in the Queen City on a one-year deal.
Terence Newman's role had been diminished by the end of the season, and the 36-year-old would probably have to accept a role as the No. 4 CB to return in 2015. Marshall Newhouse struggled mightily while filling in for Andre Smith at right tackle, so much so that veteran Eric Winston was brought near the end of the year — the latter could be retained, but the former won't be. Jason Campbell could be re-signed to compete with A.J. McCarron for the backup quarterback job, but receiver Brandon Tate will probably be let go as the Bengals search for a more dynamic return man.
Possible Cap Casualties
Two defensive line mainstays — Domata Peko and Robert Geathers — are overwhelmingly likely to be released in the coming weeks. The 30-year-old Peko started all 16 games in 2014 but was extremely ineffective, finishing as the second-worst defensive tackle in the league per PFF. Due to count $3.7MM against the cap next year, Peko won't leave any dead money on the Bengal's books when he's cut. Geathers, meanwhile, has become nothing more than a rotational lineman after spending 11 years in Cincinnati, and the team will save $3.05MM by cutting him.
Receiver Greg Little will also probably be cut, but his release will save the Bengals just $745K. Cincinnati has managed its cap well in recent years, so there aren't many veteran contracts that need to be dealt with to create financial space. Moreover, the club already has more than $34MM in projected cap space to work with, so cutting role players to save a few dollars wouldn't move the needle much.
Positions Of Need
The Bengals do have several positions where an infusion of talent via free agent additions could be helpful, but a disclaimer must be noted. Like the Packers in the NFC, Cincinnati simply doesn't spend on free agents, no matter how much cap space it has. In the late 2000s, the Bengals signed one major free agent per season: Antwan Odom in '08, Laveranues Coles in '09, and Antonio Bryant in '10. Each of those signees was a major bust, and the Bengals have retreated from the open market ever since. They added role players like Nate Clements (2011) and BenJarvus Green-Ellis (2012), signed no free agents until late April in 2013, and added only veteran depth in the form of Newhouse and Danieal Manning prior to 2014.
This could be the year for the Bengals to dip their toe into free agency, however — armed with the aforementioned $34.63MM of cap space, Cincinnati could take advantage of a free agent class that is well-stocked with players at its positions of need. First and foremost is pass-rusher, where the Bengals need a viable starter to line up opposite Carlos Dunlap. Greg Hardy could be the perfect fit for the club's 4-3 defense, and the Bengals have shown a willingness to deal with players with off-the-field issues in the past. The Panthers haven't shown any interest in retaining Hardy, and even though charges against him were recently dismissed, he could face a depressed market due to his baggage. Jason Pierre-Paul, Jerry Hughes, and Brandon Graham could also present options at defensive end, but each will likely require a long-term deal with a hefty guarantee. More likely, Cincinnati will go bargain-hunting, meaning players like Derrick Morgan, Adrian Clayborn, or even Dwight Freeney could be on the table.
Help along the interior defensive line could be just as key to generating a pass rush, and if Peko and Geathers both go, defensive tackle could another area to target in free agency. Cincinnati won't be players for the top DTs available like Ndamukong Suh, Terrance Knighton, or Nick Fairley. But someone like Henry Melton, who recently had his option declined by the Cowboys, could be a fit for the Bengals, as could Lions FA C.J. Mosley, who finished as the No. 26 DT per PFF after filling in for an injured Fairley.
Next up on Cincinnati's to-do list should be tight end, where Gresham will likely leave via free agency, and Eifert will be question mark heading into his third season. ESPN.com's Coley Harvey has pushed the idea of the Bengals signing Jordan Cameron, who would add a different dimension to Cincinnati's offense. I like the fit, but Cincy probably won't commit to a player with such injury history unless it's on a one-year deal. I think Charles Clay would make some sense for the Bengals, but he would offer production similar to what the team hopes they can get from Eifert. More likely, the Bengals will add a strong blocking TE to replace Gresham, so Virgil Green or Matt Spaeth could be options.
The Bengals could also look to make an addition at either wide receiver or offensive tackle. At receiver, the team is stocked with a lot of talent in Green, Jones, and Mohamed Sanu, but as was clear when injuries struck last season, there isn't much in the way of depth. None of the big-name pass-catcher make sense given that the club will likely be paying Green a large salary in due time, but reserves like Eddie Royal, Vincent Brown, or Leonard Hankerson could be intriguing adds. Along the front five, Harvey wrote yesterday that Winston will likely be back as the swing tackle, but if the Bengals want someone who can play the interior as well, a veteran such as Adam Snyder or Gabe Carimi could be in the cards.
I also expect the Bengals to make additions to shore up the linebacking corps, especially in the wake of Burfict's lost 2014. Maualuga could be re-signed, but I'd guess the rest of the LB reinforcements will come through the draft.
Extension Candidates/Contract Decisions
The single most pressing issue on the Bengals' table is the contract status of Green. Cincinnati exercised his fifth-year option for 2015, so the 26-year-old will play under a one-year, $10.176MM deal. As Paul Dehner Jr. of the Cincinnati Enquirer recently outlined, the Bengals could conceivably slap the franchise tag on Green in 2016 for a cost of ~$14MM, and then do so again in 2017 for approximately $16MM. Obviously, this isn't the ideal situation, as the cap hits would be high, and Green would presumably be disgruntled. A long-term extension that pays Green like a true No. 1 receiver ($12-14MM AAV) would be best for both sides, but Green's reps probably want to wait and see if Dez Bryant or Demaryius Thomas are able to reach free agency and break the bank, therefore setting a baseline for contract talks.
The Bengals have another crop of players under contract only through 2015, such as tackles Andrew Whitworth and Andre Smith and safeties George Iloka and Reggie Nelson. Whitworth will probably retire as a Bengal, so a deal to secure that future is in order, but I wouldn't be surprised if Cincinnati lets Smith walk. Both safeties should garner new contracts, but I'd expect Iloka, who was quietly the 12th-best safety in the league per PFF, to be the priority.
Cincinnati will also have to decide on a pair of fifth-year options, as 2012 first-rounders Kevin Zeitler and Dre Kirkpatrick near the end of their rookie deals. Zeitler is a no-brainer to be exercised, as he's been nothing but solid at right guard; he's another candidate for a long-term extension. Kirkpatrick is more complicated — he played well late last season, but contributed next to nothing during his first two years in the league. The Bengals would love to have another season by which to gauge the 25-year-old corner, but as they don't have that luxury, I'd guess they pick up his option and hope for the best.
Overall Outlook
To say the least, 2015 is an absolutely crucial season for the Bengals. If the club fails to win playoff game (or misses the postseason altogether), I'd expect owner Mike Brown & Co. to take a serious look at "blowing things up." Lewis likely won't stick around if the team loses in the first round once again, and even Dalton's future would be uncertain, as 2016 marks the first year in which Cincinnati could release its quarterback and save money against the cap. For now, the Bengals need to lock up its star pass-catcher in Green, and look into long-term deals with the rest of its young core. As I noted, Cincinnati never plays the free agency game, but with so much on the line, it's fair to wonder if this is the offseason where the Bengals spend some money on the open market.
Information from Over The Cap was used in the creation of this post. Photo courtesy of USA Today Sports Images.
Follow @PFRumors