Pending free agents:
Top 10 2015 cap hits:
Notable coaching changes:
Draft:
No. 23 overall pick
No traded picks
Other:
Overview:
With 23 free agents and only $18.44MM worth of cap space, the Lions will have to make some tough choices in the coming months. Much of the attention, if not all of the attention, has been centered on Ndamukong Suh, and for good reason. Not only is Suh one of the most feared defensive linemen in the NFL, but he is the giant domino that will determine how the rest of the offseason goes. The Lions badly want to keep him, of course, but they also know that their "big three" of Suh, Matthew Stafford, and Calvin Johnson is eating up a tremendous portion of their cap room.
Key Free Agents:
Of course, this list starts with none other than Suh. The Lions are working hard on a new contract for the dominant defensive tackle, and GM Martin Mayhew remains confident that the two sides will work something out. It's always good to have confidence, but those of us on the outside aren't sure how things are going to work out. Suh's camp has been vocal about their desire for the biggest contract possible and his team let the world know last season that he wouldn't mind joining up with the Giants or Jets, where he could maximize his marketability. Suh might also look towards the Seahawks and West Coast teams, as he is a Pacific Northwest native.
The Lions have the franchise tag at their disposal, of course, but that would set them back $26.9MM, even higher than last season's $22MM salary. As much as they want to keep the former No. 2 overall pick, the near-$27MM figure would represent more than 19% of the Lions' overall salary cap if they exercise this option. On top of that, the Lions will also be saddled with the $9MM+ in dead money from his rookie contract that will count against the cap. The question isn't whether the Lions want Suh back — it's whether they can get anything of substance done in free agency if they pay him mega-bucks, either via the franchise tag or through a long-term pact. Back in December, PFR's Luke Adams explored the Lions' different options, including allowing him to walk.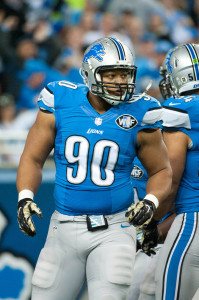 Of course, Suh isn't the Lions' only important free agent defensive tackle. Nick Fairley is also scheduled to hit the open market and keeping both players could prove to be challenging. After posting a top-20 season for defensive tackles, per PFF (subscription required), Fairley figures to draw a lot of interest. It also helps that he was found not guilty on a DUI charge, which would have guaranteed a suspension for the first two games of the 2015 season (that could still happen, but the chances have been reduced dramatically). In theory, Fairley could be a franchise candidate if the tag is not used on Suh, but it's hard to see the Lions wanting to pay him a top salary just a year after turning down his fifth-year option, valued at just $5.5MM. At the time, Detroit didn't know that Fairley would go from being an inconsistent talent to one of the better DTs in the league. In 2014, Fairley was playing at perhaps his highest level yet before a sprained MCL and PCL in Week 8 ended his season. Despite his limited amounted of snaps (297), he still placed as the league's 18th-best DT per PFF and his absence on the Detroit defense was very noticeable. Our own Dallas Robinson took a detailed look at Fairley earlier this month.
Defensive end George Johnson tried to make the case that he should be classified as an unrestricted free agent this offseason, but his battle fell short when the NFLPA eventually saw things Detroit's way. Now a restricted free agent, it seems more likely that he'll wind up staying put in Detroit. The 27-year-old carved out a role for himself as the preferred bookend off of the bench in 2014 and he should continue that role next season.
Beyond Suh and Fairley, another defensive tackle will be eligible to hit the open market in C.J. Mosley. Mosley isn't as high of a priority as the other two, of course, but he did do a respectable job filling in for Fairley last season while he was sidelined.
Earlier this month, Mayhew said that he hopes to bring back cornerback Rashean Mathis for the 2015 season, citing the veteran's versatility as a major positive. Mathis earned the minimum salary last season so it'll be interesting to see if Detroit will go well beyond that to retain him, if necessary.
The Lions had a revolving door at the left guard position for years before Rob Sims came aboard in 2010 and started 80 straight games. Despite that durability, Sims has been banged up over the last couple of years and his production has declined as a result. Sims did rebound from a slow start in 2014, however, as he earned a positive grade from Pro Football Focus in every game from Week 11 onward. The Lions already informed long-time center Dominic Raiola they don't plan on bringing him back in 2015, so it remains to be seem if Sims will be asked back. For what it's worth, Sims wants to stay in Detroit.
Kickers aren't often featured in the "Key Free Agents" section of our Offseason Outlooks, but the Lions learned the hard way how important a kicker can be this season. After running through two shaky legs in Nate Freese and Alex Henery, the Lions added Matt Prater mid-season and while he wasn't flawless, he did hold down the position. Prater has been one of the most dominant kickers in the league over the last few years and figures to draw serious interest from any team with a vacancy there. He expressed a desire to stay with the Lions and the club met with his reps in Indianapolis earlier this month.
While they're not marquee names, Mayhew recently mentioned quarterback Dan Orlovsky and long snapper Don Muhlbach as two under-the-radar potential free agents that the team was optimistic about re-signing, and he has since locked up Muhlbach — Orlovsky could be next. Speaking of Matthew Stafford's understudies, Kellen Moore won't be offered an RFA tender but Detroit would be interested in bringing him back.
Positions Of Need:

With Suh and Fairley potentially hitting the open market, the Lions could have a major need at defensive tackle. No, you won't find another Suh on the open market, but this year's crop features names like Terrance Knighton, Henry Melton, and Jared Odrick. Besides Suh, you won't find a more proven free agent DT on the right side of 30 than the run-stuffing Knighton. The Broncos standout has ranked as the 12th- and ninth-best defensive tackle the past two years, per Pro Football Focus (subscription required). Melton is also an interesting name and he was playing some solid football for the Cowboys in 2014 before he was placed on IR. In the draft, the Lions could take a hard look at guys like Florida State's Eddie Goldman, Ohio State's Michael Bennett, and Texas' Malcom Brown.
The Lions will be in the market for a running back after parting ways with Reggie Bush, who will celebrate his 30th birthday in the coming days. Detroit has Joique Bell on its roster, but the team probably isn't looking to put a giant workload on his shoulders for 16 games. In theory, the Lions could take a tailback at No. 23 and go for the likes of Melvin Gordon or Todd Gurley. However, I'd expect them to instead target a back in the later rounds. The Lions already have Theo Riddick in-house to help split the workload with Bell, and George Winn also figures to see some carries. The Lions shed a big name in Bush, but they don't need a star to take his spot on the roster.
The Lions might have some work to do on their offensive line this offseason. If the aforementioned Sims is not retained, Detroit will be in the market for a left guard. Meanwhile, they have a starting right tackle under contract in LaAdrian Waddle, but it'd be hard to count on him staying healthy given his track record over the last couple of seasons. The Lions could roll with Waddle and plug in backup Cornelius Lucas (who made three starts in 2014) as needed, but they would probably prefer to give Stafford more peace of mind when in the pocket. The Lions won't bring Raiola back next season, but understudy Travis Swanson is ready to move into the starting center role for 2015.
Possible Cap Casualties:
2014, of course, was a year to forget for linebacker Stephen Tulloch. The linebacker's season ended after just three games when he tore his ACL while celebrating a sack. While he was out, Tahir Whitehead filled in capably, and that leaves the Lions with an interesting choice this offseason. Detroit could continue to roll with Whitehead at middle linebacker and carve out some space by parting ways with Tulloch. The 30-year-old is slated to count $5.8MM against the cap next season. Whitehead, meanwhile, costs just $713K.
If George Johnson is retained, the Lions could gain a bit more breathing room by dropping Jason Jones. Jones is slated to count for $3.98MM against the cap in 2015, but the Lions could save $3.15MM by showing him the door. Beyond Johnson, the Lions have more options at bookend in Darryl Tapp (free agent), Devin Taylor, and Larry Webster.
Extension Candidates/Contract Issues:
Would Calvin Johnson re-work his deal to help re-sign Suh? Bell certainly hopes he'll be open to it. "We'll have to talk to Calvin, see if he can do something," Bell said in early February. "We just need him back. Come back, Suh." Recently, Megatron said that he'll do whatever he has to do to keep the All-Pro defensive tackle in Detroit, as Dave Birkett of the Detroit Free Press writes. At present, Johnson is scheduled to count for $20.5MM against the cap in 2015. He has re-worked his contract for the Lions in the past, having restructured his deal in 2013 to free up $3.5MM of cap space.
While there's uncertainty about a couple of spots on the Lions' offensive line, there's no concern when it comes to left tackle, where Riley Reiff is entrenched. At last check, Detroit is undecided about the fifth-year option for offensive tackle but it's possible the club will look into an extension to keep him beyond that point. Linebacker DeAndre Levy has been a good value on his rookie contract but he'll be a free agent after he earns $3.5MM in 2015. It wouldn't be surprising to see the Lions lock their starting weakside linebacker up long before another team gets the chance to steal him away. Levy graded out as the third-best outside linebacker in a 4-3 scheme according to the advanced metrics at PFF.
Overall Outlook:

Any way you slice it, retaining Suh will cost the Lions a whole lot of flexibility. However, the Lions have fewer holes than most of the league's contending teams and they might just bite the bullet at the cost of playing a little thin in some areas.
Information from Over The Cap was used in the creation of this post. Photo courtesy of USA Today Sports Images.
Follow @PFRumors