Pending free agents:
Top 10 2015 cap hits:
Notable coaching changes:
Hired 2014 Raiders head coach Dennis Allen as senior defensive assistant.
Draft:
No. 13 overall pick
No traded picks
Other:
Overview
The PFR staff didn't agree on much when we submitted our predictions for the 2014 season. However, we were all on the same page when it came to the Saints. Every writer – including yours truly – predicted that New Orleans would win the NFC South. More than one writer saw the Saints playing in February and, why not? On paper, there was no reason to think that they couldn't be one of the league's elite once again. Of course, when the Saints finished with a 7-9 mark, we all wound up with a red X, though that record was nearly good enough to take the crown in what proved to be an awful year for the division.
In short, the Saints have some work to do this offseason to get back on top, but not a whole lot of cap room to work with.
Positions Of Need
The Saints' top need is probably at the cornerback position and they're widely expected to address that in free agency rather than in the draft. When the Saints' duo of Keenan Lewis and Jabari Greer patrolled the field in 2013, New Orleans had themselves a solid pairing that gave the team above-average production, as the metrics at Pro Football Focus (subscription required) show. However, Greer suffered a devastating career-ending injury midway through the season and that unit really hasn't been the same since. This offseason, the Saints are probably looking for something more substantial than a band-aid fix.
Luckily, there should be no shortage of quality options on the open market. At the top of the list, the Saints could find guys like Byron Maxwell, Kareem Jackson, and Brandon Flowers. Veteran Antonio Cromartie will also be there, though teams might be wary of his age and a possible regression towards the kind of play he exhibited during the end of his tenure with the Jets. If the Saints do look to the draft for a CB, guys like Michigan State cornerback Trae Waynes, Washington corner Marcus Peters, or LSU's Jalen Collins could be options, though all have their own drawbacks, including Peters' off-the-field incidents. Recently, Saints defensive back Corey White, who was seeing time at safety to close out the 2014 season, made it known that he'll be moving back to cornerback. However, I would expect that he'll be no higher than the No. 3 option on the depth chart.
The Saints will also look to make upgrades at both outside linebacker and probably inside linebacker. PFF rated Curtis Lofton as one of the very worst starting linebackers in the NFL last season and, frankly, you probably didn't need advanced metrics to tell you that. And, on the outside, the Saints need a worthy partner for Junior Galette, who might not even be on the field to start the season thanks to his January incident. With a desperate need for an athletic edge rusher, the OLB need will probably take priority even over the inside. Florida's Dante Fowler Jr. has been widely connected to the Saints at No. 13 and he could be a fit as both a defensive end and outside linebacker. Clemson's Vic Beasley is another intriguing possibility and one that could potentially fit at both positions, even if some believe he projects more as a defensive end. Meanwhile, reserve Parys Haralson will be back in the fold for the Saints after agreeing to a one-year deal.
Khiry Robinson is promising but the Saints will be in the market for a tailback if Mark Ingram goes elsewhere. New Orleans could also shop for a center if they don't feel that Tim Lelito is ready for primetime.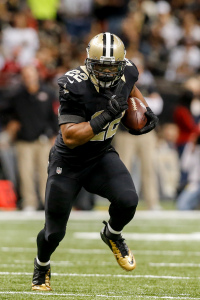 Key Free Agents
The Saints are still interested in reaching a deal with Ingram, but GM Mickey Loomis stressed on Wednesday that their ability to keep him will be "intertwined" with the team's salary cap situation and Ingram's market value. "In free agency, everyone wants to see what the market is," Loomis said. "The question is, can that get done prior to March 10? Can both sides get a good feel for that beforehand and do a deal, or do we need to wait and see where all the offers are and respond accordingly?" With limited cap room and multiple teams that could be in the market for a running back, his return is anything but certain. Meanwhile, fellow tailback Travaris Cadet is headed towards restricted free agency.
While the Saints secondary as a whole was disappointing in 2014, especially with the injuries suffered by Jairus Byrd and Kenny Vaccaro, Jamarca Sanford was something of a bright spot when he joined the team later in the season. We're not expecting an overhaul at either strong safety or free safety, but the team probably wants Sanford back as a safety net in case of another letdown.
After taking care of Haralson and kicker Shayne Graham, the Saints don't have a whole lot of other high-priority free agents. The aforementioned Goodwin will be eligible for free agency, but they'll probably part ways after a season in which the veteran ranked No. 27 out of 41 qualified centers, per PFF.
Possible Cap Casualties
Marques Colston has been a mainstay on the Saints roster for years, but he has regressed sharply and he has the salary of a top-20 receiver. Releasing Colston would give the Saints $4.3MM in cap room, but it might make more sense to keep him, possibly with a reworked contract. The Saints love to spread the ball around to different receivers from week to week, but Colston is the one who sees more looks that any of them on the whole.
After an atrocious 2014, Lofton's time in New Orleans could be through, though there isn't an in-house answer to replace him. Guard Jahri Evans has an $11MM cap charge for 2015 and the Saints could save $6MM by dropping him. However, it's worth noting that Evans played the second half of the season with a partially torn triangular fibrocartilage complex in his wrist, so the team might have higher hopes for him once he's healthy. Cutting nose tackle Brodrick Bunkley, who finished the year on IR, would save the team nearly $2.9MM. Tailback Pierre Thomas could also go, but I think his future will depend largely on what happens with Ingram and Cadet this offseason.
Extension Candidates/Contract Issues
With their backs against the wall, the Saints can be expected to try and restructure deals with multiple players. Currently hamstrung with being more than $23MM over the cap, the Saints can play around with the contracts of Jimmy Graham, Byrd, Galette, and Lofton to take care of that overage.
Drew Brees has a cap charge of $26.4MM in 2015 and $27.4MM in 2016, but converting salary to a bonus next season would only cripple the club's cap in future seasons. Some have suggested that Brees could (or should) effectively take a pay cut like Tom Brady did with the Patriots, but Brees has been outspoken on players' rights and the Saints would probably be barking up the tree if they went that route.
An extension for Brees, tacking a couple extra years onto a contract that currently runs through the 2016 season, could be a win-win for the player and the team, reducing his short-term cap hit while ensuring that he has the sort of deal that would allow him to finish his career in New Orleans. Extending Cameron Jordan may also allow the club to clear some 2015 cap room, as he's currently on the books for nearly $7MM. Jordan recorded just 7.5 sacks last year after racking up 12.5 in 2013, and his pass-rushing production dropped off across the board, according to Pro Football Focus (subscription required). But he's still capable of getting to the quarterback and more than held his own against the run — it'd be a little surprising if the Saints don't want to keep him around beyond 2015.
Overall Outlook
The Saints don't have a ton of breathing room this offseason and they're not going to make a giant splash in free agency like they did last year with Byrd. Still, they'll be able to improve with their top-half draft picks and if they make a few sacrifices, they can carve out enough space to get the cornerback they need. New Orleans could expand its cap room even further by effectively living for today and borrowing against their future, but that wouldn't be the wise long-term play for this team.
Information from Over The Cap was used in the creation of this post. Photo courtesy of USA Today Sports Images.
Follow @PFRumors