Pending free agents:
Top 10 2015 cap hits:
Notable coaching changes:
Draft:
Other:
Overview
After a 4-12 season and their fourth straight year without a playoff appearance, the Jets decided to overhaul their coaching staff and front office. Now, they're poised to make some significant changes to their on-field personnel.
Last offseason, cap-conscious GM John Idzik left upwards of $20MM in cap space unused as he plotted for a future that he would not be a part of. The offseason was not without its splashes, of course. The Jets added Broncos star Eric Decker on a multi-year deal, signed Michael Vick to compete with Geno Smith at quarterback, and landed running back Chris Johnson after he fell into their laps late in the offseason. The injection of star power helped them continue to dominate the back pages of New York tabloids, but it did little to help improve their on-field product.
Outside of the Jets' defensive line, it's hard to isolate one unit that really succeeded in 2014, but the secondary was especially brutal. Dimitri Patterson was brought aboard in the offseason to serve as one of the team's starting cornerbacks, but he allegedly went AWOL during training camp and was ultimately released. Of course, having Patterson in the fold probably wouldn't have moved the needle much anyway. On the other hand, someone like Dominique Rodgers-Cromartie could have been a difference maker, but he signed with the other tenants of MetLife Stadium after the Jets insulted him with a lowball offer.
On offense, Smith followed up a lukewarm rookie season with a sophomore campaign that was even worse. Smith admittedly didn't have a great stable of wide receivers beyond Decker to start the year, but things didn't get much better for him after Percy Harvin came to town. Moving on from Smith would be a rather easy decision if it weren't for the absolute dearth of alternatives available this offseason.
Coaching/Front Office Changes
Rex Ryan went 26-38 over the last four seasons, yet you'd be hard-pressed to find a coach more popular with the local media. New York scribes readily came to Ryan's defense throughout the Jets' putrid 4-12 campaign. That could be because Ryan wasn't given much to work with or because Ryan was a guaranteed gold mine every time he approached a hot microphone — or maybe a bit from both columns. All of the positive ink couldn't save Ryan's job at the end of the day, however, and the head coach was shown the door at the end of the season along with Idzik.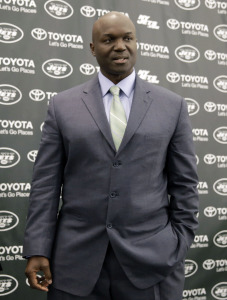 Two years ago, Idzik convinced Jets owner Woody Johnson that he was the man for the job based on his salary cap expertise. When Idzik was ousted, the Jets replaced him with former Texans college scouting director Mike Maccagnan. Maccagnan, who was championed by team consultant Charley Casserly, isn't much of a numbers guy but has a wealth of football knowledge and a keen eye for player evaluation.
While the Jets went in a different direction at GM, they went with another defensive-minded coach to replace Ryan when they hired former Cardinals defensive coordinator Todd Bowles. The 51-year-old is now the Jets' sixth straight head coach with a defensive background as Ryan, Eric Mangini, Herm Edwards, Al Groh, and Bill Parcells were all defense-first coaches. That may seem like an exceptionally long time to emphasize defense, but one can hardly blame Gang Green for being wary of going back to an offensive-minded HC after two dreadful years with Rich Kotite. Bowles will be assisted by Kacy Rodgers on defense while ex-Bills coach Chan Gailey will be responsible for the offensive playcalling.
With Bowles on the sidelines, Maccagnan can expect to get a similar directive to the one that Ryan was giving Idzik: build the defense. This time, there's a good chance the GM will actually listen.
Positions Of Need
In a perfect world, the Jets would use their considerable cap room or their No. 6 overall pick to find a new starting quarterback. In the real world, well, there's not much out there. The Jets stank on ice in 2014, but they probably didn't lose enough to get within range of Oregon product Marcus Mariota or FSU star Jameis Winston. There are other noteworthy names at the position, including UCLA's Brett Hundley and Baylor's Bryce Petty, but none would be worth taking with their first round choice. In fact, many aren't sold on Mariota or Winston as franchise quarterbacks and the outlook is even worse for the rest of the crop. In free agency, the Jets will find a group headlined by Brian Hoyer and old friend Mark Sanchez. Sanchez looked like a top-10 QB when things were clicking in Philadelphia and looked more like his 2012 version when things hit the skids. Even if Sanchez looked like the second coming of Joe Montana for the entire season, it would be hard to see the Jets making a play for him.
The trade market, meanwhile, could hold a couple of interesting options for the Jets. John Fox sounds like he'd be on board with having Jay Cutler as his quarterback in Chicago, but that's far from certain at that point. Last season was a disaster for the Bears on both sides of the ball, but Cutler has proven himself to be one of the better signal callers in football when he has the right pieces around him. Meanwhile, in Washington, Robert Griffin III's future is as uncertain as ever. It wouldn't be hard to see RGIII in a pair of green-and-white striped socks, but he would probably have to compete for the starting job against Smith in camp.
Whether the Jets make a major addition under center remains to be seen, but it's a mortal lock that they will add a notable cornerback this offseason. Former Jet Antonio Cromartie has a fan in Bowles and he has made no secret about his desire to return to New York. "My door is always open to returning," Cromartie said late last month. "Everybody knows I didn't want to leave. I'm going to keep my door open and see what happens." Of course, the big fish this offseason will be Darrelle Revis if the Patriots decline his $20MM team option and he tests the open market. That reunion once seemed unthinkable, but the Jets (and Rex Ryan's Bills) reportedly have their sights set on him. Beyond those familiar faces, the Jets could look into the likes of Byron Maxwell, Brandon Flowers, Chris Culliver, and Kareem Jackson. Jackson, of course, shares a Houston connection with Maccagnan. Getting Dee Milliner back in the lineup will help things, but the Jets will have to go out-of-house to really lock down the cornerback spots.
Elsewhere in the secondary, the Jets will look to add a new free safety with impending free agent Dawan Landry likely heading elsewhere. Landry had his moments in 2014, but he was a poor complement for the hard-hitting Calvin Pryor. Pryor does his best work hanging out around the line of scrimmage and leveling the kind of hits that were more common in the NFL ten years ago. Landry, meanwhile, isn't a top-notch coverage option and that meant that Pryor couldn't really demonstrate his skill set. With a different free safety, the Louisville product could make a significant impact in 2015, provided that he doesn't rack up too many penalty flags. It should be noted that while Landry might not be the best fit for the Jets, he actually graded out as the ninth-best safety in the NFL last season according to PFF.
The Jets seemingly solved their issues at wide receiver when they acquired Harvin midseason. The eminently talented athlete would be the ideal No. 2 to Decker, if not for his hefty contract. While Harvin is owed $10.5MM for 2015, his salary is non-guaranteed and he can be dropped without salary cap ramifications. Maccagnan has a different approach than Idzik, but it doesn't take a cap guru to know that's a massive cost for the oft-injured and mercurial Harvin. If the Jets do want to dole out a top-10 wide receiver salary, they could get bold and go for the likes of free agent Demaryius Thomas, if he hits the open market. Going a little (or a lot cheaper), Gang Green could explore someone like Michael Crabtree, though he also comes with a history of injuries and abrasive behavior. Better yet, the Jets could use the No. 6 pick on the top receiver in the draft, Alabama's Amari Cooper.
Key Free Agents
The Jets have a great number of free agents this offseason but only a few could be viewed as pivotal. David Harris stands as one of the best inside linebackers on the open market this offseason and he could be open to taking a little bit less to play for a winner. Meanwhile, it's not hard to see Rex Ryan luring him to Buffalo. Defensive tackle Damon Harrison's contract is also up, but he's a restricted free agent. The 26-year-old, one of the Jets' few bright spots in 2014, is likely to receive the max tender.
Running back Bilal Powell has looked good at times, but he's not irreplaceable and there's no guarantee that the new regime will want him back. Safety Jaiquawn Jarrett (restricted) could also be retained after a solid season, including a heroic effort in the Jets' Week 10 win over the Steelers.
Possible Cap Casualties
As mentioned earlier, Harvin could be shown the door rather than kept f0r his $10.5MM salary. Cutting Harvin wouldn't necessarily mean parting ways with him, of course, as the Jets could look to work out a more team-friendly deal. Never say never, but Harvin could find it difficult to land a multi-year deal at an AAV that would put him in the top 15 of wide receivers, especially when considering that the quality of the market at the position. The Jets could release him and instead look to sign him to a one-year pillow deal for less money, but then again, there will be other suitors looking to do the same. It should also be noted that keeping Harvin means that the Jets would be sending a fourth-round choice to Seattle rather than a sixth-round pick.
Many expected that the Jets would put Chris Johnson's soft hands to good use as a security blanket for Smith in 2014. Aside from a few games, however, we didn't see CJ2K catch many balls out of the backfield. When you factor in Johnson's January arrest, his declining speed, the new regime in New York, and the roughly $3.5MM they'd save by bouncing him, it's very possible that Johnson could be let go this offseason.
Extension Candidates/Contract Decisions
One of the few silver linings to the Jets' 2014 season was the play of Muhammad Wilkerson. The Jets have the Temple product under contract through 2015 after exercising his fifth-year option, but they don't want to let him reach the open market after the season. In 2012, the 25-year-old graded out as the second-best 3-4 defensive end in 2012 behind superstar J.J. Watt, according to Pro Football Focus (subscription required). In 2013, he recorded 64 tackles and 10.5 sacks and, per PFF, he played more defensive snaps (1,067) than any other 3-4 DE. This past year, Wilkerson recorded six sacks and five pass deflections in a 13-game season as he disrupted opposing offenses in both facets of the game. The Jets want to get to the table with Wilkerson and his agent, but they'll have to address their main areas of need first.
Exercising Wilkerson's fifth-year option cost the Jets ~$6.97MM and doing the same for linebacker Quinton Coples would likely cost them more. Would that be worthwhile for the Jets after watching him struggle at times with the transition from defensive end to linebacker? Coples had a career best 6.5 sacks in 2014, but they'll probably take their chances and let him play out his final season. The Jets have until May 3rd to make the call on Coples.
Overall Outlook
The Jets cleaned house at the end of the 2014 season with a clear desire to wipe the slate clean. With a significant number of players heading towards free agency, the Jets have a chance to really shake things up. They can be expected to spend big on a cornerback, but they won't find themselves in playoff contention without a significant upgrade at quarterback. The Jets could shoot for the moon by trading for Cutler or one of the top two quarterbacks in this year's draft, but they could also wait until next offseason and treat 2015 as a transitional year. Jets fans are restless, but the bar has also been set low, so Maccagnan & Co. won't have to go all out unless directed otherwise by ownership.
Information from Over The Cap was used in the creation of this post. Photo courtesy of USA Today Sports Images.
Follow @PFRumors