Pending free agents:
Top 10 2015 cap hits:
Notable coaching changes:
Draft:
Other:
Overview
No one expected much out of the Titans in 2014, but their 2-14 mark was a disappointment to fans who were hoping to see something out of this team. In the preseason, newly-hired head coach Ken Whisenhunt set the bar fairly high when he said that he wouldn't need to exercise patience with his squad. In September, he realized that he had overestimated what he had on his roster.
"You know, I guess that's the problem saying those kind of things," Whisenhunt said when asked by Jim Wyatt of The Tennessean about his previous expectations. "You go on a stretch where you have a couple games and you don't play well, and those are the kind of things that, hey, I still believe that, I still believe we have a team that's good enough, that's better than what we are playing right now. But we have to look at what we are doing, how we are doing it. We have to look at everything. Maybe."
Once again, the Titans are not expected to be world-beaters, but they need to show something.
Key Free Agents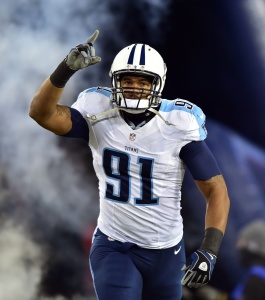 Seemingly half of the Titans' roster is eligible for free agency but only a few can really be considered to be pivotal. Outside linebacker Derrick Morgan is one of them and probably stands as the highest priority. Late last month, our own Luke Adams named Morgan as one of the club's likeliest candidates for the franchise tag, though he felt that it was unlikely to be used at all. Recently, GM Ruston Webster said that he doesn't think the tag will be "in play" for anyone. Morgan has been told that the Titans want to retain him, but it remains to be seen how far they'd be willing to go for him. The former No. 16 overall pick has posted just 23.5 sacks in his five seasons as a pro. This past season, however, Morgan ranked as the eighth-best 3-4 outside linebacker according to Pro Football Focus (subscription required and recommended).
Longtime Titans tackle Michael Roos might not be back with the Titans in 2015 and he might not play at all. Roos appeared in just five games in 2014 after being placed on IR. The Titans are the only organization he has known since his debut in 2005, but Paul Kuharsky of ESPN.com reported in December that Roos probably wouldn't return to the club since he has been squeezed out at left tackle in favor of Taylor Lewan. Roos indicated that he was leaning towards retirement before the New Year but there have also been rumblings that he would be okay with a shift to right tackle, where he spent some time in his first two seasons. Any way you slice it, it sounds like the odds are against Roos coming back to Tennessee in 2015.
Speaking of long-tenured members of the Titans, Nate Washington completed the sixth and final year of the deal he signed with the club in 2009. As you may recall, Washington's tenure with the team almost ended a few months early when the Titans were aggressively shopping their veterans around the trade deadline. Washington stayed put, but it wouldn't be surprising to see him ring in his 32nd birthday (in August) with another club. On the other hand, the Titans have a young core of receivers and whether it's Zach Mettenberger or someone else, the quarterback position will be filled by a youngster. It might not hurt to have someone with experience there to help guide the offense. The veteran had 40 receptions for 647 receiving yards and two touchdowns in 2014.
Quarterback Jake Locker is among the biggest names on that free agent list, but the Titans are not interested in bringing him back.
Possible Cap Casualties
Michael Griffin has the third-highest cap hit of anyone on the team at $8.1MM. Simply put, the safety is paid like a top performer at his position but he is years removed from that mantle. The advanced metrics, unsurprisingly, tell a similar story. Pro Football Focus gave him an overall grade of -15.7 in 2014, placing him 83rd out of 87 qualified safeties. His play put him in the same category of Kenny Vaccaro, who had a remarkably disappointing year for New Orleans, and Ryan Clark, who has decided to move on from football. If the Titans drop Griffin, they'll save $4.5MM against the cap. Griffin told reporters in December that if the Titans came to him and said they wanted him back for less money, it would come down to a family decision and what is best for them. That's a call he might never get to make, however.
Running back Shonn Greene is likely a goner this season as the Titans can save $3.35MM but cutting him loose. Greene carried the ball 94 times in 2014 for 392 yards and two touchdowns and saw his role move all over the map throughout the season. The jury is still out on whether rising sophomore Bishop Sankey can make an impact in the NFL, but the Titans pretty much know what they'll get out of Greene, and it ain't worth what they're slated to pay him.
Safety Bernard Pollard asked for his release from the Titans in late January and he could have that wish granted. Keeping Pollard would mean paying him a $3.1MM base salary but cutting him would only leave the Titans with just $425K in dead money. Pollard played in just five games last season before landing on injured reserve with an Achilles injury, but he was a solid player as recently as 2013, when he racked up 77 tackles while starting all 16 games, and rated as the league's No. 21 safety among 86 qualifiers, per Pro Football Focus (subscription required).
Guard Andy Levitre could be a candidate for release, but it's more likely that they'll try and re-work his deal rather than carry $6MM+ in dead money. Ditto for teammates Jason McCourty and Craig Stevens. The Titans already saved themselves a pretty penny when they cut ties with Michael Oher in February.
Positions Of Need
The Titans' biggest need of all is probably at the quarterback position. While they "like" Mettenberger, they're not willing to name him as their starter for 2015 by any means. The free agent quarterback class, as you've probably heard once or twice before, leaves a lot to be desired. That's why at the No. 2 overall pick, the Titans are widely expected to go for either Oregon star Marcus Mariota or FSU standout Jameis Winston, depending on what the Bucs do at No. 1. Webster has been telling the world that they'll consider other needs at No. 2, but his club is still expected by many to take a QB. If the Titans aren't high enough on whichever quarterback the Bucs pass on, they might pursue a trade with the Bears for Jay Cutler.
On defense, the Titans need to generate more pressure on the quarterback to make their 3-4 scheme effective. Brian Orakpo, Washington's highest paid player in 2014, might not get the kind of money he wants in D.C., leading him to the open market. Despite his injury-riddled 2014, Orakpo stands as one of the league's most terrifying linebackers when healthy. Alternatively, if the Titans stick with the selfie-loving Mettenberger, they could find an edge rusher with the No. 2 pick in Nebraska's Randy Gregory. Some are concerned about Gregory's size but a steady regimen of deadlifts and red meat could take care of that.
The Titans could use a worthwhile partner for McCourty and luckily for them, there are plenty of quality options available on the open market. The Titans might not go for top-shelf guys like Byron Maxwell or Darrelle Revis (if available), but the next tier of corners features multiple guys who could be had for cheaper, shorter-term deals. Antonio Cromartie is a veteran who would fit the bill, though he might lean towards a reunion with the Jets or a chance to join a contender instead.
Tennessee could look into adding a solid wide receiver, though it won't be a higher priority than those listed above. A solid effort from Kendall Wright plus the long-awaited blossoming of Justin Hunter could give the Titans enough firepower to move the chains. Retaining the aforementioned Washington could also be a smart move.
Extension Candidates/Contract Decisions
Wright is entering the fourth and final year of his rookie contract and the Titans could look to lock up the former first-round pick early. They'll have him at a relative bargain this season with a cap number of $2.6MM and even though his next deal will cost a bit more, the team could get another solid value by addressing it sooner rather than later.
Cutting Levitre remains unlikely, but that doesn't mean that Webster can't put on his best poker face and try to talk his camp into a modest pay cut. Levitre's massive contract, signed in 2013, is scheduled to take him through the 2018 season. With a $6.5MM base for the next three seasons and a $5.8MM base in '18, the Titans might be able to shave off a million or two for the coming year. The guard graded out as being well below average in 2014 with a -5.8 overall rating, per Pro Football Focus.
The Titans could push McCourty to take a small pay cut also and it's not likely that he'll want to give up his cushy deal and jump into an especially strong cornerback market. Stevens has a $4.5MM cap hit and the team should be able to talk him into a more aggressive cut.
Overall Outlook
This is an extremely pivotal offseason in Tennessee. While they're armed with a boatload of cap room, the biggest decision the Titans make will come on April 30th when it's time to hand their first selection over to commissioner Roger Goodell.
Information from Over The Cap was used in the creation of this post. Photo courtesy of USA Today Sports Images.
Follow @PFRumors