With today's deadline for franchise tags looming, the reporter for the Lions' official site, Tim Twentyman, tweets that Detroit won't be using its tag on star defensive tackle Ndamukong Suh. That means that, unless Suh and the Lions reach a long-term agreement within the next eight days, he'll hit the open market when the free agent period begins next Tuesday.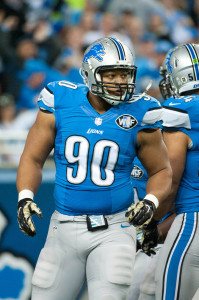 Suh's case was the most interesting one to watch as today's deadline for franchise and transition tags approached. As a consensus top-five free agent, Suh would normally be right there alongside Justin Houston, Demaryius Thomas, and Dez Bryant as someone expecting to be tagged today. However, because Suh is coming off a season in which his cap number was $22MM+, his franchise salary for 2015 projected to be nearly $26.9MM, about twice as much as the tag for those other players.
As I pointed out back in December when I took a closer look for the Lions' options with Suh, his $22.4MM cap hit in 2014 was the league's highest, so a 20% raise on top of that looked somewhat unpalatable for the Lions, even with the cap on the rise.
General manager Martin Mayhew and the Lions have insisted throughout the process that they're optimistic about the likelihood of Suh returning to Detroit for the 2015 season and beyond. However, with the 28-year-old now just eight days from reaching free agency, and no franchise tag in play, it seems likely that Suh and agent Jimmy Sexton will test the market. Suh said back in December that he intended to let Sexton choose his next time, suggesting that the highest bidder may win out.
Regardless of whether or not Suh returns to the Lions, Detroit will carry a $9.7MM cap hit for him in 2015. That's the amount of dead money on the team's books, the cost of restructuring his deal, which voided after this year's Super Bowl.
If Suh does reach the open market, bidding for his services figures to be competitive, considering plenty of teams have the cap room necessary to make a monster offer, and there isn't a team in the NFL that couldn't use his presence in the middle of the defensive line. In 2014, Suh graded as the league's third-best defensive tackle, according to Pro Football Focus (subscription required), excelling both as a pass rusher (57 quarterback pressures) and against the run.
By all accounts, Suh will be looking to become the highest-paid defensive player in football, exceeding the six-year, $100MM extension J.J. Watt signed with the Texans last year.
Photo courtesy of USA Today Sports Images.
Follow @PFRumors