Pending free agents:
Top 10 2015 cap hits:
Notable coaching changes:
Draft:
No. 18 overall pick
No traded picks
Other:
Overview:
After riding significant upgrades at the head coach and quarterback positions one of the most notable turnaround campaigns in NFL history, the Chiefs took a slight step back in 2014. The franchise that hasn't made consecutive playoff appearances since the 1995 season saw key defensive injuries/illnesses and historically unproductive wide receiver play submarine its effort to return to the postseason. Although none of Kansas City's wideouts scored a touchdown, making the Chiefs the first such team to accomplish that feat in 50 years, the Chiefs were in position to make the playoffs as late as the third quarter of their Week 17 win against the Chargers. Ultimately, the Chiefs winning nine games — including home triumphs over both Super Bowl participants — with their anemic WR corps, a spotty offensive line and the unavailability of Derrick Johnson and Mike DeVito (both lost for the season in Week 1) and Eric Berry can be considered a success in the right light.
Largely behind the work of former two-time All-Pro Jamaal Charles, the Chiefs ranked 12th in offensive DVOA. Running behi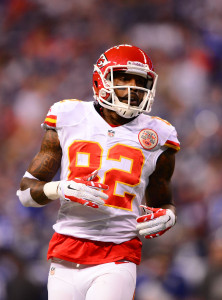 nd an offensive line that saw just one player, free agent center Rodney Hudson, receive a positive grade from Pro Football Focus, Charles continued his pursuit of the all-time yards-per-carry mark. While not flirting with the 6.4 yards he averaged in 2010, Charles gained 5.0 per tote for the second straight year. But the elusive runner only received 206 carries, which were his fewest since becoming a full-time starter in 2010. That figure's not surprising considering Andy Reid's penchant for short passes but one that probably needs to rise as the 28-year-old Charles' prime winds down. Without a downfield complement, Smith helped unearth a much-needed contributor in Travis Kelce. Fresh off microfracture surgery, the second-year tight end enjoyed a breakout slate that helped the offense immensely. But the Chiefs' offensive grit in snaring wins despite glaring issues can't be something they count on; reinforcements are desperately needed to push Kansas City back into contention.
2014 continued a superstar ascent from outside linebacker Justin Houston, who ripped off a 22-sack season and booked himself either a sizable one-year renewal — which the Chiefs did Monday to delay his free agency — or an eventual megadeal that extends his stay in the Midwest for the rest of the decade. Apart from Houston, the Chiefs' defense couldn't counter the losses of three quality starters and slunk to 19th in defensive DVOA — 10 spots down from their 2013 mark. Josh Mauga and Allen Bailey both finished with negative Pro Football Focus grades as understudies-turned-starters, with Mauga doing an especially poor Johnson impression, charting as the league's seventh-worst inside linebacker. Although Tamba Hali, a nine-year Chiefs edge-rusher, was still a strong player last year, he was clearly the complement to Houston and could be on his way out after the Chiefs used a first-round pick to grab Dee Ford to bolster arguably their strongest position. Hali's cap situation ($11.9MM number with just $2.9MM in dead money, according to OverTheCap, if released) makes his position in Kansas City less certain than the less-reliable Bowe ($14MM number but $9MM in dead money). But the argument can be made that releasing both KC bastions (combined 17 years of Chiefs service) and using the savings to add younger, more cost-effective players at receiver and on the offensive front is the best move rather than continuing to have these performers clog the cap.
Key free agents:
A third-round pick from Georgia during the Scott Pioli regime, Houston fell in the draft due to drug-related concerns but turned in one of the best seasons in the 55-year history of the franchise in surpassing Derrick Thomas' team standard of 20 sacks set in 1990. The Chiefs' predicament now is similar to the one they faced during Thomas' heyday with two top-tier pass-rushers due high prices. The Carl Peterson-managed Chiefs opted to do what GM John Dorsey's Chiefs likely will: keep the A-side rusher. Peterson allowed Neil Smith to depart as a free agent in 1997, breaking up the most notorious pass-rush tandem in team history. The Houston-Hali duo isn't quite on that level since it's only had three full seasons together, but the overall talent is similar. Hali accrued seasons of 14 1/2 and 12 1/2 sacks in 2010 and 2011, respectively, before becoming a full-time tandem with Houston — the Thomas in this scenario. He will take priority over Hali, who is 31. Hali also never accumulated three straight seasons with 10+ sacks as Houston's done in his three years as a full-time starter.
To keep Houston long-term, though, the Chiefs will have to pay him more than any outside linebacker. Clay Matthews' $13MM-per-year deal is the standard right now, and Hali's $11.5MM is second in the league, according to OverTheCap. Houston and Von Miller are likely to raise that ceiling as 26-year-old pass-rushers.
Houston's franchise tag will cost Kansas City about $13.1MM this year. There will be more players axed in the near future to make this work, and the chances Hudson stays in KC don't make financial sense. Like Houston, Hudson came from the 2011 draft, but the second-round center took a bit longer to blossom. After sustaining a broken leg just three games into his second season, Hudson bounced back just as the Chiefs did and was a mid-level center in 2013. But last season, Hudson shined by ranking as PFF's third-best snapper (subscription required) as an above-average run- and pass-blocker despite the injuries and ineptitude flanking him. But as the best available center, Hudson will see his price tag reside outside of the Chiefs' payable range — likely in the $6MM-$8MM per-year strata. This will be a swift blow to an already-deficient offensive line.
The Chiefs' No. 3 free agent is probably Ron Parker, who showcased versatility in playing nearly three quarters of the season at free safety. That may lead him to an adequate payday elsewhere. Cut eight times by three different teams, Parker spent two seasons as a nomadic corner and his third as a backup in Kansas City. Parker began his fourth season as a starting corner after beating out Marcus Cooper in training camp but became a key utility man once Berry went down with an ankle injury two months before receiving a diagnosis of Hodgkin's lymphoma. After making 18 career tackles — all in 2013 — Parker notched 84 as a full-timer. Even though PFF didn't think too highly of his run-defense skills (subscription required), Parker's ability to vacillate between roles and be a productive cover man will help drive his price up. Like Hudson, Parker will probably find another team willing to pay more.
A veteran who started for four straight years on zone- and man-based fronts with the Broncos, Ryan Harris stepped in after being relegated to backup duty the past two seasons. He was probably the Chiefs' second-best lineman despite being thrust into the lineup when third-year starter Jeff Allen joined the season-ending injury brigade in Week 1. Entering his age-30 season, Harris could be seen as a second-tier option for teams in need of a right tackle — a position Harris has played almost exclusively in his eight-year career. The Chiefs may opt to bring him back if his price tag is low enough.
Positions of need:
Reid managed to steer the Eagles to three straight NFC championship games with James Thrash serving as the de facto No. 1 receiver. The early-2000s Eagles proved that a No. 1 wideout isn't required for sustained success; starters Thrash and Todd Pinkston combined for just three TDs in 2003. That sort of balance showed some in the Chiefs' passing game last season with the usage of several wideouts with none standing out much in a west coast offense. But the Chiefs rode this workmanlike formula beyond its limits. With an already-cautious passer having no standout threat to beat defenses deep, the offense's margin for error was slim, and that lack of diversity showed down the stretch. The first team since the 1964 Giants not to have a receiver score serves as an ignominious attachment that will likely stay with the franchise for a while, considering the era adjustments (just two receivers accrued 1,000+ yards in 1964 compared to 23 last season). And it will result in an offseason infusion, through free agency and the draft.
Without their second-round pick in each of Reid's drafts due to the Smith trade, the Chiefs bypassed college wideout help in both. Last year in what turned out to be a reservoir of receiving help, the Chiefs selected Ford and cornerback Phillip Gaines in the first and third rounds, respectively. Out of necessity, they'll have to take one this year. But the franchise hasn't done well in tabbing receivers in the draft or free agency throughout the past three regimes. Since taking Bowe at No. 23 in 2007, the Chiefs selected six wideouts — two in the first two rounds — and just one managed to stick in their rotation: Dexter McCluster. This left a void alongside Bowe for years with a revolving door of sub-par No. 2 receivers signed as free agents, from Chris Chambers to Steve Breaston to Donnie Avery, creating the need for the Chiefs to overpay Bowe in 2013 to ensure some semblance of production outside. Now, they face a future that may not include any proven receivers with a tight cap.
The Jeremy Maclin-to-KC link makes sense due to familiarity, but not much financially. With Demaryius Thomas and Dez Bryant off the market via franchise tag, Maclin and Randall Cobb, should the Eagles and Packers not tag them, will battle for top billing. The Chiefs do not have the resources to go after him and are not typically big spenders or a sought-after destination. Players like Cecil Shorts, Eddie Royal, or even Kenny Britt make more sense, Royal in particular with his flashes as a catch-and-run threat. Shorts with a quarterback upgrade would help, but should either Cobb or Maclin go off the market via tag or long-term deal, Britt's price tag may exceed buy-low territory. But much like the offensive line losing Hudson, imagining this current corps sans-Bowe is ugly, with undrafted free agent Albert Wilson as the next-best guy. While Amari Cooper, Kevin White and Devante Parker are probably gone by the top KC picks at No. 18, Arizona State's Jaelen Strong, Michigan's Devin Funchess or Dorial Green-Beckham, who would be a risky boom-or-bust pick after his Missouri exit, will likely be available.
With Allen returning and Fisher showing scant promise as a former No. 1 overall selection, the Chiefs' primary focus up front will be on the interior, where they started one of the worst guard pairings in the league. Zach Fulton struggled as a rookie but should have a chance to compete at right guard again, however, free agent Mike McGlynn will not be back at his left guard post. PFF takes no pleasure in watching McGlynn work. The 29-year-old, who manned left guard after signing a one-year deal in Kansas City in August due to Donald Stephenson's suspension, graded as the site's worst guard for the second time in three years (subscription required). Fisher's improvement upon switching from right to left tackle wasn't anything substantial, and this will mark a pivotal season for the scrutinized protector. While not overly talented, Allen at least gives the Chiefs versatility in how they approach the offseason with experience at guard (his first two seasons) and tackle (last year pre-injury).
The Chiefs could take LSU tackle La'el Collins and slide Allen back to guard to maximize the value of their No. 18 pick should this be their preferred option instead of receiver. Inside, Brian De La Puente, who's played at both center and guard, would be a much cheaper option after serving as a backup with the Bears last year. If the Chiefs view this as a must-upgrade area that is too critical to count on a second-day draft pick to fix, Clint Boling would be a reasonable target at guard. Although getting 2012 draftees Allen and Stephenson back full-time will buoy this operation, Kansas City will address the line through both of the primary player-procurement avenues this offseason.
Berry's unfortunate diagnosis keeps the secondary in flux. The former first-round pick has one year remaining on the massive rookie contract he signed in the last year of the old CBA, but his career may be over. A landing on the non-football injury list this year could save the Chiefs $5.5MM, according to CBSSports.com's Joel Corry, and would go over better than simply releasing the popular safety. Complement Husain Abdullah played well in spots in his first season as a starter, and he'll be counted on to provide more substance with Berry's future in doubt. Parker's departure would mean a void here, and considering the Chiefs' bigger issues up front and out wide, they're in no position to splurge on a safety. Undrafted free agents Daniel Sorensen and Kelcie McCray are the in-house options, an area from which Abdullah emerged last offseason. The Chiefs need a few of these stories next season since they'll be unable to plug all of these holes from outside the organization. On his third team in three seasons, McCray was the second-best special-teamer in the NFL last season, per PFF.
DeVito may join Hali and Bowe on the open market as the Chiefs attempt to fix their biggest issues. Despite a strong debut campaign in Kansas City in 2013, DeVito tore his Achilles in Week 1 and is entering his age-31 season. Kansas City can save $4MM by cutting the veteran, and he's reportedly comfortable with betting on himself elsewhere as opposed to slashing his salary. After spending a first-round pick on Poe and signing Bailey to a $25MM extension last year, the Chiefs could turn to under-the-radar free agent signee Vance Walker to fill DeVito's spot. A former defensive tackle, Walker showed promise as the season waned as a 3-4 end. Of the Chiefs' top eight salaries, only four players — Alex Smith, Charles, Sean Smith and Fisher — are locks to return.
Extension Candidates:
One of the Chiefs' non-issue spots comes thanks to Pioli's final first-round pick, Poe — the leader in defensive tackle snaps the past two years. Poe finished with a career-high six sacks last season and booked a second straight Pro Bowl trip. The agile 346-pounder has morphed into one of the better 3-4 noses in the game, and as a former first-rounder, Poe's fifth-year option must be picked up to keep him off the free agent market in 2016. The Chiefs have until May 3 to do so. It would be wise to exercise this with Poe's strength/agility combination, which resulted in the Conference USA product's selection at No. 11 overall in 2012, not found in many at his position. Should the Chiefs pick up this option, Poe would earn a 2016 salary that averages the wages of the third- to 25th-highest-paid DTs — approximately $5.7MM based on the current contract values at the position. That figure more than doubles Poe's $2.8MM 2015 salary, one that didn't need to be factored into this unique mathematical equation.
Poe's issue is more pressing due to the deadline residing two months from now, but Sean Smith emerged from the doghouse last season to become the top defensive back on the league's second-best pass defense. Cited for DUI last summer, Smith worked behind Parker and Cooper at corner during training camp. But the 2013 free agent acquisition shook off that issue and enjoyed his finest season, finishing as PFF's fifth-best corner. The analytics site also graded the rangy corner as the Chiefs' second-best defender behind Houston. Smith signed a reasonable three-year deal that gives him $5.5MM per season, but he will receive a third contract before he's 30. The Chiefs do not have another No. 1 corner option at present, as Cooper regressed and Gaines doesn't have enough of a sample size yet. They do have a lot of prior commitments, but nothing significant beyond this year in the secondary. KC has more than $69MM (near the league's middle) of 2016 cap space with players Hali, Berry and Johnson off the books. Since Smith played at a level above where he's been during most of his career, the Chiefs probably need to see if he can come close to replicating his standout slate before determining an offer value.
Overall outlook:
Alex Smith proved in 2011 he can take a team to the precipice, but he needs plenty of help. Reid's proven he can extract above-average play from a quarterback once labeled a bust. However, the Chiefs do not have the ancillary parts to complete this equation. The black hole at wideout cannot exist if the Chiefs want Smith to take them back to the playoffs, and the offensive front needs help to go along with improvements from thus-far-underwhelming holdovers. The coaching staff's helped guide this team to back-to-back explosive starts and infused some stability into what was a fluid, tense situation. But more talent will be required to keep the Chiefs in contention.
Information from Over The Cap was used in the creation of this post. Photo courtesy of USA Today Sports Images.
Follow @PFRumors