6:20pm: Aaron Wilson of The Baltimore Sun has all the details on Suh's contract (via Twitter). The guaranteed portion is worth $59.955M, and the defensive tackle will receive a $25.5M signing bonus. The base salaries for each year (chronologically) are $985K, $23.485MM, $9.985MM, $16.985MM, $18.985MM and $8.36MM.
WEDNESDAY, 1:49pm: Suh has signed his deal, Armando Salguero of the Miami Herald writes.
SUNDAY, 12:12pm: Ndamukong Suh will sign with the Dolphins on Tuesday, tweets ESPN's Chris Mortensen. It will be a six-year contract worth around $114MM with $60MM guaranteed.
The deal will bring an end to perhaps the biggest storyline of the 2015 offseason. Because of Suh's generational talent, it was not a foregone conclusion that the Lions would decline to put the franchise tag on Suh this year, despite the $26.9MM cap number that the tag would have carried. After all, Suh has established himself as one of the league's top defensive linemen, having earned four Pro Bowl berths and three First-Team All-Pro nods. Pro Football Focus' advanced metrics (subscription required) have ranked the former second overall pick among the NFL's top four defensive tackles in each of the last three seasons.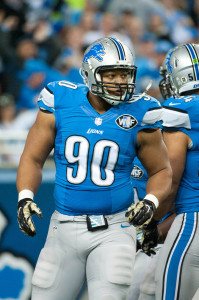 By PFF's count, Suh racked up 72 total quarterback pressures in 2013, well ahead of any other DT besides Gerald McCoy, and he generated 57 quarterback pressures in 2014, tops in the league among defensive tackles. Suh also excels against the run, and he will team with Cameron Wake to form an intimidating defensive front for Miami.
As expected, Suh's deal will top the contract that J.J. Watt signed with Houston last year, and it marks the richest deal ever given to a defensive player. The Lions had consistently expressed optimism that they would be able to retain their superstar lineman, but when they tabled extension talks last July, Suh's departure became more likely. According to Dave Birkett of the Detroit Free Press, Detroit had offered Suh a contract worth $17MM annually–his deal with Miami will average $19MM per year–including $58MM guaranteed. In the end, however, the Lions "did not want to approach Miami's money." Birkett reaffirms that the Raiders, Jaguars, Colts, and Chargers all had some degree of interest in Suh.
Along with the transcendent talent, of course, comes a number of well-documented behavioral concerns. While Suh has never been plagued by off-field issues, he has been justifiably labeled as one of the dirtier players in the game, as evidenced by past encounters with, among others, Evan Dietrich-Smith and Matt Schaub. Suh was initially suspended for the Lions' wild card playoff matchup against Dallas for stepping on Aaron Rodgers' leg during Detroit's Week 17 loss to Green Bay, though the suspension was ultimately overturned. So, in addition to the financial ramifications of the deal, Miami does have a few other reasons to be concerned with bringing Suh into the fold.
As for the Lions, Suh's departure leaves an irreplaceable void in the middle of the team's defensive line. As Birkett writes, Detroit will now shift its focus to re-signing Nick Fairley and adding a complementary run-stuffer. Although the Lions will miss Suh's talent, they will at least avoid the strain that his contract will put on his new club's salary cap. The Dolphins, meanwhile, have proven that their past missteps in free agency will not deter their free-spending ways, and by landing the biggest fish in this year's free agent pool, they might have taken a number of risks, but they also got a lot better.
Luke Adams contributed to this post
Photo courtesy of USA Today Sports Images
Follow @PFRumors