Pending free agents:
Top 10 2015 cap hits:
Notable coaching changes:
Draft:
No. 12 overall pick
Acquired first-round pick (No. 19 overall) from Bills in deal for Sammy Watkins.
Acquired fourth-round pick from Bills in deal for Sammy Watkins.
Acquired sixth-round pick from Ravens in deal for Michael Campanaro.
Other:
Overview:
Things were looking good for Cleveland in late November, and it had nothing to do with LeBron James. The Browns were 7-4. Star wide receiver Josh Gordon was coming off of a 120-yard season debut. A talented (but very inconsistent) defensive line had allowed only a pair of 100-yard rushing games. Offensive coordinator Kyle Shanahan was getting the most from journeyman quarterback Brian Hoyer, but the biggest hype of all surrounded a different quarterback, as the fan base was anticipating Johnny Manziel's inevitable first start.
It's hard to believe that was only three months ago. The Browns finished the season 0-5. Gordon failed yet another drug test, resulting in at least a one-year suspension. The defensive line finished the season as the worst run-stopping unit in the league. Both Shanahan and Hoyer are gone, and the rookie quarterback landed on the IR and in rehab.
Much has changed in that brief period of time, but the Browns will still retain much of the roster that marched out to a strong start in 2014. Despite a strong division, the team can expect to be competitive again in 2015, as long as they don't do anything drastic this offseason.
Coaching Changes:
Perhaps the most embarrassing Browns story of the past 12 months didn't come from any of their players. Instead, the humiliation came via one of their coaches.
Shanahan was rumored to be involved in nearly every coaching vacancy earlier this offseason, and he ultimately ended up with the Falcons in the same role. However, this only came after the 35-year-old was allowed out of his contract, and that only came after he presented a 32-point list on why he should be allowed to leave.
The organization eventually replaced Shanahan with another young mind, former Raiders quarterbacks coach John DeFilippo. Sure, the Raiders offense wasn't very good last season, but the coach reportedly impressed the organization with his interview last year. That has to count for something, right?
Key Free Agents:
None of the Browns free agents are the class of their respective positions, but several of the players should attract plenty of suitors as alternatives to the big names.
Perhaps the biggest name in the group is tight end Jordan Cameron. Early reports indicated that the 26-year-old had little desire to re-sign with Cleveland, but coach Mike Pettine recently hinted that Cameron could return for the right price. Coming off a breakout 2013 season, when he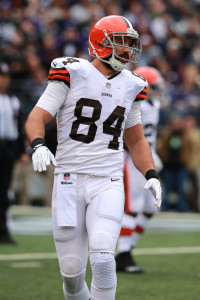 established career highs in receptions (80), receiving yards (917) and touchdowns (seven), the former fourth-rounder disappointed in 2014. His lack of production could be partially attributed to multiple concussions, as well as subpar play from the Browns' quarterbacks, but Cameron's struggles went beyond the passing game. Pro Football Focus advanced metrics rated Cameron as one of the worst blockers at the position, and those same numbers indicate that blocking has been an issue throughout his brief career. As our own Luke Adams suggested, Cameron could be considered a cheaper alternative to Julius Thomas, which could (ironically) boost his price a bit. Even if Cameron does relent on his assertion that he's done playing in Cleveland, the organization may be knocked out of the running as the bidding gets higher.
There was a time when Jabaal Sheard was counted on to be a contributing member of the Browns defense for years to come. That plan changed a bit in 2014, as the former second-rounder lost his starting gig, the first time he was sent to the second unit since entering the league in 2011. Despite the limited role, Sheard still produced via PFF's standards, as the website ranked the 25-year-old in the top half of the league's 3-4 outside linebackers. The versatile defender is still plenty young, and he averaged seven sacks a season over the first three years of his career. With a number of linebackers on the roster, Sheard may be on the outside looking in with Cleveland. However, it may be in the team's best interest to at least explore the possibility of bringing him back.
Buster Skrine is in perhaps the most interesting situation of any of the Browns' free agents. The presence of Pro Bowl cornerback Joe Haden, as well as last year's first-rounder Justin Gilbert, would likely indicate that Skrine doesn't have as much of an opportunity to contribute in Cleveland as he would elsewhere. The 25-year-old certainly disproved that notion last season, playing in the second-most snaps on the team, while also establishing a career-high in interceptions (four). PFF gave the former fifth-round pick a negative rating for his performance (interestingly enough, they rated him lower than the much-maligned Gilbert), so the cornerback's playing time may have really been a matter of circumstances. It'd be surprising if the Browns gave up on Gilbert so quickly, and Skrine probably recognizes that fact. Unless he's willing to accept a reduced role, Skrine could very well bolt this offseason.
Besides that trio, the majority of the Browns unrestricted free agents are among the second-tier (or lower) of available players. Veteran wideout Miles Austin had a relatively productive year, and the 30-year-old could continue to produce with the Browns if Gordon indeed misses the entire season (more on that later). Brian Hoyer won't return following the signing of Josh McCown (more on that later, as well), but Tyler Thigpen could theoretically return, assuming both sides are interested in a reunion.
Safety Jim Leonhard and nose tackle Ahtyba Rubin both spent time in the starting lineup last season, but neither veteran topped 600 snaps. Leonhard played particularly well in his reduced role, but he indicated that 2014 would be his last year in the NFL. Meanwhile, Rubin may be hard pressed to regain his starting role following a dreadful 2014, when he missed three games and was ranked among the worst defensive tackles in the league by PFF. Sione Fua, a former third-round pick, has bounced around a lot in his brief career, and his lack of production for the Browns may indicate that he'll be seeking his fourth employer since 2014.
The team's group of restricted free agents certainly have potential, especially safety Tashaun Gipson. The Browns have indicated that they want to keep him, and they're expected to slap him with a high tender. Linebacker Craig Robertson could also garner some interest, but there doesn't seem to be much worry in losing the 27-year-old.
Possible Cap Casualties:
Phil Taylor would be the clear candidate to be cut, as his nearly $5.5MM cap hit ranks eighth on the team. The former first-rounder has looked dominant at times, particularly during his rookie season in 2011. However, the defensive tackle has struggled since, culminating in him being placed on the injured reserve after making only five appearances in 2014. PFF's metrics have never been particularly fond of Taylor, and his overall rating this past season placed him among the five-worst Browns defenders. Still, the team's defensive line struggled last season, and unless the organization decides to pursue an elite defensive lineman, Taylor could be needed for 2015.
Andrew Hawkins and his $5MM cap hit could also be cut loose, but that isn't a ridiculous amount of money for that production (63 receptions, 824 yards, two touchdowns). Futhermore, Hawkins may be relied on even more based on Gordon's status going forward.
Otherwise, many of the Browns highest-paid players have a solid grasp on their starting role, but the team could still clear up some small chunks of change by cutting some of their lesser-paid players. This could include tight ends Jim Dray and Gary Barnidge, and the duo would save the organization more than $1MM each by being let go. However, the tight ends may be in line for bigger roles next season based on where Cameron ends up.
Positions Of Need:
Despite the team's lack of production on defense, many of the team's biggest holes are on offense.
The organization addressed their need at quarterback early on in the offseason, agreeing to a deal with former Buccaneers signal-caller Josh McCown. No one will confuse the 35-year-old with a Pro Bowler, but given the options in free agency, the veteran should provide some competition for Manziel. Even if the 13-year veteran doesn't see one snap, he is still expected to contribute as a mentor for the young, embattled quarterback.
The team will certainly be seeking a wideout, as Gordon is set to be suspended for the entirety of the 2015 season. Hawkins and Travis Benjamin are essentially the only wideouts currently on the roster that have any real experience, and if the Browns are hoping to see something from Manziel this season, they'd have to provide him with at least a couple more weapons. Earlier today, Luke Adams suggested that Cleveland could be a landing spot for Ravens receiver Torrey Smith.
Based on where Cameron ends up, the team could be seeking a new tight end. Luke mentioned that Julius Thomas could potentially make sense with the Browns, and the Broncos threat could essentially be the Browns' only option. The team could presumably pursue Dolphins tight end Charles Clay, but the transition tag could ultimately scare the organization away.
The Browns don't need much help in their secondary, so the team should focus on shoring up their defensive line. The only member of the Browns defensive line to receive a positive rating from PFF in 2014 was John Hughes, and that was in limited snaps. The majority of the team's linemen struggled, particularly Desmond Bryant and Billy Winn, so if the team was looking to make one splash this offseason, that'd probably be a place to look. As Luke pointed out, Pettine's tenure in Buffalo could make Cleveland a landing spot for Bills defensive end Jerry Hughes, and the 26-year-old would certainly be a welcome addition.
For any below-.500 team, many big-name free agents would certainly help the product on the field. The front office has to distinguish whether the length of a contract would justify the player's production. It's difficult to imagine the Browns adding one of the elite free agents (Ndamukong Suh, Devin McCourty, Randall Cobb), so the team needs to be financially conscious as they look to acquire some reinforcement.
Extension Candidates/Contract Issues:
Mitchell Schwartz burst onto the scene as a second-round pick in 2012. The offensive tackle has started in every game since entering the league, and he's topped 1,000 snaps in each of his three seasons. According to PFF, his best season came during his rookie year, when he was ranked 23rd among 80 offensive tackle candidates. Those same numbers suggest that Schwartz has only been average the last two seasons, but his consistency and health certainly make a commodity.
The team could also look to extend Gipson, assuming the safety isn't stolen in restricted free agency. The team hasn't formally announced which tender they'll assign to the safety, but assuming it's a first or second rounder, the Browns should be able to retain the former Wyoming standout. After that, the team can focus on extending the talented defensive back and keeping him in Cleveland longterm.
Overall Outlook:
The team had seemed to be making some real progress under Pettine, and there's still reason for optimism in Cleveland. The coach has had an entire year to evaluate his roster, and he certainly has some franchise cornerstones on his squad. With a boatload of cap room and multiple first round picks, it should be expected that the organization takes another step forward this offseason. Granted, that implies the front office doesn't repeat their mistakes from last year, including whiffing on both of their draft choices.
The Browns should have some money to spend, so the team could certainly add some talent wherever they think best. As long as the Browns can get some production from their free agents and rookies, the team should be able to build on their 7-9 record from 2014.
Information from Over The Cap was used in the creation of this post. Photo courtesy of USA Today Sports Images.
Follow @PFRumors