Pending free agents:
Top 10 2015 cap hits*:
* King Dunlap's new contract will likely place him in the Chargers' top 10, but exact cap figures aren't yet known.
Notable coaching changes:
Draft:
Other:
Overview:
After starting the year at 5-1, many had the Chargers pegged as Super Bowl contenders. Unfortunately, things unraveled quickly after the injury bug bit Philip Rivers and much of their offensive line. A mid-season resurgence thrust them back into the playoff picture, but the Chargers wound up losing three of their four final games, ending their season on December 28th.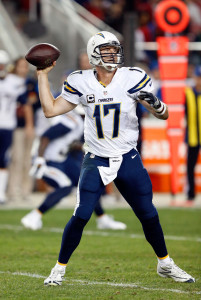 The Chargers are ready to put their disappointing and frustrating 2014 behind them, but they'll have to take care of a few holes if they want to go for the AFC West crown and more in 2015.
Key Free Agents:
Chargers GM Tom Telesco recently said that the Chargers are "a different team" when Ryan Mathews is healthy and on the field. Unfortunately, the 27-year-old (28 in May) spent half of 2014 on the sidelines. To date, 2013 represents Mathews' only full 16-game season. In that campaign, Pro Football Focus (sub. req'd) rated Mathews as the 29th best halfback out of 55 qualified players with an overall grade of +1.6, marking him as just above average. The traditional stats have that year pegged as arguably his best season ever as he ran for over 1,200 yards off of averaged 4.4 yards per carry. I'd expect the Bolts to try and work something out with the former No. 12 overall pick, but with a hard limit on how far they'll go based on his health, age, and overall production. Ronnie Brown is also scheduled to hit the open market and there should be some conversation between the two sides after the 33-year-old showed some flashes late in the 2014 season.
As Pro Football Focus' advanced metrics (subscription required) show, 2013 was a pretty rough year for Brandon Flowers as he finished 85th out of 110 qualified corners. PFF rated Flowers as a top-seven corner in both 2011 and 2012, but the Chiefs could no longer justify his salary at that point and cut him, leading him to sign a one-year pillow contract with the Chargers. Now, his value is back up after a solid 2014 season that put him as the 15th best corner in the league, per PFF. Flowers is on the right side of 30 and playing good football once again, but he'd also be jumping in with a deep class of cornerbacks if he doesn't re-sign. His payday could be capped by his competition, though teams like the Dolphins are already licking their chops at the prospect of landing him.
Less heralded cornerback Shareece Wright is also set to hit free agency. The former third-round choice started a career-high 14 games last season and finished third on the team with 54 tackles while breaking up six passes. He could be a good insurance policy for Jason Verrett and his surgically-repaired shoulder, but it wouldn't be surprising to see another team offer him more money. Strong safety Marcus Gilchrist is in a similar position and another team could give him a chance to start.
Despite recording only 3.5 sacks in 2014, Dwight Freeney recorded 53 overall quarterback pressures, according to Pro Football Focus' data (subscription required), and figures to receive a lot of calls come March 10th. The 35-year-old saw only four games of action in 2013 thanks to a quadriceps injury but saw time in all 16 games last season.
The Chargers kept left tackle King Dunlap from hitting the open market with a four-year, $28MM extension in late February. The 30-year-old graded out as the 23rd-best tackle in the league out of 84 qualifiers last season, per PFF, and while he's not in the elite tier at his position, the Chargers did not want to have to tough things out in free agency where it's a seller's market for tackles.
Eddie Royal never saw a consistently high number of targets in the Chargers' offense, but then again that's pretty much the case for every receiver in San Diego. The soon-to-be 29-year-old had 62 catches for 778 yards and seven touchdowns in 2014, his best season statistically in some time.
Positions Of Need:
The Chargers failed to produce on the ground in 2014 and that'll be one of their top needs looking ahead to 2015. Most don't see Branden Oliver, last year's fantasy darling, as a guy who would be able to take care of the full workload and their need for a back will only increase if Mathews is not retained. The free agent market, of course, has some intriguing options, headlined by 2014's Offensive Player of the Year DeMarco Murray. Murray's odometer was cranked up pretty high last season, but he's one of the very best in the league when he's on the field. Going a little bit cheaper, Saints tailback Mark Ingram is coming off a career year and could make a lot of sense. Adrian Peterson is restless (to put it mildly) in Minnesota and while everyone is connecting AD to Dallas, the cash-flush Chargers might do their due diligence on him. While we're discussing big names, former USC star Reggie Bush is also available. In the draft, the Chargers could look into some of this year's top tailbacks like Melvin Gordon and Tevin Coleman. Then again, the Chargers aren't necessarily looking for a guy to carry the ball 20 times per game, so a mid-tier veteran free agent like Frank Gore could be a solid addition to the depth chart alongside Oliver, Donald Brown, and Danny Woodhead.
Without a solid offensive line in San Diego, it won't matter much who is carrying the ball. The Bolts have multiple holes to fill after the offseason retirements of veterans Nick Hardwick and Jeromey Clary. Hardwick, 33, had served as San Diego's starting center since being selected by the Chargers in the third round of the 2004 draft, the same year that the team added Rivers. Clary, meanwhile, was with the Chargers since 2006 and started 93 of the 103 games he played for the team during his career. They have work to do on the o-line, but thanks to their newly-minted extension with Dunlap, they won't have to pick through the shallow pool of available left tackles.
After the retirement of Jarret Johnson, the Chargers will also seek out a pass rusher this offseason. Fortunately for them, the need might not be as dire since Freeney has decided to continue playing. Of course, he's also scheduled to hit the open market so he isn't a lock to return. If linebacker Jason Worilds hits the open market on March 10th as expected, he would represent a major boost to the Bolts' front seven. The Steelers standout won't come cheap, so someone like defensive lineman Darnell Dockett could be a less pricey option if the Cardinals don't work out a new deal with him. In the draft, super athletic defensive end Arik Armstead could be available at No. 17, though there's no guarantee of that if he continues to impress.
Extension Candidates/Contract Issues:
Rivers is entering final year of a deal that will pay him $15.75MM in base salary and count more than $17MM against the salary cap. Telesco said earlier this year he wants Rivers to be a Charger for life but at last check the two sides have yet to have discussions about restructuring his contract. For his part, Rivers says that the team's potential relocation won't affect his decision to stay on board one way or the other. Rivers has been willing to adjust his deal in the past to help accommodate the team. In the fall of 2013, he agreed to drop his $12MM base to $7MM while receiving a $5MM signing bonus. That adjustment gave the Bolts an additional $6.7MM in 2013 cap space. A new deal this time, of course, would probably involve additional years.
Corey Liuget is another key player who could leave after 2015. The durable defensive end is set to earn $6.9MM after the team triggered his fifth-year option, but another strong season could make him extra pricey on the open market. PFF pegged him as an above-average 3-4 defensive end in 2014 and the Chargers would probably like to keep the aggressive lineman beyond this upcoming season. An extension for Eric Weddle, who celebrated his 30th birthday in January, is also under consideration.
When Antonio Gates' time is through, the Bolts can turn to a very promising heir in Ladarius Green. At 6'6″ and 237 pounds, Green has displayed the agility of a wide receiver with all of the power you'd expect to see from a guy his size. Many thought that 2014 would be Green's breakout year, but Gates decided to silence the naysayers and maintain his spot as one of the Chargers' top ball-catchers once again. Still, Gates can only outlast Father Time for so long and San Diego won't want to risk losing Green after the 2015 season. He'll earn a base of just $660K this year but a new deal will cost quite a bit more.
The Chargers' offensive line was hit hard by injuries and only one player appeared in every offensive snap: left guard Chad Rinehart. Thanks to playing more than 85% of the club's snaps, Rinehart will now earn a base salary of $3.15MM in 2015, up from $2.25MM. The question now is whether they'll allow him to play out his walk year. Rinehart, 28, never started more than 12 games in any of his five NFL seasons when he re-signed with the club last offseason, but he now has a full season as a starter under his belt. However, the advanced numbers (via Pro Football Focus) are not impressed by his performance last season, rating him as one of the worst guards in the NFL.
With a cap hit of $4MM+, the Chargers could sit down with "Dammit" Donald Brown to see if he'd be willing to give them a bit of a break. They won't cut him, however, according to comments made by Telesco earlier this offseason.
Overall Outlook:
Given the Broncos' myriad issues, the AFC West doesn't look nearly as scary as it once did. The Chargers have some tuning up to do, sure, but with $30MM of cap space and one of the league's best quarterbacks, there's no reason to think that they can't put themselves back on top in short order.
Information from Over The Cap was used in the creation of this post. Photo courtesy of USA Today Sports Images.
Follow @PFRumors