Pending free agents:
Top 10 2015 cap hits:
Notable coaching changes:
Draft:
No. 10 overall pick
Owe fourth-round pick to Buccaneers in deal for Mark Barron.
Owe sixth-round pick to Buccaneers in deal for Mark Barron.
Owe seventh-round pick to Falcons in deal for Alec Ogletree.
Acquired seventh-round pick from Patriots in deal for Greg Salas.
Other:
Overview:
Even in a hyper-competitive NFC West division, the Rams entered the summer of 2014 as a potential dark horse postseason candidate. The team didn't have much offensive firepower to speak of, but the addition of Aaron Donald made the defensive line the scariest in the NFL, and pairing a healthy Sam Bradford with 2013 breakout running back Zac Stacy looked like it would, at the very least, make the offense competent.
That optimism quickly took a turn south though, when Bradford was sidelined for a second straight season with an ACL injury. Following Bradford's injury, the hits kept on coming: the defensive line took some time to gel, Stacy wasn't nearly as effective, second overall pick Greg Robinson had some growing pains as he adjusted to the NFL, and key contributors like Chris Long and Jake Long went down with injuries.
Given all that went wrong in St. Louis, it's a little surprising the team even managed to win six games, but a disappointing 2014 season means the club could once again head into 2015 as a sleeper. Armed with another top-10 draft pick, the Rams are prepared to add more talent to a roster that already features a handful of promising young players. There are plenty of question marks – particularly on the offensive side of the ball, where the club looks set to give Bradford one more shot – but there are plenty of solid building blocks already in place.
Key Free Agents:
A pair of quarterbacks who started games for the team last season – Shaun Hill and Austin Davis – are eligible for free agency, and even with Bradford due back, I'd expect to see the club try to re-sign one or both of those signal-callers. Hill, who will be entering his age-35 season is the sort of veteran backup who can at least give a team a chance to win if its starter goes down — he had a respectable 63.3% completion percentage and an 83.9 passer rating in his eight starts last season, and should be fairly inexpensive.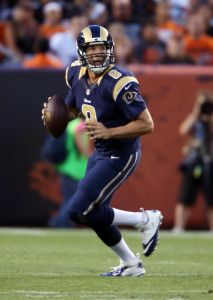 If the Rams prefer not to retain both quarterbacks, it may make more sense to bring back Davis. His numbers in his own eight starts were extremely similar to Hill's across the board, and at age 25, there's presumably some room for improvement. Davis is also a restricted free agent, so the club could tender him a one-year offer at an affordable rate, and perhaps put off a more permanent decision on his future with the club for another season.
Besides the quarterbacks, the offense has a few more notable free agents, with tight end Lance Kendricks, offensive tackle Joe Barksdale, and wide receiver Kenny Britt all eligible to hit the open market. The Rams initiated extension discussions with Britt's camp quite early, which is a sign the club would like to bring him back, and that makes sense. The former first-round pick had a nice bounce-back season in 2014 after reuniting with Jeff Fisher, establishing a new career high with 48 receptions, despite catching balls from a pair of backup QBs.
Britt will almost certainly be more expensive this time around than he was a year ago, when St. Louis was able to ink him to a one-year, $1.4MM pact. But for an offense that's a little thin on playmakers, spending a few million on a 26-year-old wideout with big-play potential (he averaged 15.6 yards per catch in 2014, right in line with his career mark) looks like a worthwhile investment.
Barksdale's future in St. Louis, on the other hand, looks more uncertain. The veteran tackle is reportedly set to test the open market after three years with the Rams, and I'm not sure the club will aggressively engage in a bidding war to retain him. Even though offensive line is an area of need for the Rams, the team may view the right tackle position as the best fit for Jake Long, now that Robinson has assumed the left tackle role. If that's the case, there may not be a spot for Barksdale, who hasn't played a whole lot of guard since entering the NFL. On the other hand, if the Rams end up parting ways with Long, or deciding to try him at guard, locking up Barksdale would become a greater priority.
As for Kendricks, with $8MM+ already committed to No. 1 tight end Jared Cook, it seems unlikely that the Rams would be willing to spend $4MM on a second tight end, and that's Kendricks' rumored asking price. While he could be back, it wouldn't surprise me if Kendricks signed elsewhere, and the Rams brought back restricted free agent Cory Harkey and perhaps added another tight end in the draft.
Among the Rams' other free agents, safety Rodney McLeod looks like the only key player the team will absolutely make an effort to retain. Appearing in more than 1,050 defensive snaps in 2014, the 24-year-old continued to establish himself as a solid NFL starter, and the arrival of former first-round pick Mark Barron shouldn't jeopardize McLeod's role in the secondary. As a restricted free agent, McLeod will be eligible for a one-year tender, and I expect he'll get one.
Possible Cap Casualties:
The Rams have already begun cutting ties with overpriced players, parting ways with defensive tackle Kendall Langford, who became expendable when Donald immediately established himself as one of the best interior defensive linemen in the NFL. Releasing Lanford created $6MM in cap savings for the club.
Next up? It may be Jake Long. As discussed earlier, the former first overall pick has been supplanted at left tackle by Robinson, and his $10.5MM cap number doesn't really play anywhere else. Restructuring Long's deal and trying him at a new position remains a possibility, but releasing him would save $8MM in cap room, which could be put toward signing one or two younger – and likely healthier – offensive linemen.
Elsewhere on the offensive line, Scott Wells looks like a logical cap casualty as well. According to Pro Football Focus (subscription required), among players who played at least 25% of their teams' snaps in 2014, no center performed worse than Wells, who graded well below average as a run blocker and was even worse in pass protection. The 34-year-old is entering the final year of his deal, and cutting him would create $3.75MM in cap savings for St. Louis.
Among the other veteran players with sizable cap hits, defensive lineman Eugene Sims may also be on the chopping block. At around $3MM, it wouldn't cost the Rams a whole lot to keep Sims in the mix, and I wouldn't be surprised if the team chooses to do so, since he has been effective as a run stopper and can occasionally get to the quarterback. Still, he's only a part-time contributor, and cutting him would clear nearly his entire cap number from the books — if the opportunity arises to add a cheaper replacement, I believe the team would explore that possibility.
Positions Of Need:
The Rams' defense was once again its strength in 2014, ranking ninth in overall DVOA, according to Football Outsiders. With no key pending free agents set to hit the market, St. Louis is in fairly good shape on that side of the ball. Upgrading at linebacker and/or cornerback is a possibility this offseason, but it would be a luxury, rather than a necessity. For the most part, the team should focus on its offense, where a number of positions must be addressed.
First and foremost, the Rams will be on the lookout once again for a long-term answer at quarterback. A former first overall pick, Bradford was supposed to be that long-term solution, but injuries have limited him to just seven games in his last two seasons, and even when he has been healthy, his performance on the field early in his career has been up and down. Fisher and general manager Les Snead have spoken highly of the 27-year-old, with both men downplaying or outright dismissing trade rumors that swirled around at last month's combine. Bradford also played a role in the team's promotion of Frank Cignetti to offensive coordinator, and the hiring of Chris Weinke as quarterbacks coach, which is a sign that the club expects him to stick around.
It appears likely that Bradford will head into the 2015 season as the team's No. 1 quarterback, assuming he's healthy enough to do so, but it will be the final year of his contract, so the club will eventually have to decide whether to go in a different direction. Of course, if the team ultimately opts to replace Bradford with someone else, that replacement may not be added to the roster this offseason, given the lack of viable options on the free agent market and in the draft.
If the Rams don't add a new quarterback this offseason, they can at least give their old QB a few more receiving options with which to work. Brian Quick flashed some real potential in 2014, but former first-rounder Tavon Austin still hasn't shown a whole lot, and there's no guarantee Britt will return. I wouldn't expect the Rams to make a major play in free agency for someone like Jeremy Maclin or Randall Cobb, but adding a second-tier veteran is realistic. Nate Washington, who played for Fisher in Tennessee, is one possibility, and I could imagine Cecil Shorts being a fit in St. Louis. Selecting a wideout during the first day or two of the draft is also in play for the Rams.
While adding talent at the skill positions would be nice, the Rams' more pressing needs are in the trenches — Robinson will be given every opportunity to make the left tackle position his own for the remainder of his rookie contract, and perhaps well beyond that. And last season's big free agent signee, Rodger Saffold, was solid at left guard in 2014. However, the team could end up overhauling its other three offensive line positions this offseason.
Wells, as mentioned above, was ineffective at center, and Davin Joseph – who PFF ranked as a bottom-five guard in the league – was nearly as bad beside him. Barksdale was solid enough at right tackle, but both he and Joseph are on expiring contracts, while Wells is a strong candidate to be cut.
If the Rams do make a splash in free agency, I'd expect it to be somewhere on the offensive line. Interior options include Chiefs center Rodney Hudson, who would be a nice fit in St. Louis, as well as Raiders center Stefen Wisniewski, 49ers guard Mike Iupati, former Falcons guard Justin Blalock, and Bengals guard Clint Boling. Potential targets on the outside include Packers tackle Bryan Bulaga and Cowboys tackle Doug Free. Adding anyone from that list, and then drafting a lineman with the No. 10 overall pick, would go a long way toward solidifying the group that will be tasked with keeping Bradford upright in 2015.
The Rams are no lock to use that No. 10 pick on an offensive lineman — if a receiver like Amari Cooper or Kevin White falls that far, or if one of the top quarterbacks somehow slips, it would be hard to pass up on that sort of talent. Still, the same could be said of Iowa tackle Brandon Scherff, who would be a very nice addition if he's available when the Rams are on the clock. Stanford's Andrus Peat, LSU's La'el Collins, and Miami's Ereck Flowers also figure to receive consideration from St. Louis' brass.
Extension Candidates/Contract Issues:
The Rams don't have a ton of cap room at the moment, and are the only NFL team that didn't carry over any cap space from 2014. They should be able to create some flexibility by cutting (or significantly restructuring) Long and Wells, as noted earlier, and Bradford's contract is another one that figures to be addressed. He's currently set to count for $16.58MM against the cap in the final year of his deal.
Asking Bradford flat out to accept a pay cut may not be the best course of action for the Rams, even if a player coming off consecutive ACL injuries probably isn't worth a $13MM base salary. Restructuring his deal in a way that reduces Bradford's 2015 salary and cap hit while also giving him some bonus money up front, and tacking another year or two onto the contract, would seem like a logical solution, given how much the Rams' brass likes the veteran signal-caller. If Bradford looks at this year's dismal free agent class and believes he could cash in on the open market a year from now, he may drive a hard bargain, but working out a short-term contract extension seems like a mutually beneficial move for the two sides.
Besides Bradford, there are no extension candidates on the roster that need to urgently be addressed. The Rams locked up their top pass rusher, Robert Quinn, to a long-term deal last year, earning a big check mark on their to-do list. While the team could approach defensive tackle Michael Brockers about a new contract this summer, he has a fifth-year option for 2016, so there's no hurry to get anything done with him quite yet.
Greg Zuerlein will be eligible for free agency after the 2015 season, but he's coming off a year in which he missed three field goals from inside the 40-yard line, despite making five of seven from 50+. Although he may sign a new deal in the fall, I'd expect the Rams to want to make sure he's back on track in the 2015 season before investing $3MM+ annually in him on a multiyear contract.
If the team needs to create additional cap room for 2015, Quinn, Cook, and Chris Long are among the players whose contracts could be restructured.
Overall Outlook:
PFR's Rob DiRe wrote back in November that the Rams are only a quarterback away from contention, and while there's some truth to that, I'd argue that the team is perhaps a couple offensive linemen away from contention as well — even if St. Louis were to add the next Tom Brady or Aaron Rodgers, that QB would need some solid players in front of him to keep him on his feet.
Without a real shot at Mariota or Winston, and with no free agent quarterbacks worth a significant investment, Bradford looks like the Rams' best option heading into 2015, meaning the club can perhaps put its search for a new QB on the back burner temporarily. The defense looks good, and adding some new blood at wide receiver, offensive line, and perhaps tight end would give Bradford a greater opportunity to succeed, and to stay healthy. The former No. 1 pick may prove not to be the long-term solution at the position in St. Louis (or, potentially, Los Angeles), but assuming they can patch up their other holes, there may just be enough talent elsewhere on the roster to make the Rams a playoff contender in 2014.
Information from Over The Cap was used in the creation of this post. Photo courtesy of USA Today Sports Images.
Follow @PFRumors