Pending free agents:
Top 10 2015 cap hits:
Notable coaching changes:
Draft:
Other:
Overview:

Picked by some as a possible surprise playoff contender, the Buccaneers completely collapsed under new head coach Lovie Smith en route to winning just two games, their lowest win total since 1986. Veteran quarterback Josh McCown, signe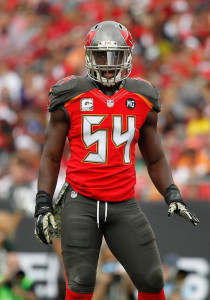 d to a curious multi-year contract during the offseason, couldn't replicate his 2013 success, and ended up splitting time at QB with second-year player Mike Glennon. A revamped offensive line also struggled, leaving rookie receiver Mike Evans as the sole bright spot on offense.
Tampa Bay's defense, expected to be the stronger side of the club, also played below expectations, finishing 25th in both yard and points allowed. The unit was especially poor against the pass — after releasing Darrelle Revis prior to the season, the Bucs finished 28th in passing yards allowed. On a positive note, Tampa did lock up star defensive tackle Gerald McCoy to a seven-year extension worth more than $95MM.
Key Free Agents:
Like most teams who performed badly enough to be holding the No. 1 overall pick in the draft, the Buccaneers don't have a ton of free agents who they need to worry about retaining. Oniel Cousins played at both tackle spots, ultimately starting seven contests, but wasn't effective, posting a -21.0 Pro Football Focus grade (subscription required), struggling especially in pass-blocking. At 31, Cousins' best days are behind him, and he shouldn't be a priority in free agency.
At tight end, Luke Stocker was also below-average in his 331 snaps, but he's been decent in prior seasons. He's just 27 years old, and not a terrible option as the No. 3 TE behind Austin Seferian-Jenkins and Brandon Myers. Stocker shouldn't require much of a commitment to be re-signed, so I'd expect him to be brought back.
The Bucs field one of the best outside linebackers in football in Lavonte David, but Mason Foster has been manning the middle since being drafted in 2011. He had been steadily improving as his career progressed, but after being slowed last season by a shoulder injury (and ultimately missing six games), he regressed. Still, Foster just turned 26 on Sunday, so he has youth and experience (54 career starts) on his side. He's worth re-signing, but with the Dolphins reportedly showing interest, the Bucs shouldn't get into a bidding war.
After following Smith from Chicago, Major Wright started seven games at free safety, rating as a perfectly average player (+0.4 PFF grade). He was among the worst safeties in the league in 2013, so there's a concern that he could slide back to his prior levels of production. Wright earned only the minimum salary benefit last season, however, so if Smith feels comfortable with him in the back end, he'll probably return (especially if Dashon Goldson doesn't).
Since being selected 51st overall in the 2011 draft, defensive end Da'Quan Bowers has been nothing short of a bust, starting just 10 games in four seasons and never posting more than three sacks in any one year. Fellow end Adrian Clayborn, picked No. 20 in that '11 draft, hasn't disappointed to the same level, but he certainly hasn't lived up to his draft status. Both players can probably survive in reserve roles elsewhere, but a return to Tampa shouldn't be a priority.
Elsewhere on the defense, reserve linebacker Dane Fletcher is a key contributor on special teams and will probably be retained to serve in that capacity once again. Defensive end Larry English, a former first-rounder, struggled in his part-time pass-rushing duty, and could be running out of NFL opportunities.
Possible Cap Casualties:
After signing a five-year deal prior to the 2013 season, Goldson was supposed to team with Revis to give Tampa Bay one of the most feared secondaries in the league. Goldson, now 30 years old, hasn't held up his end of the bargain, as he's been among the worst safeties in the NFL, including grading out as the second-worst at his position in 2014, according to PFF. He's been floated as a trade candidate, but the Buccaneers would be hard-pressed to find another team willing to take on Goldon's contract, which contains a $7.5MM base salary for this season ($4MM of which is guaranteed). Tampa would have to carry that $4MM in dead money if it cuts Goldson, but his play has dropped to the point where a release seems inevitable, although the two sides could agree to a pay cut.
Michael Koenen is a decent punter, but he is still a specialist, making his 2015 $3.25MM cap hit hard to justify. He ranked just 29th in net punting average, so the Bucs should at least make a move to reduce his salary. Or, if Tampa thinks is can find a better option through the draft or free agency, it can release Koenen, clearing his entire cap charge.
There have been rumblings that defensive end Michael Johnson could be on the chopping block, as his first season in Tampa was disappointing. He's not a great fit for Smith's defensive scheme, but he was a very productive player with the Bengals as recently as two years ago. Johnson is only 28 years old, and he'd count $7MM in dead money if he were cut (juxtaposed against just $2MM in savings). He's probably safe for 2015.
Two other Buccaneers would have been listed here had the club not already made a decision on their respective fates. Tampa will retain veteran receiver Vincent Jackson at his $12.2MM cap charge, a somewhat surprising decision given the trade rumors that had swirled around him last season. On the other hand, the Bucs will either trade or release failed 2014 signee Anthony Collins, who never worked out in his transition to a full-time role at left tackle.
Positions Of Need:
The most glaring need on Tampa's roster is obviously at quarterback, where McCown has already been released and the club is reportedly open to trading Glennon. Fortunately for the Buccaneers, they shouldn't have to delve into an extremely weak free agent QB market, because as holders of the No. 1 overall selection, they can have their choice of successful NCAA signal-callers — but will it be Jameis Winston or Marcus Mariota?
With about eight weeks left until the draft, the early returns show Winston as the favorite to hear his name called first. Speaking at the combine, Smith said he would be comfortable with the FSU alum as the "face of the franchise," and today Winston visited with the club's owners in Tampa. Winston looks like the pick, but as we've learned in previous drafts, anything can happen when the process begins.
After playing the majority of the year on the right side, Demar Dotson flipped to left tackle near the end of season and proved to be at least competent. Still, tackle is a need area for the Bucs — with Dotson in tow, the club can probably seek out the best tackle available, regardless of side, and plug Dotson in at the other spot. There aren't many free agent options at left tackle, so Tampa is probably safer looking for a right-sider. Bryan Bulaga is the best choice available at RT, but the Bucs could also take a look at Doug Free or Jermey Parnell, both of whom played for the Cowboys last season. They could take a chance on the recently-released Michael Oher, but after striking out on Collins last year, they might not want to take another swing on a risky free agent.
Center and left guard are spoken for by Evan Dietrich-Smith and Logan Mankins, respectively, but right guard could be upgraded — Patrick Omameh rated as the No. 55 guard among 78 qualifiers, per PFF. Tampa could make a play for the top-name guards, like Mike Iupati or Orlando Franklin, or settle for a lesser-known player like Detriot's Rob Sims. The Bucs could also take the veteran route and look at older players such as Daryn Colledge or Davin Joseph (a longtime Buc). The draft is said to be chock-full of offensive lineman, however, meaning the club could look to fill holes at tackle and/or guard with younger players.
On defense, Tampa Bay's scheme requires pressure up front, something that was hard to come by last season (outside of McCoy's production). Both the draft and free agency have plenty of options on the edge, so the Bucs should be able to find some help. From an on-the-field standpoint, Greg Hardy might be the perfect fit, as he could bring pressure from outside while McCoy dominates from the interior. But with his off-the-field baggage, Tampa might be uncomfortable making a play for the 26-year-old end. Instead, the club could target the Eagles' Brandon Graham, who would fit better in a 4-3 look than he does in Philadelphia's 3-4, or a veteran like Dwight Freeney. Ultimately, I expect the Bucs to add at least one top-notch edge rusher, plus several lower-tier depth options.
Elsewhere, the Buccaneers could aim to find a middle linebacker to replace Foster, but the FA market doesn't have much to offer, meaning the draft might be the way to go. Additionally, Tampa could use another safety simply because Goldson's play has been so detrimental. But with his large cap figure, I doubt the club would feel comfortable spending so much on the position. If they can pawn Goldson off to another team, maybe Tampa takes a run at Devin McCourty, or ex-Smith pupil Charles Tillman (if he's willing to convert to safety), but it's more likely they stay with their current crop.
Smith has made it clear that the Buccaneers don't intend to sit out free agency, and with more than $33MM in cap space to use, they should be major players as they look for upgrades to their roster.
Extension Candidates/Contract Decisions:
The only viable extension candidate on Tampa Bay's roster is David, who has quickly become one of the league's best defenders since being drafted in 2012. The 25-year-old has topped 100 tackles in each of his first three seasons, and placed among the top-seven at his position (according to PFF) during that same span. Unfortunately for David, 4-3 outside linebackers aren't highly-valued on the open market, and even though David is perhaps the best overall player at said position, he doesn't have the earning potential of, say, a 3-4 outside 'backer.
However, there's no reason David shouldn't earn the top salary among 4-3 OLBs, where Lance Briggs' $7MM per year average is the figure to beat. K.J. Wright and the Seahawks recently agreed to an extension that pays him $6.75MM per season, and David should be able to top that. I'd be surprised if David doesn't at least match Briggs' figure, and if pressed, I'd wager he'll earn more.
Tampa Bay also has a fifth-year option on running back Doug Martin. Ever since his electrifying rookie season, the 2012 first-rounder has dealt with injuries and slowly been phased out of the offense. Even while starting 11 games last year, he failed to top 500 yards rushing, posting just 3.7 yards per carry. The Bucs will decline the option.
Overall Outlook:
The Buccaneers figure to be one of the more interesting teams in the league next season, especially if they choose Winston to be their quarterback of the future. The roster has holes to be sure, but the overall makeup of the club isn't that different from the one that had observers predicting a postseason appearance prior to last season. Armed with ample space, the Bucs could make a few solid additions, and with a bit of luck, the playoffs aren't completely out of reach — but it's probably safer to view 2015 as a rebuilding year in Tampa Bay.
Information from Over The Cap was used in the creation of this post. Photo courtesy of USA Today Sports Images.
Follow @PFRumors