Under new offensive coaches Gary Kubiak, Rick Dennison, and Juan Castillo, the Ravens offensive line of 2014 displayed perhaps the greatest improvement of any front five in the league from the season prior. After ranking as the NFL's worst run-blocking unit and exactly average — No. 16 — in terms of pass-blocking in 2013 (according to Football Outsiders), Baltimore's line graded as third-best in the pass game and No. 4 in the run game last season.
That level of success can be attributed to several factors, including Kubiak's implementation of a zone-blocking scheme, the excellent play of center Jeremy Zuttah (acquired from the Buccaneers during the offseason), or the fact rookies John Urschel and James Hurst performed capably as fill-ins when injuries struck. But the foremost component that lead to Baltimore's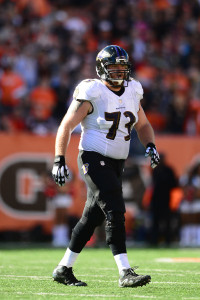 front five turnaround was the preeminent play of its interior lineman — left guard Kelechi Osemele and right guard Marshal Yanda — each of whom enters the final season of his contract.
The 30-year-old Yanda is the elder statesman of the two, having been drafted in 2007 and already having negotiated one extension with the Ravens (a five-year, $32MM deal signed in 2011). He's probably also the better player — his +43.8 Pro Football Focus grade (subscription required) placed him atop the guard rankings, was nearly double that of the next highest guard, and put him well above Osemele, whose +21.6 mark placed him sixth at the position.
While Yanda does have the edge in experience, that also means that Osemele hasn't yet endured the wear and tear of many 1,000-snap seasons along the interior. Osemele, a former second-round draft pick, won't even turn 26 years old until later this month, and has has only 37 NFL games (all starts) on his ledger. Yanda, meanwhile, has played in 115 contests, but his only major injury scare came during his second season in the league, when he suffered a season-ending knee injury.
Because of Yanda's longer track record, we can be more sure that his success is no fluke. He's never finished outside the top-25 at his position per PFF — including 2010, when he started 15 games at right tackle — and he's ranked among the top three guards in three of the past four seasons. Osemele, obviously, was impressive last season, but had little to no success during his first two NFL seasons. He was below-average as a tackle in 2012, and wasn't much better in seven games at guard in 2013. Injuries sapped much of Osemele's '13 campaign, so perhaps now that he's settled at one position and injury-free, his true talent is able to shine. But it's hard to argue that Yanda is more a sure thing at this point.
Though the Ravens would surely like to retain both players, reports have indicated that the club will probably only be able to re-sign one, and for now, it seems like Yanda is the favorite to land a long-term deal. General manager Ozzie Newsome mentioned Yanda by name in May, but also seemed to leave the door open for Osemele. "If we don't get it done [with Yanda]," said Newsome, "we'll move on to the next." Jamison Hensley of ESPN.com reported the same last week, noting that Yanda would be the team's primary target, with Osemele being a secondary option.
The fact that the Ravens would only retain one of their guards makes sense in that it fits in with NFL contractual trends. Most clubs seem averse to spending large chunks of cap space on two quality guards. Only four teams — the Falcons, Titans, Cardinals, and Packers — will employ two guards who have a 2015 cap hit in excess of $2.5MM. Tennessee and Arizona are only on that list because they spent first-round picks on guards, meaning only Atlanta and Green Bay will pay two veteran guards any sort of large sum.
Though it would be tough for any club to shell out long-term deals to both its starting guards, it could be especially difficult for Baltimore given the cap concerns it will face starting in 2016. Quarterback Joe Flacco's cap hit will jump to an astounding $28.55MM (second only to Ndamukong Suh's figure), while cornerback Jimmy Smith's extension will begin, increasing his cap figure to $9.6MM. The Ravens project to have just under $21.5MM in cap space available for 2016 (10th-least in the league), and while the club can make moves to create space — Flacco's deal will likely be restructured, while Lardarius Webb and others could be released — financial room could be tight.
If they do hit the free agent market next March, both Yanda and Osemele will look to top the five-year, $40MM deal Mike Iupati signed with the Cardinals this offseason. Left guards, like Osemele and Iupati, earn more than their counterparts on the right, so Osemele will have an advantage in that regard. Osemele will be entering his age-27 campaign next year, while Iupati is already 28, and the former's recent track record is superior to that of Iupati's in his platform season. If Osemele maintains his production from 2014, there is no reason he shouldn't match or exceed Iupati's deal, especially given that he doesn't intend to give Baltimore a hometown discount.
For his part, Yanda is already the highest-paid right guard, earning $6.4MM annually. Given his age and position, I think he'll have a much more difficult time matching Iupati's deal. Certainly, he is one the best (if not the best) at his position, but it's hard to imagine a club spending ~$40MM on a lineman who will be entering his age-32 season in 2015. Hensley suggested in February that a four-year, $30MM pact would make sense for all parties involved, and while I agree on the length, I think Yanda could push for a higher AAV, perhaps asking for $8MM per, with $16-18M in guarantees.
Much of Yanda and Osemele's value could be derived by maintaining their consistent play through this season. Will Osemele post another above-average campaign, cementing his status among the elite guards? Will Yanda stay healthy as he enters his thirties, and maintain his production as he ages? The answer to those questions will go a long way towards determining not only which guard scores a larger contract, but which stays in Baltimore long-term.
Photo courtesy of USA Sports Images.
Follow @PFRumors