11:40am: Houston's signing bonus is worth $20.5MM, according to Ian Rapoport of NFL.com (via Twitter). That means it'll count against the cap for $4.1MM annually from 2015 to 2019.
11:22am: Houston has confirmed in a tweet that he has signed his contract with the Chiefs, thanking agents Joel Segal and Greg Barnett for their work getting it done. Meanwhile, Jason La Canfora of CBSSports.com has some specifics on the money involved, tweeting that Houston will get $32.5MM in fully guaranteed money, including $43MM by March 2016.
11:00am: The Chiefs and Justin Houston have agreed to a contract extension that will be the richest deal in team history, according to Adam Schefter of ESPN.com. Schefter reports (via Twitter) that Houston's new contract will be worth $101MM over six years, including $52.5MM guaranteed, narrowly surpassing J.J. Watt's pact with the Texans.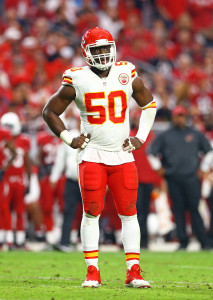 Houston becomes the first of this year's class of franchised players to reach a multiyear extension with his club, doing so about four hours before this afternoon's deadline. Outside of perhaps Stephen Gostkowski, who already signed his franchise tender with the Patriots, Houston had long been considered the franchised player most likely to ink a long-term deal.
Multiple recent reports had indicated that Houston was looking to match or exceed Watt's six-year, $100MM contract, which seemed to be a more attainable goal than equaling Ndamukong Suh's six-year, $114MM+ deal. Unlike Suh, neither Houston nor Watt reached the open market when they agreed to their new contracts. However, you could make a strong case that the Chiefs and Texans pass rushers are currently the two most valuable defenders in the NFL.
In 2014, Houston led the league in sacks, racking up 22 en route to his first All-Pro nod. Over the past three seasons, the 26-year-old has terrorized opposing quarterbacks, accumulating 43 sacks in 43 games — he also forced four fumbles last season, totaling 68 tackles. The advanced numbers back up Houston's dominance as well, as he has ranked as Pro Football Focus' No. 1 outside linebacker over each of the past two seasons (subscription required). Last year, his +51.1 grade nearly doubled the +26.0 mark posted by PFF's second-best 3-4 OLB, Pernell McPhee.
A former third-round pick, Houston entered the league in 2011 with some off-field concerns after reportedly testing positive for marijuana at the NFL's scouting combine. However, he has stayed out of trouble and on the field since then, instilling plenty of confidence in the Chiefs, who used their franchise tag on him before locking him up to a longer-term deal.
Had Houston not reached an agreement with Kansas City today, he would have had to sign his one-year franchise tender – worth $13.195MM – or negotiate a slightly modified one-year contract with the team. That salary would have been guaranteed once he signed his tender, but it looks like he'll earn more than $13.195MM in 2015, between his signing bonus and his new salary. The Chiefs should also create a little breathing room under the cap, since they'll be able to spread Houston's signing bonus out over five seasons for cap purposes.
While the $52.5MM guarantee initially reported won't all be fully guaranteed, Houston's per-year salary makes him the highest-paid linebacker in NFL history. Interestingly, a report in May indicated the Chiefs wouldn't want to pay Houston more annually than they've committed to quarterback Alex Smith, who is making $17MM per year. So it makes sense that Houston's figure would come in just short of that, at about $16.83MM per season.
With Houston having landed an extension today, we'll now be keeping an eye on Dez Bryant, Demaryius Thomas, and Gostkowski, as the 3:00pm CT deadline for long-term contracts for franchised players looms. Jason Pierre-Paul is also eligible for a multiyear extension, but the uncertain nature of his hand injury makes a deal extremely unlikely.
Photo courtesy of USA Today Sports Images.
Follow @PFRumors