While the contributions from quarterback Cam Newton are obvious, it's been the Panthers defense that has carried the club to two consecutive playoff appearances and an undefeated record in 2015. That unit, which ranked third in Football Outsiders' DVOA in 2013 before slipping to 15th in 2014, has rebounded to the second overall position this season. The club's defense has been headlined by several stars in the past, from standout linebackers Luke Kuechly and Thomas Davis to veteran defensive end Charles Johnson, but this year there is one star who stands head-and-shoulders above the rest: cornerback Josh Norman.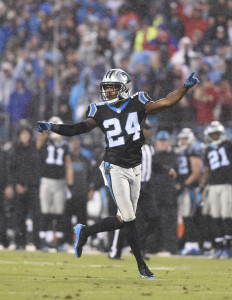 Norman, a fifth-round pick out of Coastal Carolina in 2012, was a starter for much of his rookie season before being benched late in the year, and his struggles continued during his sophomore season, during which he was active for only seven games. But after veterans Drayton Florence and Captain Munnerlyn departed prior to the 2014 season, Norman worked his way back into the starting lineup, and by year's end, was already in the top-10 cornerback conversation.
2015, however, has witnessed an altogether dominant Norman, as he's emerged as a shutdown corner capable of unhinging opponents' passing-game plans. Through eight games, Norman has posted four interceptions, two of which he's returned for touchdowns, while defensing 13 passes. Per Pro Football Focus' advanced metrics (subscription required), he rates as the top corner in the league, recording an overall grade of 95.2 (on PFF's new 1-100 scale).
Going game-by-game, it's clear the Norman has disrupted the production of some of the game's best wideouts. In week 1, Norman held Texans receiver DeAndre Hopkins (now the NFL's third-leading receiver) to just five catches for 53 yards. Tampa Bay's Mike Evans and Indianapolis' T.Y. Hilton saw similar struggles against Norman, posting just 3-32 and 1-15 lines, respectively. Last month, PFF's Sam Monson penned an excellent breakdown of Norman's play, with this amazing nugget tucked within: Through six games, Norman had allowed an opposing passer rating of just 24.1. A QB's passer rating if he simply threw the ball into the ground every play? 39.6, 15.5 points better than throwing at Norman.
Unfortunately for the Panthers, they've failed to reach an extension agreement with Norman in the year-plus that he's been eligible for such a deal. Prior to this season, Norman reportedly turned down a long-term contract that would have paid him $7MM annually, a decision that is now proving astute. He'll now hit unrestricted free agency in March, and having earned a total of just $2.3MM via his rookie contract, he's surely looking for a big payday.
Luckily for us, there have been several top-notch corners signed to extensions in recent years, so we have a nice crop of deals to use as comparables. Here are the five contracts that Norman and his representatives will likely use as a basis during negotiations, sorted by guaranteed money:
Maxwell, who, it should be noted, signed a free agent contract and not an extension, sets the floor in terms of annual value at $10.5MM, but realistically, Norman should garner much more than that. His target is surely $14MM per annum, the mark reached by Revis, Peterson, and Sherman, each of whom are considered among the top corners in the league. And given his play over the past two seasons, there is no reason Norman shouldn't be able to secure that figure.
The guarantee is likely to be where Norman and the Panthers have some disagreement. Revis was able to get $39MM in guaranteed money, but he has played the free agent game masterfully during his career, and created a demand that Norman is unlikely to gin up. Additionally, Revis was orchestrating negotiations without the threat of the franchise tag hanging over his head, an issue Norman will likely be unable to avoid.
There's no question in my mind that, failing an extension, the Panthers will slap Norman with the franchise tag. Last year's cornerback figure was a tad over $13MM, so for the sake of discussion, let's assume the 2016 number will be somewhere around $14MM. Currently, Carolina only has about $16MM in cap space for the 2016 season, but the club has several moves it can make to clear out cap room. Jared Allen ($8.5MM cap charge), Roman Harper ($4.66MM), Michael Oher ($4.5MM), and Ted Ginn Jr. ($2.35MM) are all candidates to be released during the offseason, so the Panthers can create space if they want to.
So, based on my assumption that Norman will be negotiating solely with the Panthers, and not with the other 31 clubs, it's going to be hard for him to challenge Revis' $39MM figure. Obviously, the $14MM (or so) franchise tag guarantee would act as a guarantee floor, so Norman will have already topped Sherman in that regard. Ultimately, I think he'll be able pass all the corners besides Revis in terms of guarantee, so something like a five-year, $70MM deal, with $25-28MM in guarantees, makes sense.
If Norman is somehow not franchise-tagged and is able to market himself to the entire league, his contract ceiling would raise incredibly. Not only would his play speak for itself, but next year's corner market is full of older players like Adam Jones and Sean Smith, and slot corners like Casey Hayward, so Norman wouldn't face much in the way of market competition. Norman could break the glass ceiling of $14MM annually, and come even closer to Revis' $39MM guarantee.
Panthers general manager Dave Gettleman has instituted a policy of not negotiating extensions in-season, so unless he changes his mind, Norman will have to wait until next year to begin talks. But assuming he maintains his health and continues to play as a shutdown corner, Norman will have the opportunity to ask for the moon — and maybe get it.
Image courtesy of USA Sports Images.
Follow @PFRumors