The 49ers are expected to choose between Chip Kelly and Mike Shanahan as their next head coach, league sources tell Adam Schefter of ESPN.com (on Twitter). A decision is likely to come within the next 24 hours, he adds.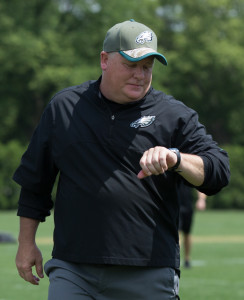 Kelly would be a bold and interesting hire for San Francisco. It doesn't hurt that the former Eagles head coach has long been said to be fond of quarterback Colin Kaepernick. Kelly's ideal offense would feature a mobile signal caller, and that's exactly what No. 7 would provide. After a disastrous 2015, Kaepernick's future with San Francisco has been in question. Understudy Blaine Gabbert finished '15 as the team's starting QB.
The Niners are said to like Shanahan because of the discipline and foundation he could bring to the organization, as well as his connection to the Bill Walsh era. Of course, if the 49ers do decide to hire Shanahan, it would raise some eyebrows, since the club could've brought him aboard a year ago, but elected to go with Jim Tomsula instead. Tomsula, of course, lasted only one year at the helm in San Francisco.
Shanahan has a lengthy coaching resume, having served as the head coach in Los Angeles (1988-89), Denver (1995-2008), and Washington (2010-2013). Although he has a 170-138 regular season record overall, and has won a pair of Super Bowls, Shanahan produced a mixed bag of results during his most recent head coaching stint. Washington was 24-40 during his four years with the franchise, with just one winning season.
If things really are down to Shanahan and Kelly, then it's not clear where this leaves Tom Coughlin in his employment search. Coughlin was said to be a strong candidate for SF and was said to be on his way to a deal with the Eagles. However, Coughlin has since withdrawn his name from consideration in Philly. If Coughlin isn't going to land in Philadelphia or San Francisco as a head coach in 2016, it's fair to wonder if he'll get an NFL head coaching job at all.
Photo courtesy of USA Today Sports Images.
Follow @PFRumors