1:20pm: Dunne has published his full story on the Whaley extension talks, citing a source who says Pegula did not give a one-year ultimatum to the GM and head coach.
12:51pm: General manager Doug Whaley and the Bills are working on a new contract that would lock up Whaley beyond 2016, according to Tyler Dunne of The Buffalo News (Twitter link). Jeremy White of WGR and Adam Benigni of WGRZ (Twitter links) each reported today that the two sides were working out the final details of the new deal, though Dunne says it hasn't yet been presented to ownership.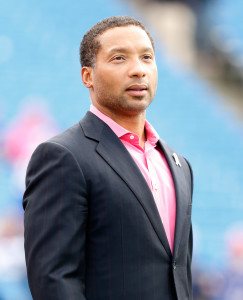 On the heels of a morning report from Dunne's Buffalo News colleague Vic Carucci, who suggested that owner Terry Pegula was giving Whaley and Rex Ryan one more year to make the playoffs and secure their jobs, news of a possible extension for Whaley comes as a surprise — particularly since Benigni indicates Whaley's new deal would coincide with Ryan's, meaning it would run through 2019.
It's possible that Carucci's report was inaccurate, though it's hard to believe the Bills would stand pat again if the team has a sub-.500 season in 2016. It's also possible that Pegula would consider making changes a year from now even after extending Whaley. For someone who spent $1.4 billion to buy the franchise in 2014, eating a few extra million dollars to replace a GM is probably viable.
Still, if that's the case, extending Whaley seems somewhat unnecessary, unless the team simply doesn't want its GM entering the year as a lame duck. Even if Pegula wants to express confidence and optimism heading into 2016, there's likely a less expensive way to do it.
As we try to sort out what's happening in Buffalo, here a few more Bills-related updates:
Speaking to reporters yesterday, Ryan was unwilling to say definitively that defensive coordinator Dennis Thurman would return in 2016, says Mike Rodak of ESPN.com.
Veteran defensive tackle Kyle Williams has told the Bills he wants to continue playing next year, so as his long as his medical information checks out, he'll likely be back, tweets Joe Buscaglia of WKBW.
Whaley downplayed the importance of signings outside free agents this offseason, joking that reporters covering the team can probably go on vacation during the first week of free agency. However, he referred to re-signing tackle Cordy Glenn and guard Richie Incognito as a "major point of emphasis" (Twitter links via Dunne and Buscaglia).
Photo courtesy of USA Today Sports Images.
Follow @PFRumors