8:10pm: Wolfe will have a $500K game-day roster bonus annually, which comes to $31,250 for each game he's on the 46-man game-day roster, Klis reports. He'll make $4.5MM in base salary in 2016.
5:08pm: Wolfe's four-year deal features $12MM in fully guaranteed money, in the form of a signing bonus and his 2016 salary, reports Mike Klis of 9NEWS. An additional $5.5MM becomes guaranteed on the seventh day of the 2017 league year.
3:06pm: Just two days before their first postseason game of the year, the Broncos have locked up one of their top defenders, announcing in a press release that they've signed defensive end Derek Wolfe to a four-year contract extension. The deal will be worth $36.75MM, according to Mike Garafolo of FOX Sports (via Twitter).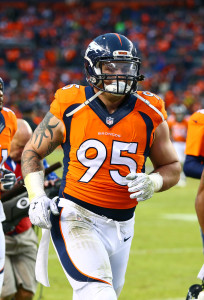 Wolfe, who turns 26 next month, saw his 2015 campaign get off to a disappoint start when he was suspended four games for violating the league's policy on performance-enhancing drugs. Considering he was entering a contract year, the suspension looked like it could have a negative impact on Wolfe's stock, but he returned from the ban better than ever, enjoying perhaps his best seasons as a pro.
After seeing his sack totals decrease from six in his rookie year to four in 2013 to just 1.5 in 2014, Wolfe bounced back with 5.5 sacks in just 12 games this season. He also logged 50 total tackles, and was his reliable self against the run. Pro Football Focus graded Wolfe as the NFL's 10th-best interior defender in 2015, ranking him fifth among that group as a run defender.
While Brock Osweiler and Von Miller have dominated the discussion when it comes to the Broncos' potential free agents, Wolfe's 2015 performance made him a potential marquee FA as well. The franchise tag wouldn't have been an option for him, since the cost of 4-3 defensive ends bumps up the price on that tag and makes it unpalatable, so it makes sense that the Broncos worked out a new deal for Wolfe before March.
As a 3-4 defensive end, Wolfe won't typically rack up the sort of eye-popping numbers that an edge defender like Miller does, so the $9MM+ annual average value on his new deal may seem pricey. But it falls in line with many other long-term contracts signed recently by players at his position — in fact, Wolfe likely would've landed an even larger deal on the open market.
As Over the Cap's data shows, Cameron Heyward (Steelers), Corey Liuget (Chargers), and Mike Daniels (Packers) have all recently signed four- or five-year extensions with per-year salaries that exceed $10MM. The fully guaranteed money on those contracts ranged from $12-16MM, so I'd expect Wolfe to get something in that range, perhaps an amount on the lower end.
Ian Rapoport of NFL.com indicates (via Twitter) that the pact features $17.5MM in guaranteed money. However, typically those initial reports include salary that's guaranteed for injury only, so we'll have to wait to hear how much of that is fully guaranteed.
Meanwhile, it's unclear what this deal means for the Broncos' other defensive end, Malik Jackson, whose rookie contract is also set to expire this year. Jackson matched Wolfe's 5.5 sacks in 2015, and was graded a top-20 interior defender by PFF, so he should be in line for a similar deal. After investing in Wolfe though, the Broncos may not be the team to sign him.
Photo courtesy of USA Today Sports Images.
Follow @PFRumors