So far, seven teams have parted ways with their head coaches this month, and it's possible that one or two more clubs will ultimately decide to make a change. While most of those firings occurred within a day or two of the regular season ending, only one team – the Dolphins – has hired a replacement so far. Miami tabbed Bears offensive coordinator Adam Gase as its new head coach.
[RELATED: PFR's 2016 NFL Head Coaching Search Tracker]
With the NFL's owners meetings in Houston coming to an end, teams seeking a new head coach can resume that process in earnest, and it's possible some of those clubs will conclude their searches by week's end. Here's where each situation stands: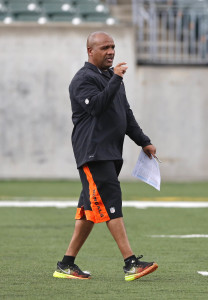 Cleveland Browns
Interviewed:
Teryl Austin (Lions DC), Hue Jackson (Bengals OC), Doug Marrone (Jaguars OL coach), Sean McDermott (Panthers DC), Matt Patricia (Patriots DC)
In addition to the candidates listed above, the Browns also interviewed Gase, who has since joined the Dolphins, and Cowboys defensive backs coach Jerome Henderson, who appears poised to remain in Dallas.
It looks like Jackson is the top candidate in Cleveland, with the Browns said to be pursuing him most aggressively, though the club hadn't put a formal offer on the table as of last night. Jackson is set to interview with the Giants today or tomorrow, and if he isn't hired by New York, he looks like a decent bet to land in Cleveland.
It's not clear who the Browns' second choice would be, but it will have to be someone willing to work with the new analytics-oriented front office that includes former MLB executive Paul DePodesta. Despite Cleveland's history and the club's unusual front office structure, this job has some appeal, since the Browns' new head coach will report directly to owner Jimmy Haslam and should have a say in personnel decisions.
New York Giants
Interviewed:
Teryl Austin (Lions DC), Doug Marrone (Jaguars OL coach), Ben McAdoo (Giants OC), Mike Smith (former Falcons HC), Steve Spagnuolo (Giants DC)
The Giants reportedly value previous head coaching experience, which could make Marrone and Smith strong candidates, but the team also doesn't want to lose McAdoo, which may mean promoting him. Giants owner Steve Tisch said on Tuesday that New York would like to wrap up its coaching search by the end of the week, but there's still one notable interview on tap, with Hue Jackson set to meet with the club on Wednesday or Thursday.
Jackson is another candidate who has previous head coaching experience, and the fact that he plans on meeting with the Giants even after drawing strong interest from other clubs suggests that he's intrigued by the job in New York. The Giants' decision may hinge on how that interview goes.
Philadelphia Eagles
Interviewed:
Tom Coughlin (former Giants HC), Ben McAdoo (Giants OC), Doug Pederson (Chiefs OC), Pat Shurmur (Eagles interim HC), Duce Staley (Eagles RBs coach)
After being initially linked to Gase, the Eagles were believed to be targeting Pederson as their next head coach, but that decision is far from final. While Shurmur and Staley don't appear to be likely candidates to become Chip Kelly's permanent replacement, any of the team's three other interviewees could be in play.
As Matt Lombardo of NJ.com details, ESPN's Adam Schefter suggested during a radio appearance that McAdoo is drawing serious consideration from the Eagles and may be the front-runner. Coughlin's interview went well too, though he probably isn't the type of long-term option the Eagles would prefer. Unless the Eagles conduct additional interviews, the team's decision may come down to Pederson or McAdoo.
San Francisco 49ers
Interviewed:
Tom Coughlin (former Giants HC), John DeFilippo (Browns OC), Hue Jackson (Bengals OC), Chip Kelly (former Eagles HC), Dirk Koetter (Buccaneers OC), Anthony Lynn (Bills RBs coach)
The 49ers' search has been one of the most confusing to follow over the last week to 10 days. After firing Jim Tomsula, the team was believed to be targeting coaches like Sean Payton and Stanford's David Shaw, but both of those men preferred to stay where they were.
Jackson was then identified as the likely favorite for the 49ers' job – or at least the team's top choice – but a Tuesday report suggested San Francisco may be backing off that pursuit, perhaps due to the strong interest the Bengals OC is generating from other teams. Meanwhile, DeFilippo may be more of a target at offensive coordinator and Koetter is considered the odds-on favorite for the Bucs job, so it's not clear if they're seriously in the mix for the top job in San Francisco.
Could Coughlin or Kelly end up with the Niners' job? Perhaps. According to Matt Maiocco of CSNBayArea.com, the team doesn't have any additional interviews on its schedule, and seems to be nearing the end of its coaching search. Although there has been speculation that the 49ers could circle back to a candidate they interviewed a year ago – such as Mike Shanahan or Josh McDaniels, among others – it doesn't look like any of those potential candidates will get new interviews this time around.
Tampa Bay Buccaneers
Interviewed:
Harold Goodwin (Cardinals OC), Dirk Koetter (Buccaneers OC), Sean McDermott (Panthers OC)
The Buccaneers' head coaching search certainly hasn't been as expansive as some others so far. The club got in meetings with Goodwin and McDermott during their teams' respective bye weeks, and former Falcons coach Mike Smith has been mentioned as a candidate here. But Koetter, who had a formal interview this week, continues to look like the front-runner to replace Lovie Smith.
Of course, the longer the Buccaneers' process lasts, the more it'll look like the team is waiting for a second interview with someone like Goodwin or McDermott, so it'll be interesting to see how this search plays out within the next few days.
Tennessee Titans
Interviewed:
None
Interim Titans head coach Mike Mularkey, Jaguars offensive line coach Doug Marrone, and Lions defensive coordinator Teryl Austin are all believed to have meetings on tap with Tennessee, but the club has yet to conduct any of those interviews. Chip Kelly and others have also been linked to the job.
The Titans have prioritized hiring a general manager, and are expected to name one very soon. Frankly, while Mularkey has been considered the favorite for the team's permanent head coaching job, it's hard to get a real idea of what direction the franchise will go until that new GM takes over.
Other potential openings
New Lions general manager Bob Quinn is still considering whether or not to retain head coach Jim Caldwell, so Detroit could become the eighth team to seek a replacement if Quinn decides to make a change.
Additionally, it's not out of the realm of possibility that one of the eight teams still alive in the playoffs makes a head coaching change, though I don't think it's likely, since none of those eight coaches are presumed to be on the hot seat. Packers head coach Mike McCarthy may have been at risk if his team had lost last weekend, but barring a total meltdown in round two, I'd be surprised if Green Bay makes a change.
Photo courtesy of USA Today Sports Images.
Follow @PFRumors