With the Rams set to move to Los Angeles for the 2016 season, the Chargers now face a decision on whether or not to join them. The team will have just over two months to come up with a plan for 2016, but according to multiple reports, NFL owners expect Dean Spanos' franchise to ultimately make the move to Inglewood.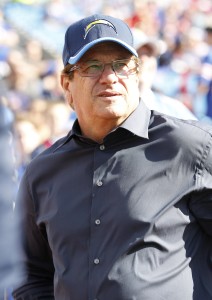 While Spanos will have to overcome the initial shock of losing out on the Carson project, the thinking among owners is that, once he has a chance to process the Inglewood opportunity, he'll "pounce," writes Mike Florio of Pro Football Talk. According to Florio, the Chargers have already begun working directly with the league to finalize the parameters of an Inglewood deal.
That detail is important — as Florio notes, the NFL will be involved in the negotiations, if necessary. Stan Kroenke has reportedly promised the rest of the league's owners that he'll be reasonable and won't play hardball when it comes to taking on a partner – or a tenant – and it sounds like the NFL will be keeping a close eye on the situation to make sure the talks go smoothly.
Eric D. Williams of ESPN.com and Kevin Acee of the San Diego Union-Tribune also suggest it's more likely that the Chargers will make the move to L.A. rather than staying in San Diego. Acee tweets that, at best, it's 50/50 that the team will try to make a go of it in San Diego, and he acknowledges that even that estimate may be optimistic. "99 out of 100 would take this [Inglewood] deal," one source tells Florio.
It's still possible that Spanos will have the Chargers play at least one more year in San Diego in the hopes that the city can improve its stadium proposal by the end of 2016. But there are plenty of incentives for Kroenke and the Rams to try to secure a partner in Inglewood sooner rather than later.
As Jason La Canfora of CBSSports.com reported earlier today, and as Florio confirms, the Rams can't sell PSLs and stadium naming rights, among other things, until February 15, 2017, unless they bring a second team aboard before then. If they were to strike a deal with the Chargers, the Rams can begin selling those premium products right away.
Florio passes along a couple other items of note related to the L.A. situation, writing that owners were "blown away" by the Inglewood presentation in Houston, with one source suggesting that if the Inglewood proposal was like watching Star Wars, the Carson plan was like watching "a home movie from the '70s." Florio also reports that there's a strong belief Bengals owner Mike Brown was one of two owners who voted against the Inglewood plan.
Photo courtesy of USA Today Sports Images.
Follow @PFRumors