With the league having deemed Oakland, San Diego and St. Louis as delivering unsatisfactory efforts to preserve their statuses as NFL cities, Jerry Jones is pushing for a resolution in advance of Tuesday's relocation meetings.
The Cowboys owner has submitted a resolution in front of the Houston owners' summit that calls for a forced Rams-Chargers union in either the Inglewood or Carson sites, Mike Florio of Pro Football Talk reports.
Jones has been a proponent of the Rams relocating to Los Angeles and is pushing for this outcome. Should this proposal come to fruition a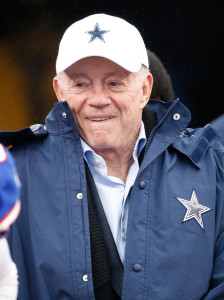 t Stan Kroenke's Inglewood site, the Rams will lead a big brother-little brother relationship, Florio offers. However, if the Chargers and Rams come together at the Carson site initially proposed by the Raiders and Chargers, the co-tenants will be on equal footing.
Here is the latest on the Los Angeles relocation pursuit.
The league hopes for a vote this week to decide the future of the Los Angeles market, Ian Rapoport of NFL.com tweets. If that doesn't occur, sufficient space for a resolution has been cleared for the following week, if necessary to determine what happens regarding these three teams' desire for relocation.
St. Louis' $1.1 billion riverfront Stadium proposal was determined to "lack certainty," with it calling for $400MM in league aid — more than expected, a source told the Bay Area News Group's Matthew Artz. With the St. Louis proposal also calling for government approval, signs continue to point toward the Raiders staying in Oakland. Had the St. Louis initiative been viewed as more stable, Artz writes, owners would be more inclined to back the Chargers' and Raiders' joint Carson plan. Artz adds Dean Spanos has the most support from the owners and could be receptive to Jones' aforementioned compromise. Sources continue to indicate the Raiders don't have the trust from the owners, from a financial perspective, to be one of the teams that move to L.A. While a Chargers spokesperson told the Los Angeles Daily News the franchise remains committed to partnering with the Raiders, former 49ers executive and current Carson project liaison won't rule out a Rams-Chargers partnership. Although he adds that the Chargers still plan on being based in Carson. "I would say that there is no way the Raiders or the Chargers want to go to Los Angeles and be in Inglewood."
Photo courtesy USA Today Sports Images
Follow @PFRumors