On the heels of a gut-wrenching loss to the hated Steelers on Saturday night–a loss that dropped his overall playoff record as a head coach to 0-7–there is speculation that Bengals head coach Marvin Lewis could be on the outs in Cincinnati. Mike Florio of Pro Football Talk writes that the loss–or, more specifically, the way in which the loss unfolded–might have put Lewis firmly on the hot seat.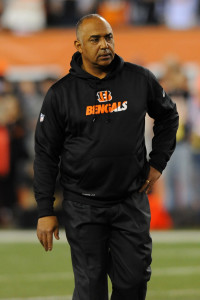 By now, the game has been dissected ad nauseum. With a 16-15 lead late in the game, Bengals RB Jeremy Hill lost a fumble deep in Steelers territory as his team was attempting to run out the clock, giving Pittsburgh one last gasp. Although the Steelers were able to convert a fourth down to keep their hopes alive, they were still well outside of field goal range with time running out when Vontaze Burfict was flagged for an unnecessary roughness penalty for a brutal hit laid on Antonio Brown after a Ben Roethlisberger pass sailed over Brown's head. As Brown was being tended to by Pittsburgh's medical staff, the Bengals were hit with another 15-yard penalty when Adam Jones bumped into an official while jawing with Steelers assistant coach Joey Porter (who was doing a fair amount of chirping in his own right, and who should not have been on the field at that time).
In any event, the thirty yards' worth of penalties put the Steelers squarely in field goal range without having to run another play, and after kicker Chris Boswell split the uprights on a 35-yarder, the game was essentially over and the Bengals had suffered the type of loss that will leave permanent scars on the Queen City. And, as the man in charge of a team renowned for its volatility, Lewis may be forced to pay the price.
Lewis, of course, is no stranger to the hot seat. Despite an otherwise admirable coaching tenure in which he has turned one of the league's laughingstocks into a yearly contender, Lewis has yet to deliver a playoff win, and rumors regarding his job security seem to spring up to at least some degree each offseason. But if team owner Mike Brown sees last night's debacle as a direct reflection of Lewis' control over his team, then he could finally decide to go in a different direction.
If he does, offensive coordinator Hue Jackson–who is expected to land a head coaching gig of his own anyway–could be offered a promotion to the top job, although Jason La Canfora of CBS Sports tweets that defensive coordinator Paul Guenther would be the top internal candidate. For all of his flaws, Brown has at least recognized that maintaining continuity at the head coaching position is generally the appropriate strategy, but after a loss like last night's, maybe it's time for a change.
Photo courtesy of USA Today Sports Images.
Follow @PFRumors