On Tuesday, the Raiders were promised a $100MM consolation package when their Carson stadium plan was not approved. That money, we were told, would be given to the Raiders if they wound up staying in Oakland and building a new stadium. As it turns out, they might still be able to put that money toward a new stadium even if it's outside of Oakland.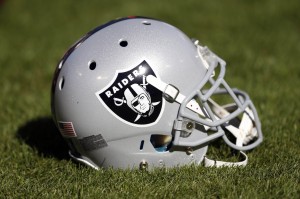 [RELATED: Mark Davis: Raiders interested in other cities]
League sources tell Vincent Bonsignore of the Daily News (on Twitter) that there is "market flexibility" with the $100MM grant. The sense is that if the Raiders can't work out something in Oakland but can work out something in San Diego, then that $100MM will be available to them (link).
Of course, even if the Chargers end up leaving San Diego, that's not the only potential non-Oakland landing spot for the Raiders. Charles Robinson of Yahoo! Sports identifies four possible cities for relocation besides San Diego, though he does place the Chargers' current home at the top of his list. And sources tell Scott Bair of CSNBayArea.com that Mark Davis and the Raiders would "take a serious look" at their options in San Diego if the Chargers head to Los Angeles.
Still, San Antonio is another city that has real interest in the Raiders, as Vic Tafur of the San Francisco Chronicle details. Former San Antonio Spurs and Minnesota Vikings owner Red McCombs confirms that he talked to Davis this week, adding that San Antonio has "got the whole program put together" for a possible Raiders move.
Unlike the city of St. Louis, whose mayor Francis Slay said this week that he currently has "no appetite" for pursuing another NFL team with the Rams leaving, San Antonio leaders are interested in bringing the NFL to the city. However, McCombs acknowledges that the interest will need to be mutual for Davis and the Raiders to consider moving to Texas.
"We still have to get them to want to come here," McCombs said during an appearance on ESPN San Antonio. "[Davis] was born and raised there and he has a great feeling for the state of California. But it appears he is going to need to go somewhere."
While there's a decent chance that the Raiders will stay in Oakland for the 2016 season as the franchise assesses its options, there's currently no lease in place for the team to play next season at O.co Coliseum, so many scenarios remain in play for '16 and beyond. The Raiders are likely hoping the Chargers will make a quick decision so there will be some clarity on whether a spot in Inglewood alongside the Rams may be available a year from now.
Zach Links contributed to this post. Photo courtesy of USA Today Sports Images.
Follow @PFRumors