In a conversation with CBS4Indy.com's Mike Chappell, Reggie Wayne said he intends to retire.
Chappell reports the veteran ex-Colts receiver won't pursue another opportunity in the league.
"Yeah, I'm done. It was fun, but it's time. It's just time," Wayne told Chappell.
A 2001 Colts first-round pick, Wayne played 14 seasons in Indianapolis before briefly being employed in New England in 2015. The f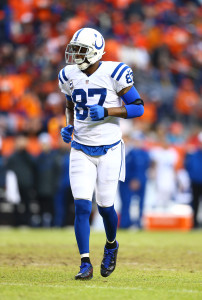 ormer Miami Hurricanes wideout will leave ranked in the top 10 in receptions (1,070, seventh all-time) and yards (14,345, eighth), with his 82 touchdown receptions ranking 23rd in league history.
"When I look at it, what else did I have to prove?" Wayne said. "In my mind, I never got as much pub as a lot of other guys, and that's fine. I don't care. You know what? Numbers don't lie. … For me to be in that mix, man, that's not too bad. I played against the elite of the elite, the best of the best. I was able to crack the top 10 of this and the top 10 of that, and be one of the best in franchise history.
"Man, not too many people can say that."
The 37-year-old Wayne, per Chappell, expects to make an official announcement in a few weeks' time. He finished as a six-time Pro Bowler and one-time first-team All-Pro (2010). Wayne compiled four 100-catch seasons — 2007, 2009, 2010 and 2012 — and flourished as both a No. 2 wide receiver alongside Marvin Harrison in Peyton Manning's prodigious offense and as a No. 1 once Harrison moved on.
Wayne did not play during the regular season in 2015 after asking for and receiving his release from the Patriots.
Telling Chappell attending a Nov. 29 Colts-Buccaneers game represented the tipping point from going from player hanging on to an NFL alumnus, Wayne explained his decision.
"I finally turned into a fan, a real fan,'' Wayne told Chappell. "I've got my adult beverage. I'm eating some popcorn. I'm watching fans' reactions. I'm watching the Jumbotron. … "I thought that was the final notch for me. I felt like I needed that to help get me over that hump. A lot of guys who go to games come away and say, 'You know what? I can still do that.' But I needed that to realize, 'You know what? This ain't half bad."
Coming off a Pro Bowl campaign in Andrew Luck's rookie season, Wayne's career began rapidly trending toward the end when he tore his ACL in October of 2013. He finished the 2014 season with 779 yards — his fewest since his second season in 2002 — and suffered a torn triceps.
The Colts did not re-sign the franchise's second-leading receiver, behind Harrison, after that campaign.
Wayne's 93 playoff receptions currently rank second in postseason receptions behind only Jerry Rice, and his 1,254 yards (gained in 21 postseason performances) sit fourth all-time behind Rice, Michael Irvin and Cliff Branch.
Wayne will receive Hall of Fame consideration in five years, should his retirement stick, especially with the once-immense glut of wideouts being inducted. Harrison figures to follow the likes of Cris Carter, Tim Brown and Andre Reed into Canton, which will help clear the way for more modern pass-catchers' enshrinement.
Photo courtesy USA Today Sports Images
Follow @PFRumors