The contracts for wide receivers Anquan Boldin and Percy Harvin are set to void today, as Joel Corry of CBSSports.com details. While Boldin's deal was technically set to run through the 2018 season, and Harvin's ran through 2017, language in the contracts called for them to void five days after this year's Super Bowl, so both players will officially become free agents next month.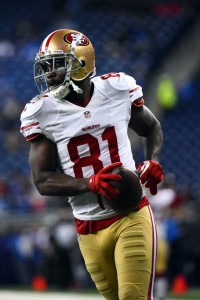 Both contracts were designed to lessen the charges on the salary cap during the years when Boldin was a Niner and Harvin was a Bill. The void years allowed the 49ers and Bills, respectively, to spread signing bonus money across several years, rather than taking on larger charges in early seasons. San Francisco will carry about $2.73MM in dead money on its cap in 2016 for Boldin, while Buffalo will carry $2MM for Harvin.
In addition to being the date when those two contracts void, Friday also represents the day on which a handful of players will be assured of guaranteed money if they remain on their teams' rosters. According to Corry, Broncos wide receiver Demaryius Thomas will see his $8.5MM base salary for 2017 – which was initially guaranteed for injury only – become fully guaranteed without an offset today.
Two Cardinals players, cornerback Patrick Peterson and quarterback Carson Palmer, also get new guarantees added to their respective deals by remaining on the team's roster through Friday. Peterson's $9.75MM base salary for 2016 will become fully guaranteed, while Palmer will get a pair of guarantees — his $7.15MM salary for '16 and a $6.35MM roster bonus due next month both become fully guaranteed.
The Seahawks will be another team to watch this weekend — Seattle has six players who will be assured of additional guarantees if they remain on the roster through Saturday, including Russell Wilson, Richard Sherman, and Earl Thomas.
Photo courtesy of USA Today Sports Images.
Follow @PFRumors