Browns center Alex Mack is likely to opt out of his current deal with the club by 4pm on March 4 unless Cleveland offers him a contract "he can't refuse," reports Mary Kay Cabot of Cleveland.com. However, even if Mack does opt out, Cabot expects the Browns to remain a possible suitor.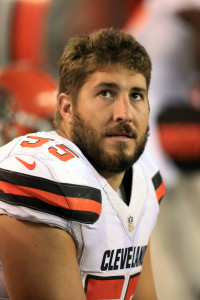 That March 4 date is an important deadline, because while Mack's contract does contain no-trade language, it does not have a no franchise/transition tag clause, as Joel Corry of CBSSports.com explained earlier this week (Twitter links). If Mack were to opt out of his deal before March 1 — the deadline for teams apply franchise/transition tenders — Cleveland could still use a tag on him. So while he'll want to announce his decision after that date, Mack must decide whether to opt out before 4pm eastern time five days before the new league year begins on March 9, hence the March 4 deadline.
[RELATED: Browns likely to pursue WR Mohamed Sanu]
As Cabot writes, the possibility of the Browns selecting a quarterback — possibly Cal's Jared Goff or North Dakota State's Carson Wentz — with the second overall pick would presumably be appealing to Mack, and possibly encourage him to stay, especially since, as Cabot adds, Mack has "deep roots" in Cleveland. However, the Browns won't have the chance to select a young quarterback until the end of April, well after both when Mack is forced to make his opt-out decision and when he'll have likely signed his next contract.
But Mack does have high hopes for the Browns as an organization — per Cabot, he met with new head coach Hue Jackson and the Senior Bowl and felt the meeting went well, and he reportedly considers Jackson to be a "fantastic coach." It's a similar sentiment expressed by left tackle Joe Thomas, who has expressed not only an affection for Jackson, but a hope that he won't be traded.
From the team's perspective, Cleveland faces the possibility of losing not only Mack, but also standout right tackle Mitchell Schwartz, who is set to become an unrestricted free agent on March 9. The Browns drafted Cameron Erving in the first round last year as something of a safety net, but the defection of two of its three best offensive lineman would no doubt be a setback for Cleveland.
Follow @PFRumors