WEDNESDAY, 9:19pm; The Jets are not interested in Kaepernick, hears Jason La Canfora of CBSSports.com (Twitter links). Still, he says Kaepernick has wanted out "for some time" and new coach Chip Kelly apparently hasn't done much to build a relationship with him.
TUESDAY, 5:42pm: Apparently, the coaching change in San Francisco hasn't sold Colin Kaepernick on staying put. The athletic quarterback now wants to move on from the 49ers and he considers the Jets to be his preferred destination, sources tell Manish Mehta of the New York Daily News.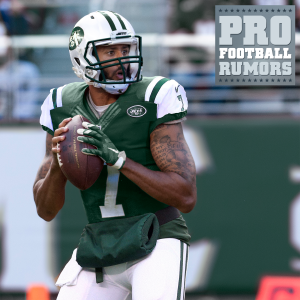 While Chip Kelly should have the final say on who the 49ers' starting quarterback will be in 2016, team management would reportedly like to see Kaepernick get another opportunity. The 49ers front office apparently views Kaepernick's $11.9MM base salary as reasonable for a starting quarterback, and believes he has the potential to bounce back under Kelly. However, it's not yet clear how Kelly currently feels about Kaepernick's upside, even though he has been said to be a fan of the QB in the past.
No. 7 still has five years left on his hefty $114MM extension, but there are plenty of opportunities for the 49ers to escape that deal without major penalty. Following two seasons where he guided the 49ers to the NFC title game, Kaepernick signed a team-friendly extension that called for his salaries from 2015-17 to be guaranteed for injury only.
Jets GM Mike Maccagnan and head coach Todd Bowles have been vocal about wanting to re-sign Ryan Fitzpatrick, but it's not a slam dunk that they will given the number of teams that are in need of help under center. Of course, if the Jets want him, they'll have to either work out a trade with the Niners or wait until he is cut. The 49ers must make a decision to keep, trade or cut Kaepernick before April 1 when his 2016 base salary of $11.9MM becomes guaranteed. San Francisco would save $8.5MM by cutting Kaepernick, who is scheduled to have a $15.9MM cap charge this season.
Follow @PFRumors