TUESDAY, 4:02pm: Colts owner Jim Irsay confirmed today that he hopes to get Luck locked up to a new deal before the 2016 season begins, per Mike Wells of ESPN.com.
"Obviously being this early, there's no reason to think that we would have had major negotiations yet, but that's going to be happening as this month gets later and March comes in and all that sort of thing," Irsay said Tuesday. "I think there's a good chance we'll get something done."
Although Irsay acknowledged that an extension for Luck will likely be worth "nine figures," he cautioned that he'd like to make the contract as cap-friendly as he can.
"To me it's not a matter of what the number is going to be, but again, making sure that we have room to surround him with a championship football team and that it's as cap friendly as it can be as we go through the end of this decade from 2016 to 2020," Irsay said. "You want to make it cap-friendly and you want to have the ability to possibly alter it as time goes on to help the cap in different things like that."
MONDAY, 6:50pm: The Colts are more confident than ever in the abilities of quarterback Andrew Luck and they believe that they can sign him to an extension this offseason, Ian Rapoport of NFL.com tweets. Luck is under contract through 2016 with a base salary of $16.155MM.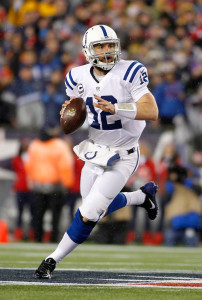 A new contract for Luck could cost the Colts more than $22MM annually, exceeding Aaron Rodgers' average annual value with the Packers. In fact, Luck's deal could even set a new watermark for guaranteed money in a deal. If they can't hammer out a long-term contract, the Colts would have to use the franchise tag to keep him around beyond '16. The former No. 1 overall pick ostensibly wants to get paid big bucks, but he also has said that he is tired of the constant "rebuilding" talk in Indianapolis. Ultimately, he open to the idea of signing an extension.
"Yeah, that would be great," he said of a multi-year pact. "I haven't thought about it too much. I wanted to make sure this season gets done. "But if there's an opportunity for it, yeah, absolutely."
Prior to the 2015 season, Luck led the Colts to three consecutive 11-5 seasons and established new career highs in 2014 with 4,761 passing yards and 40 touchdowns.
Photo courtesy of USA Today Sports Images.
Follow @PFRumors