As he prepares to make his fourth Super Bowl appearance this Sunday, Broncos quarterback Peyton Manning's NFL future seems to be garnering more headlines than does the upcoming title game. Manning's father — and former NFL quarterback — Archie Manning recently spoke on Peyton's possible retirement, as did Peyton's brother — and Giants signal-caller — Eli Manning.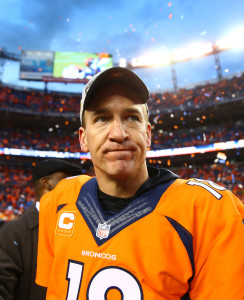 Appearing on Mike and Mike on ESPN Radio, Archie Manning hedged a bit when asked if Peyton was fully committed to calling it a career after the Super Bowl. "Maybe not totally," he said, according to Jeff Legwold of ESPN.com. "He probably envisions himself getting good and healthy. If he is good and healthy, can he play? I think he pretty much knows that it wouldn't be with the Broncos and that would be another thing, to change teams.
"Now, he had some offers last year from teams, some teams talked to him," Archie continued. "But I think that was going to be a lot of drama, again, to change teams, that he didn't want to go through. He did do that once, so I don't know that he would want to do that."
The Broncos obviously haven't said that they'd like to move on from Manning after this season, but given his declining level of play, his $19MM base salary for 2016, and the fact the club will likely attempt to retain backup quarterback Brock Osweiler, it's not surprising that Manning doesn't believe he'll back in Denver next season. But Archie Manning did tell Andrew Siciliano of NFL Network that he expects Peyton to "leave a little avenue open" to playing next year, especially if he can regain his 2014 level of health.
[RELATED: Peyton Manning has told friends he expects to retire]
The fact that Manning "had some offers" from other clubs probably amounts to tampering, as Manning was still under contract with Denver throughout last offseason. He was asked — and agreed to — accept a $4MM pay cut, but given that he wasn't released, other teams shouldn't have been allowed to speak with Manning. But given that any such talks likely happened over a year ago (and had yet to be reported), no consequences will likely arise.
Eli Manning agreed with his father on the idea of Peyton playing in another city in 2016, telling Paul Schwartz of the New York Post that while he can't speak for his brother, it "would be tough" to imagine Peyton joining another club (Twitter link). One team that has reportedly kicked the tires on the idea of acquiring Manning is the Rams, as the veteran quarterback would add a level of intrigue to a team set to relocate to Los Angeles in 2016.
Meanwhile, moving to a separate Peyton Manning story, Will Hobson and Justin Moyer of the Washington Post report that Manning hired private investigators to locate and interrogate the source of the HGH allegations levied against the Broncos quarterback. Manning apparently paid for a duo of investigators to speak with Charlie Sly, the pharmacist source in an Al-Jazeera documentary, five days before the documentary aired, and also sent a lawyer to the Guyer Insitute in Indianapolis to review he and his wife's medical records.
Photo courtesy of USA Today Sports Images.
Follow @PFRumors