FEBRUARY 5: Add another wrinkle to the story, as Romo tells Mike Florio of Pro Football Talk that he hasn't decided whether or not to have the operation. Like Archer reported below, Romo will wait three or four weeks before making a final determination, using that time to "find the bone density and see how strong it is."
11:02am: Romo still intends to have surgery on his left clavicle, but will wait to determine what kind of procedure he needs, according to David Moore of the Dallas Morning News.
Source tells Moore that two options are in play — Romo may have a plate surgically attached over the collarbone to limit the potential for recurring injury, or doctors could opt for a "Mumford procedure," which involves shaving off or removing a portion of the distal clavicle.
As Archer notes below, the Cowboys and Romo intend to reassess their options in about four weeks.
FEBRUARY 3, 8:35am: The Cowboys and Romo have decided to postpone the decision on whether or not the quarterback will undergo surgery on his collarbone, according to Todd Archer of ESPN.com. Romo's collarbone will be re-evaluated in four weeks before a final determination on surgery is made, sources tell Archer.
As noted below, if Romo does eventually go under the knife, the recovery period is expected to be about six to eight weeks, which would still put him on track to participate in offseason workouts in May.
JANUARY 24: Cowboys quarterback Tony Romo will undergo offseason collarbone surgery, according to Ed Werder of ESPN.com, who reports that Romo will have a plate inserted in his left collarbone in order to prevent future injuries. Romo has fractured his left clavicle three times in the past five seasons, most recently in November 2015.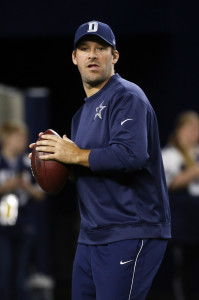 A report yesterday indicated that Romo would undergo a CT scan this week, and Werder says that scan will help determine if Romo's clavicle has healed enough to support that hardware that doctors will insert into his collarbone. "I think we know which way we're siding and some of the things," Romo said Saturday, in regards to the possibility of surgery. "We've had exhaustive discussions about it."
Cowboy management expects a six-to-eight week recovery period from the date of the surgery, adds Werder (Twitter link). So depending on when the actual operation occurs, Romo should clearly be available for the beginning of the 2016 regular season. It's unclear how much of Dallas' offseason program Romo will be able to participate in, but it's likely that the club will take a cautious approach.
On a macro level, the Cowboys are widely expected to add a quarterback via the draft this year, as the club has been devastated by a lack of options behind Romo (Dallas posted a 1-11 record in the absence of Romo in 2015). Romo, 36 in April, said yesterday that he expects to remain in the NFL "for awhile," but the team plans to acquire more depth, especially given that Matt Cassel, last year's No. 2 quarterback, is an unrestricted free agent.
Follow @PFRumors