Pending free agents:
Top 15 cap hits for 2016:
Notable coaching/front office changes:
Draft:
Other:
Overview:
Coming into the 2015 season, the Ravens had never finished below .500 in a season during John Harbaugh's tenure with the franchise, and had earned a playoff spot in six of the previous seven seasons. There was no reason not to expect Baltimore to be in contention for the AFC North crown again in '15.
Instead, the club saw season-ending injuries sideline veteran leaders on offense and defense, as wide receiver Steve Smith and outside linebacker Terrell Suggs each suffered a torn Achilles. Without Smith and Suggs, among others, the Ravens had their worst season since Brian Billick coached the team, finishing with a 5-11 record. A pair of wins against the division-rival Steelers represented virtually the only bright spots in a dismal year for Baltimore.
Unlike many teams that finished near the Ravens in the overall NFL standings, Baltimore isn't a franchise that's inclined to make sweeping changes after one bad year. The duo of Harbaugh and GM Ozzie Newsome is one of the longest-tenured leadership groups in football, and they'll be tasked with righting the ship in 2016.
For a Ravens team that builds through the draft and rarely makes big splashes in free agency, that likely means staying the course, for the most part. Still, there are areas that need to be addressed and upgraded, and a rare top-10 draft pick could help the club bounce back next season.
Key Free Agents:
The list of pending Ravens free agents above features 26 names, which is essentially half of the 53-man roster that finished the season in Baltimore. However, 11 of those players are exclusive rights free agents, making them FAs in name only. In actuality, if those players want to play in 2016, and the Ravens want to keep them, they'll have no choice but to accept the minimum-salary offer tendered to them by the team. Our focus in this section will instead be on the unrestricted and restricted free agents, players who have a real chance of moving on this offseason.
The Ravens, of course, have no qualms about letting certain players walk in free agency, even if those players have been key contributors in recent years. By mostly sitting out free agency themselves and allowing some of their own free agents to sign lucrative deals with new teams, the Ravens perennially rack up compensatory draft picks, which are handed out to teams who lose impact players in free agency. Since the program began in 1994, Baltimore has been awarded 44 compensatory picks — no other team has landed more than 35.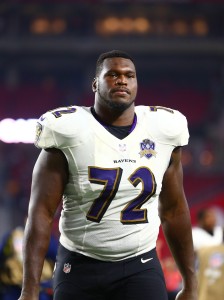 A player like offensive lineman Kelechi Osemele is a prime candidate to sign with another team, and would almost certainly earn the Ravens a 2017 comp pick if he does. Osemele has been a very solid performer at guard – and occasionally tackle – for the Ravens, but the team already invested heavily in one guard recently, when Marshal Yanda was locked up to a multiyear extension. Unless Baltimore views Osemele as its left tackle of the future, the club will likely be outbid by another Osemele suitor in free agency, perhaps one willing to pay him like a left tackle.
Similarly, even though the Ravens aren't particularly deep at cornerback, it wouldn't be a surprise if they don't make a strong effort to re-sign Shareece Wright. After being signed in October by Baltimore, Wright was pretty solid in the secondary, but if he can parlay that success into a decent contract elsewhere, the Ravens would happily let him go, replacing him with a younger, cheaper alternative.
Quarterbacks Matt Schaub and Jimmy Clausen also seem unlikely to return to the Ravens in 2016, with Ryan Mallett likely getting the first shot to back up Joe Flacco. Mallett's NFL résumé isn't extensive enough that Baltimore should be totally confident in him as its No. 2 QB, but the structure of his contract suggests the team will probably give it a try.
Despite the Ravens' aversion to re-signing some free agents, there are at least a couple players eligible for free agency who have a good chance to continue wearing purple and black in 2016. One is kicker Justin Tucker, who said in January that negotiations between the club and his agent have been going on "for a better part of a year, year and a half." If Tucker and the Ravens don't work out a long-term deal in the coming weeks, the 26-year-old – who has made 87.8% of his career field goals and never missed an extra point – is a strong candidate to receive the franchise tag, since the franchise price is fairly modest for kickers.
Another free-agent-to-be unlikely to go anywhere is wide receiver Kamar Aiken, who enjoyed a breakout season in 2015. Coming off a campaign in which he caught 75 balls for 944 yards, Aiken is eligible for restricted free agency and looks like a candidate to receive at least a second-round RFA tender. That tender (likely worth about $2.5MM) ensures that any team interested in signing Aiken to an offer sheet would have to give up a second-round pick to snatch him away from the Ravens.
If the Ravens believe Aiken still has the potential to improve, there's a chance the team could even consider a first-round tender, which would mean committing an extra $1MM or so. As a point of comparison, the Seahawks used the second-round RFA tender on Jermaine Kearse a year ago even though his career highs of 38 receptions and 537 yards weren't overly impressive, so a first-round tender isn't out of the question for Aiken.
Possible Cap Casualties:
Depending on where the salary cap lands for 2016, the Ravens could be right up against it, based on their current commitments. However, there are several candidates to be released to give the team a little breathing room, and none are more obvious than tight end Dennis Pitta.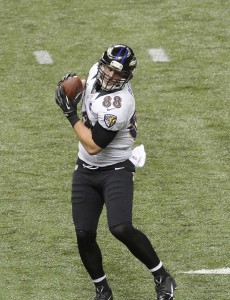 If Pitta could get – and stay – healthy, the Ravens would likely do everything they could to keep him around, albeit probably at a reduced salary. But ongoing hip issues have sidelined him since September 2014, and may prematurely end his career. For the first time in 2016, Pitta's base salary is non-guaranteed, so Baltimore can release him a clear a little cap room. Still, unless he's designated as a post-June 1 cut, the savings would be marginal ($600K).
The next tier of potential cap casualties for the Ravens might not offer significant savings either, but players like Eugene Monroe, Kyle Arrington, Matt Elam, and Arthur Brown could be on the chopping block. Monroe, like Pitta, has been unable to stay healthy in recent years, while Arrington struggled in 2015 and saw his role reduced as the season went on. Elam and Brown aren't particularly expensive, but neither player has lived up to expectations since coming off the board in the first two rounds of the 2013 draft. Cutting all four players would create about $5.75MM in total cap savings for Baltimore for 2016, with no dead money beyond this year.
Moving further down the list, releasing players like cornerback Lardarius Webb and running back Justin Forsett would save $4MM and $2.3MM in 2016 cap room, respectively. However, Webb was a release candidate last year, and Baltimore opted to rework his contract instead. His 2015 performance wasn't exactly elite, but it wasn't bad either, so it would be somewhat surprising if the Ravens decide to cut ties with him now.
As for Forsett, even before his season was cut short by a broken arm, he wasn't producing at the same level that he did in his first season with the Ravens in 2014. Baltimore could decide that using a mid-round pick on a running back and pairing that rookie with inexpensive youngster Javorius Allen would be a better use of resources than hanging onto Forsett and his $3.7MM cap hit.
Of course, the simplest way for the Ravens to clear a significant chunk of cap room would be to restructure Joe Flacco's deal, perhaps extending him in the process. But we'll get to that possibility a little later.
Positions Of Need:
As noted earlier, the Ravens typically aren't the sort of team to splash around in free agency when the new league year opens, preferring instead to fill their holes in the draft. But the team doesn't mind signing free agents that have been released by their previous teams, rather than having their contracts expire.
Those players don't count toward the compensatory pick formula, and that group is generally where teams can find lower-risk, bounce-back candidates. For instance, the offensive line is one area that the Ravens figure to focus on this offseason, and veteran linemen like Jahri Evans, Will Beatty, and Geoff Schwartz have already hit the open market this week. When considering potential free agent targets for Baltimore, that's one factor we have to take into account.
Although the offensive line is a potential area of concern for the team, the center and guard spots look reasonably promising. Marshal Yanda, Ryan Jensen, and Jeremy Zuttah are a solid trio on the interior if they're all healthy to begin the 2016 season. But if Kelechi Osemele departs in free agency and Eugene Monroe becomes a cap casualty, the two tackle spots will be major question marks. That's one position the Ravens could address with the No. 6 overall pick — ESPN's Todd McShay and Mel Kiper both have the team selecting Notre Dame tackle Ronnie Stanley in their latest mock drafts.
Elsewhere on offense, wide receiver is a a position that could be upgraded — Kamar Aiken and Jeremy Butler had good years in 2015, but they'd combined for just 24 total receptions (all Aiken's) before that. Breshad Perriman missed his entire rookie season, and Steve Smith is coming off a torn Achilles. If all of those receivers are healthy and productive in 2016, it looks like a terrific group, but there are plenty of question marks, so the Ravens may want to add an insurance policy or two just in case.
On defense, the secondary has been a concern for the Ravens in recent years, and should be addressed in some form this offseason. At cornerback, Jimmy Smith wasn't as effective as he has been in past seasons, Lardarius Webb is a candidate for a full-time move to safety, Shareece Wright is a free-agent-to-be, and Kyle Arrington probably shouldn't be a starter. Adding a corner in free agency and/or during the first two days of the draft should be a priority for Baltimore.
Up the middle, Will Hill is a fine player at strong safety, but it's not clear if Kendrick Lewis is the answer for the Ravens at free safety. Unless the team trusts Lewis or Webb to handle that role in 2016, it's another area to consider for the offseason to-do list. Michael Griffin, cut this week by the Titans, is one veteran that could appeal to Baltimore.
Finally, with Terrell Suggs coming off a major injury and Elvis Dumervil having just turned 32, adding another pass rusher to the mix would make a lot of sense for the Ravens. The team has had some success in the past turning mid- or late-round draft picks into very effective situational pass rushers — former second-rounder Paul Kruger and fifth-rounder Pernell McPhee both parlayed strong part-time performances with the Ravens into big-time free agent contracts with other teams, for example.
If Baltimore can strike gold again with a mid-round pick this year, or if a young player like Za'Darius Smith can take a nice step forward, it would take a lot of pressure off a pair of outside linebackers nearing their mid-30s in Suggs and Dumervil.
Extension Candidates/Contract Issues: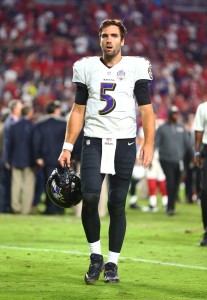 When the Ravens and Joe Flacco agreed to a six-year, $120MM+ contract following the team's Super Bowl win three years ago, both sides knew that they'd be back at the negotiating table in 2016. The structure of Flacco's deal ensured that the cap hit for the first three years (2013-15) averaged about $12MM. For the next three years (2016-18), that average skyrockets to $28MM+, including a $28.55MM cap number for 2016.
The Ravens have said they have a plan to put together their roster for 2016 without touching Flacco's contract, but as we noted above when we discussed potential cap casualties, it won't be easy for Baltimore to create significant cap space without doing something with Flacco's cap charge.
The most obvious solution would be for the Ravens to further extend their quarterback's contract, beyond 2018. Adding at least two more years to the deal would allow the club to spread a new signing bonus out across five seasons. That would allow the team to give Flacco a significant bonus up front while simultaneously reducing his salary for 2016 and minimizing the effect on the cap in the short term. It may create some issues down the road, but in one fell swoop, a major restructure for Flacco would give the Ravens the flexibility to conduct business in '16. I expect the two sides to get something done in the coming weeks.
Elsewhere, Jimmy Smith and Terrell Suggs are candidates to have their contracts restructured, though the team would be better off not touching those deals. Some of the potential release candidates mentioned above could also be asked to take pay cuts, which would help out with the cap. But no moves would have the same impact as a Flacco extension.
Speaking of extensions, members of the 2013 draft class are now eligible to have their rookie contracts extended, but that wasn't a banner year for the Ravens' scouting department, and I don't expect the team to be in any rush to lock up Matt Elam or Arthur Brown.
Nonetheless, third-round defensive tackle Brandon Williams is one player the Ravens should explore locking up. Pro Football Focus ranked Williams 21st out of 123 interior defenders in 2015, right behind standouts like Malik Jackson, Marcell Dareus, and Cameron Heyward. If the price is right, the club would be wise to get Williams under contract for a few years beyond 2016.
Will Hill, whose contract also expires after the 2016 season, is another player the Ravens ought to explore a longer-team deal with, assuming the team is confident that his off-field problems won't resurface. Hill has been suspended three times for violating the NFL's drug policies.
Overall Outlook:
The Ravens may not have as much talent as they did a few years ago, and they're certainly no lock to return to the postseason in 2016, but they're also not as bad as their 5-11 record suggests. Injuries sidelined a handful of the team's top contributors, and only two of those 11 losses came by more than a single score.
Baltimore's decision-makers recognize that bad luck played a part in the club's disastrous 2015 campaign, and while some savvy roster moves will be required to get back above .500 next season, it's definitely not out of the question. Sorting out their cap situation – including Flacco's contract – and making the most of a rare top-six draft pick will be keys for the Ravens this offseason as they look to bounce back in 2016.
Information from Over The Cap was used in the creation of this post. Photos courtesy of USA Today Sports Images.
Follow @PFRumors