Pending free agents:
Top 15 cap hits for 2016:
Notable coaching/front office changes:
Draft:
Other:
Overview:
It's a new year and a new look on the sidelines in New York. Well, sort of.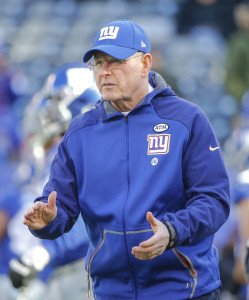 In January, Tom Coughlin and the Giants opted to go their separate ways. Coughlin, who previously served as head coach of the Jaguars, led the Giants to a 102-90 record during his 12 seasons with the team. He also added eight victories in 11 postseason contests, with all of those wins coming in two seasons – 2007 and 2011 – during which the Giants won the Super Bowl. In recent years, however, Coughlin's Giants struggled, having failed to earn a postseason berth since that 2011 Super Bowl season. After going 9-7 in 2012, New York has had three straight losing years, finishing 6-10 in a weak NFC East in 2015 and sealing Coughlin's fate.
After Coughlin's departure, the Giants decided to cast a wide net in their head coaching search. The Giants interviewed the likes of Teryl Austin, Doug Marrone, Mike Smith, Adam Gase, and Hue Jackson. They also showed interest in Panthers DC Sean McDermott and were said to be fawning over Saints head coach Sean Payton. Still, they prioritized two interviews in particular – one with defensive coordinator Steve Spagnuolo and one with offensive coordinator Ben McAdoo. In mid-January, the Giants decided that the right man for the job was in-house all along when they promoted McAdoo to head coach.
McAdoo, who was hired as the Giants' offensive coordinator in 2014, has helped Eli Manning enjoy perhaps the most productive two-year stretch of his NFL career. Although the club has posted a 6-10 record in consecutive seasons, Manning has thrived, averaging 4,423 yards and about 33 touchdowns per season over the last two years, to go along with a 92.9 rating. The Giants finished in the top eight in the NFL in terms of both yards per game (372.3) and points per game (26.3) in 2015.
Manning was vocal in his support of McAdoo and told a New York radio station earlier this month that he felt that McAdoo reminded him a lot of Coughlin. Manning's endorsement alone did not get McAdoo the job, but there's little doubt that it played a part.
After winning a combined 12 games over the last two seasons, the Giants are hoping to achieve a double-digit win total in 2016. Can they do it? Here's a look at their offseason to-do list and their potential options.
Key Free Agents:
The Giants are expected to have more than $50MM in cap space at their disposal this spring, thanks to the massive list of free agents you see at the top of this article. There are several notable free agents that the Giants will consider hanging on to, including cornerback Prince Amukamara.
Amukamara has had an up-and-down run with the Giants since his entry into the league in 2011, but some of his problems can be chalked up to injury. Of course, that's a double-edged sword when evaluating a free agent. Amukamara's only 16-game season came in 2013 and in the last two years, he has only taken the field for 19 contests. Still, in his 11 games in 2015, Amukamara was a difference maker, notching 63 total tackles, 10 pass deflections, one fumble recovery, and one interception. When healthy, Amukamara has demonstrated the ability that made him the No. 19 overall pick in the 2011 draft. I'd expect the Giants to make an effort to re-sign Amukamara before free agency officially gets underway, but the team will only go so far to retain him given the options that are out there at cornerback.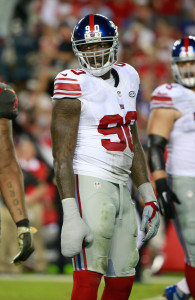 For the last year, Giants fans have been buzzing about the future of defensive end Jason Pierre-Paul. Of course, JPP's story took a bizarre and tragic turn last July when a fireworks accident cost him a finger and probably millions of dollars. Pierre-Paul got back to football in the fall and was extremely motivated on the field to prove the naysayers wrong. However, for all of his grit and work ethic, he did not look like the same player he did before the hand injury.
Some reports indicated that Pierre-Paul turned down a ~$60MM contract offer from the Giants prior to his 4th of July accident. At this stage, it's highly unlikely that anyone will be making such an offer to the once-dominant defensive end. Still, Pierre-Paul showed that he can cause trouble for opposing quarterbacks and he could still hold value for the Giants (and other clubs) on a short-term deal. One has to think that the Giants will first explore re-signing JPP to a short-term deal that includes performance-based incentives. JPP's reps, meanwhile, probably will push for more guaranteed money up front.
The football world (not to mention the fantasy football world) has been waiting for wide receiver Rueben Randle to take off and establish himself as a star wide receiver. We're now four years into his NFL career and onlookers are no longer waiting with bated breath. Randle has shown flashes in the past, but he has yet to put it altogether and the Giants can probably find a better partner for Odell Beckham Jr. elsewhere. For his part, Randle says he wants to stay in New York.
Defensive end Robert Ayers has played in exactly 12 games in each of the last two seasons for the Giants, but he has proven to be a disruptive force each time. This past season, Ayers notched a career-high 9.0 sacks to go along with 41 total tackles, and the Giants' pass-rush unit would be lacking if he signs elsewhere.
Last summer, Jasper Brinkley inked a two-year contract with Dallas that included $2MM in guaranteed cash. Months later, the Cowboys decided they'd rather give Brinkley that dough to go elsewhere, and less than 24 hours after he hit the open market, the Giants were there to scoop him up on a one-year deal. A former fifth-round pick, Brinkley started 11 games for Minnesota in 2014, compiling 75 tackles and a sack. This past year, Brinkley started 9 games (playing in 15 total) and racked up 66 total tackles with four forced fumbles and one sack. Brinkley was initially brought in to serve in a reserve role, but a November injury to Jon Beason made him a more central part of the team's front seven. Now that Beason is retiring (more on that later), Brinkley could be retained as a strong rotational option. Then again, Brinkley will turn 31 in July and the Giants may opt to go younger at linebacker.
Possible Cap Casualties: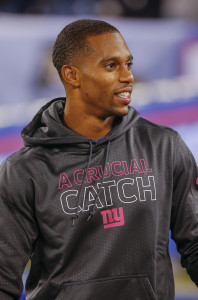 What will the Giants do with Victor Cruz? Just two short years ago, Cruz was the darling of New York and the focal point of their passing attack. Now, Beckham Jr. is the team's ace wide receiver of the future and Cruz has not seen the field since October 12th, 2014.
Cruz was working his way back from a torn patellar tendon that forced him to miss most of 2014 season when, during his recovery, he injured his calf. In November 2015, he was placed on IR before his season could even get started. Cruz is currently set to count $9.9MM against the Giants' cap in 2016 and none of his remaining $24MM over the next three years is guaranteed, so he's unlikely to continue on his current contract. However, there's no reason why the two sides couldn't agree to a reworked deal that includes a pay cut.
Last year, the Giants were dealt an absolute gut punch when offensive tackle Will Beatty was ruled out for the entire 2015 campaign due to pectoral and rotator cuff injuries. The Giants also badly missed the services of offensive guard Geoff Schwartz. Both players were set to return in 2016 at considerable salaries, but just days ago, Big Blue opted to release both of the linemen.
Schwartz, 29, started 11 games for the Giants in 2015, but his seasons was cut short when he fractured a bone in his left leg in late November, forcing the team to place him on injured reserve. By releasing him, the Giants will avoid paying him $3.925MM annual salaries this year and next year, taking on a hit of about $1.917MM in dead money for 2016. The move creates nearly $3MM in cap savings for the club, while Schwartz – like his brother Mitchell Schwartz – figures to be on the lookout for a new home. Releasing Beatty, meanwhile, will leave $5MM in dead money on the Giants' 2015 cap, but the move will also clear $4.175MM in space.
The Giants also said adios to linebacker Jon Beason, who announced his retirement. Beason said that he wanted to continue playing, but after consulting with numerous doctors, those experts unanimously recommending that he retire because of his injured knee. Beason would have been owed a $1MM roster bonus if he were still on the Giants' roster on the fifth day of the 2016 league year. Instead, the Giants' will clear that bonus, $1.2MM in per-game roster bonuses, a $100K workout bonus, and his $2.8MM base salary from their cap, creating a total of $5.1MM in cap savings. Taking into account the Beason, Schwartz, and Beatty moves, the Giants created more than $12.2MM in cap savings.
Positions Of Need:
Just like last offseason, the safety position stands as one of the Giants' biggest needs. Last year, the Giants aimed high when they tried to bring Devin McCourty back to New Jersey. When the Rutgers alum returned to the Patriots, the Giants were left scrambling and could not come up with a high-impact solution.
If the Giants want to aim high once again, they could make a run at Chiefs free agent Eric Berry. The two sides are said to be working on an extension, and he's a candidate for the franchise tag, but Berry would be a phenomenal fit for the Giants if he reaches the open market. Appearing in all 16 games for Kansas City in 2015, Berry logged 61 tackles to go along with a pair of interceptions and 10 passes defended. Pro Football Focus ranked the Tennessee product sixth among 88 qualified safeties. The standout season earned Berry his fourth Pro Bowl berth, along with a spot on the NFL's All-Pro first team.
The Giants will also have to bolster their defensive line, particularly on the bookends if JPP and/or Ayers are not retained. In theory, Owa Odighizuwa could be elevated to a more significant role, but the club will have to improve its depth in that regard at the very least. The best Giants teams in recent years have relied on strong play from their defensive ends and it's not like Justin Tuck is walking back through that door (though, technically, he will be back on a one-day deal before retiring).
On the interior of the defensive line, the Giants will have to find some outside help, particularly if Cullen Jenkins leaves in free agency or retires. The club was expecting a big leap forward from Jay Bromley in his second year, but the rising junior probably can't be counted upon as a starter. A Syracuse product, Bromley started four games for the Giants this season and appeared in all 16, making 19 total tackles.
The Giants and Cruz will likely discuss a re-worked contract at a reduced salary, but that probably won't end the club's search for a secondary wide receiver. Entering his third season, ODB figures to draw double coverage from every opposing team unless the Giants can find a credible threat to line up on the opposite side of the field.
Extension Candidates/Contract Issues:
There aren't a lot of strong veteran candidates for extensions on the Giants' roster, but there are a pair of players from the 2013 draft class who could get consideration for new contracts.
Guard/tackle Justin Pugh is now one of the key members' of the team's offensive line, following the releases of Schwartz and Beatty, so the club could look into extending his rookie contract, though he has a fifth-year option for 2017.
Defensive tackle Johnathan Hankins, who was placed on IR in November, could be a buy-low candidate if the Giants want to lock him down for future seasons.
Overall Outlook:
The Giants have tons of cap space and flexibility to make major changes, but they're far from the only team with spending room this spring. The Giants will have to play it smart in free agency and, more importantly, get it right in the draft. Overall, GM Jerry Reese doesn't have the best track record when it comes to picking college prospects.
"The last couple of drafts have been much more productive. But we had a few in there where we just haven't seen the production. Your core players are your third, fourth, fifth-year players. If you look back at those draft classes, there's not a lot of them that are playing right now," co-owner John Mara said in January.
This year, the Giants hold the No. 10 overall pick, two spots higher than where they landed Beckham Jr. in 2014. They appear to be in prime position to land a promising defensive lineman like Oklahoma St. DE Emmanuel Ogbah, but they'll have to nail their picks in the later rounds as well in order to put themselves in a better position going forward.
Information from Over The Cap was used in the creation of this post. Photos courtesy of USA Today Sports Images.
Follow @PFRumors