Pending free agents:
Larry Asante, S
Denico Autry, DE (ERFA)
Thomas Gafford, LS
Shelby Harris, DE (ERFA)
Andre Holmes, WR
Gabe Holmes, TE (ERFA)
Benson Mayowa, DE (RFA)
Taylor Mays, S
Matt McCants, T (RFA)
Tevin McDonald, S (ERFA)
Matt McGloin, QB (RFA)
Donald Penn, T
Seth Roberts, WR (ERFA)
Jeremy Ross, WR (RFA)
Aldon Smith, DE/OLB
Rod Streater, WR
Neiko Thorpe, S (RFA)
Korey Toomer, LB (ERFA)
Top 15 cap hits for 2016:
Notable coaching/front office moves:
Draft:
Other:
Overview:
After appearing in Super Bowl XXXVII at the end of the 2002 season, the Raiders have failed to finish above .500 even once. Their play during that time has ranged from decidedly mediocre to outright terrible, but in 2015, Raiders fans may have finally glimpsed a light at the end of their tunnel. Under new head coach Jack Del Rio, the team finished just 7-9, but there are some reasons for hope.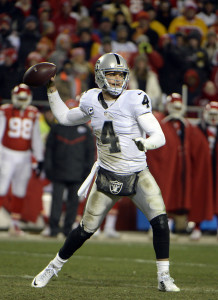 Second-year quarterback Derek Carr showed that he might well be the team's long-awaited answer under center, as he completed over 61% of his passes for nearly 4,000 yards, 32 touchdowns, and 13 interceptions, posting a 91.1 rating in the process. He immediately established a rapport with rookie wideout Amari Cooper, who became the first Oakland wide receiver to top 1,000 yards since Randy Moss did it in 2005. Cooper, Carr, and third-year running back Latavius Murray were all named to the Pro Bowl, giving the Raiders a young and talented trio at the skill positions. That's not to mention young tight end Clive Walford, who showed promise in his rookie campaign, and receiver Michael Crabtree, who was brought in on a modest one-year contract but who signed a four-year, $35MM extension in December.
On the defensive side of the ball, Khalil Mack became a full-fledged superstar, picking up 15 sacks and grading out as the best edge defender in the league, per Pro Football Focus' advanced metrics (subscription required). PFF suggested that Mack was even better against the run than he was against the pass, and his efforts earned him a First-Team All-Pro nod — at two separate positions (defensive end and outside linebacker).
However, the defense as a whole finished in the middle of the pack, according to Football Outsiders' DVOA metric, as did the offense, so there is room for improvement on both sides of the ball. Luckily for the Raiders, they have a ton of cap room with which to address their concerns, and GM Reggie McKenzie, who was on the hot seat not long ago, has now orchestrated two consecutive drafts that have paid immediate dividends. With continuity in the coaching staff, a GM who seems to have found his footing, and a roster stocked with a fair amount of young talent, the Raiders could compete for a playoff spot in 2016.
Key Free Agents:
Not only are the Raiders flush with cap space, but they are also fortunate in that they do not have many of their own free agents that they absolutely need to re-sign. Interestingly enough, the most important player for the club to keep under contract this year might be its punter, Marquette King.
King has established himself as one of the best punters in the league, and it would not be unreasonable for him to look at Sam Koch's recent five-year, $18.75MM extension as a starting point in contract negotiations. I would think a five-year deal worth around $20MM in total value would make sense for King, and while such a contract would hardly make a dent on the Raiders' available cap room, it would ensure that the team keeps one of its most underrated weapons under club control for the foreseeable future. The franchise tag may also be in play here.
The Raiders will probably also want to bring back left tackle Donald Penn. Penn might not be elite, but he's squarely in the second tier of the league's left tackles, and he finished the 2015 season as the NFL's 11th-best lineman out of 77 eligible players, per PFF.
He is also eminently dependable, having started all 16 games every season since 2008. The nine-year veteran spent the first seven seasons of his career with Tampa Bay before coming to terms with Oakland on a modest two-year pact prior to the 2014 season, a deal that ultimately earned him a little over $10MM. He has stated that he wants to retire a Raider, and in fact expressed some frustration earlier this month that the team had not yet contacted him about a new contract.
Although the Raiders are taking their time when it comes to discussing an extension for Penn, there aren't many tackles on the free agent market that would represent a clear upgrade. Russell Okung could be an intriguing option, but his injury history is troubling and his name-recognition value has exceeded his on-field production in recent seasons (although he has been a strong pass blocker when healthy). The Bills' Cordy Glenn is a prime candidate for the franchise tag, which would effectively take him off the market, and outside of Kelechi Osemele, whose experience at left tackle is limited, there is no one else that would be a better fit for the Raiders than Penn.
The top two tackle prospects in the draft, Laremy Tunsil and Ronnie Stanley, will likely be off the board by the time the Raiders' No. 14 selection rolls around, though Michigan State's Jack Conklin may still be available. But given that the Raiders have more pressing needs on the defensive side of the ball—particularly in the secondary—I would expect the Raiders and Penn to work something out within the next couple of weeks, and a two- or three-year deal with an average annual value of roughly $7MM would be a reasonable agreement for both parties.
Wideouts Andre Holmes and Rod Streater have both shown flashes at various times in their Oakland careers, but at this point it appears as though the Raiders are prepared to move on without them. The team is probably more than prepared to part ways with offensive lineman J'Marcus Webb as well. Menelik Watson and Austin Howard will compete for the starting right tackle spot, and last year's fourth-round draft pick, Jon Feliciano, could fit in at right guard. While the team would probably not be averse to bringing back Khalif Barnes for some depth, Webb has never been an especially capable NFL player and will probably struggle to stick on anyone's roster next season.
Given the Raiders' deficiencies in the secondary, which have been compounded by the retirement of surefire Hall-of-Famer Charles Woodson, the team will likely try to retain at least one of Taylor Mays and Larry Asante. Oakland will also hope for a bounce-back year from Nate Allen, whom they recently released and re-signed to a more team-friendly deal. Allen had his 2015 season cut short by a torn MCL and ultimately appeared in only five games in his first year in silver-and-black.
The Raiders gave Aldon Smith a second chance when he was released by the 49ers in August, and he showed glimpses of his fearsome pass rush ability, racking up 3.5 sacks in nine games with Oakland. However, he was hit with a one-year suspension in November, meaning that he can't even be around the Raiders' facility until next November. Nonetheless, the Raiders knew when they signed Smith that he would be a long-term project, and both sides have shown an express interest in continuing their relationship. I foresee Smith and the Raiders ultimately striking an incentive-laden deal at some point in the offseason, and although Smith may not contribute much if and when he returns to the field in 2016, the 2017 Raiders could feature Smith and Mack as bookend pass rushers, a prospect that would certainly keep opposing quarterbacks up at night.
Positions Of Need:
As noted above, the Raiders are in dire need of secondary help, both at cornerback and at safety. 2013 first-round draft pick D.J. Hayden has been a disaster, and Mays and Asante are average at best. Even at full health, Allen has never been a consistent performer, and although cornerback David Amerson was a pleasant surprise after being claimed on waivers last September, he is just one year removed from being rated as the worst cornerback in the league per PFF's metrics. McKenzie will certainly have his work cut out for him as he tries to turn around one of the NFL's worst pass defenses.
Luckily, free agency offers a number of potential solutions in that regard. At the safety position, the market is headlined by Eric Weddle, Eric Berry, Reggie Nelson, Tashaun Gipson, and George Iloka, and the recently-released William Moore would also be an interesting possibility to replace the veteran leadership void left by Woodson. Although Berry may re-sign with Kansas City or get the franchise tag before hitting the market, Weddle will almost certainly be available, and it currently appears as though Nelson and Gipson will both test the free agent waters as well.
This year's free agent cornerback class is also quite deep. The Raiders could choose from a list of names that includes Sean Smith, Janoris Jenkins, Prince Amukamara, Greg Toler, Leon Hall, Casey Heyward, and Trumaine Johnson. Josh Norman could also theoretically be available, but Carolina is likely to hit him with the franchise tag. Oakland would be in pretty good shape if it could come away with at least two of the above-named defensive backs, and if the Raiders supplement those signings with a couple of second-tier options—names like James Ihedigbo and Shareece Wright jump immediately to mind—as well as a draft selection or two, they could see a marked improvement.
It is worth noting that the Raiders were in pursuit of a number of big-ticket free agents last year, but they failed to land most of their high-priced targets. Given that they now appear to be a team on the rise, the Raiders may be a more attractive option to some of the more noteworthy players on the market this time around.
As far as the draft is concerned, top cornerback prospects Jalen Ramsey and Vernon Hargreaves will likely not fall to Oakland, but Clemson's Mackensie Alexander would be a quality option. At safety, Miles Killebrew and Jeremy Cash are potential Day 2 selections, but neither is particularly strong in coverage, and Oakland would probably be better-served addressing its safety needs in free agency this year.
While the offensive line is not a pressing issue at the moment—assuming, of course, the Raiders re-sign Penn—the Raiders would do well to bring in a young lineman or two (ESPN's Mel Kiper, in fact, has mocked Conklin to the Raiders in his first mock draft). If Penn is not retained, then the O-line suddenly becomes a cause for concern and would need to be meaningfully addressed in the draft, free agency, or both. We touched on some of the team's options for offensive linemen above, and it's also worth pointing out that, if Penn does not return, former Giant Will Beatty may provide similar services at a similar (or lesser) rate.
The Raiders could also use help at inside linebacker, as Curtis Lofton was a disappointment in his first season with the club. Although it's probably not enough of a need to use a first-round pick on a linebacker, a player like Ohio State's Joshua Perry is worth keeping an eye on during the second day of the draft, especially since this year's crop of free agent linebackers is relatively weak (plus, 2015 fifth-rounder Neiron Ball could end up seeing more playing time, especially if he can put together a strong offseason).
It might also behoove the club to find a running back in the middle rounds of the draft or free agency to keep Murray fresh. An ESPN report from a few days ago indicated that Oakland would do just that.
Possible Cap Casualties:
Although the Raiders do not need to shed any salary in order to be active in free agency, to retain their own free agents, and to conduct other offseason business, that doesn't mean that they should avoid making cuts or purusing restructures where necessary. That's especially true given that the team may want to begin looking at long-term extensions for Carr and Mack next year and for Cooper the year after that. At the moment, it appears as though all of those contracts will be hugely expensive.
That being said, there is simply not much the Raiders can or should do right now in terms of modifications or cuts. In fact, Spotrac's list of potential cap casualties released on the first day of 2016 featured no Raiders players.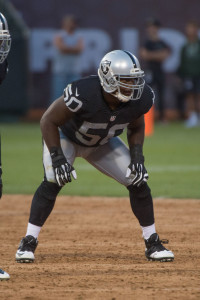 Curtis Lofton might have been a release candidate, but given that the Raiders allowed $3.5MM of his 2016 $5.35MM base salary to become fully guaranteed last week, it is apparent that Lofton will remain on the club. The Raiders might also consider cutting or even trading D.J. Hayden, but such a move would save the team less than $2MM against the cap, and considering Oakland's depth problems in the secondary, hanging on to Hayden for one last year may make sense.
Many pundits were praising the signing of Roy Helu as one of the steals of free agency last year, but Helu never became a meaningful part of the team's offense, and Oakland could create $2MM of cap room by releasing him.
Marcel Reece has been a useful member of the team's offense in recent seasons, particularly as a blocker, and he is one of longest-tenured members of the roster (and a team captain to boot). But he will miss the first three games of the 2016 season due to his PED-related suspension, and Jamize Olawale looks more than capable of stepping into Reece's shoes. The team could save $2.65MM by letting Reece go.
Finally, the Raiders could release longtime kicker Sebastian Janikowski and save $3.24MM by doing so. Janikowski stumbled in 2015, finishing 28th in the league in field goal percentage, though he was efficient in kicks over 50 yards. It would be somewhat surprising to see the Raiders release Janikowski before training camp, but Oakland should be on the lookout for the heir apparent to their aging kicker, who will turn 38 in March.
Extension Candidates/Contract Issues:
Just as the Raiders do not have many decisions to make in terms of significant releases, they also do not have much to do by way of contract extensions. It is too soon to explore extensions for the "Big Three" of Carr, Cooper, and Mack, but Latavius Murray is entering the final year of his rookie contract and could be in line for a new multi-year deal.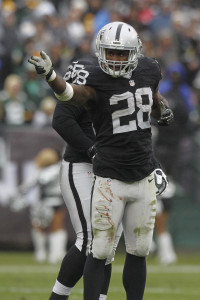 Murray was one of only seven backs league-wide to run for more than 1,000 yards, and he did so behind an offensive line that ranked just 19th in adjusted line yards. We recently learned that Lamar Miller is seeking a deal that would pay him around $5MM annually, and if he is able to land that type of payday, Murray would likely be able to command around the same. Contracts for running backs are generally becoming less and less expensive, so assuming Murray wants to stay in Oakland, it shouldn't be too difficult for the Raiders to meet his market value.
Marcel Reece, meanwhile, is one of those rare players who could be an extension candidate or a release candidate. Reece was recently mentioned by Jason Fitzgerald of OverTheCap.com as a player that Oakland might consider extending, and his abilities as a blocker and receiver out of the backfield, along with his captaincy, explain why. Reece, like Murray, is entering the final year of his contract, and though he is more valuable to the Raiders than anyone else, it would not take much to get an extension done (a two-year, $6MM contract should be enough).
Longtime long snapper Jon Condo, who is set to become an unrestricted free agent next season, might also receive an extension at some point this year.
Overall Outlook:
The elephant in the room of course, is the question of where the Raiders will be playing their home games in the near future. They will remain at the O.Co Coliseum in Oakland for 2016, and the club's new one-year lease with the Coliseum includes options for the 2017 and 2018 seasons, so owner Mark Davis will have some flexibility as he searches for a long-term stadium solution in the Bay Area and elsewhere.
While the Raiders' efforts to get a new stadium will certainly continue to make headlines, the team's roster is the focus here, and as far as their immediate on-field prospects are concerned, the Raiders are in pretty good shape — they may again emerge as playoff contenders after a 13-year hiatus from the postseason.
There are doubtlessly a number of issues to be resolved: the secondary is a mess, and the offensive line, even if Penn is re-signed, needs some depth and perhaps a re-tooling on the right side. And despite the strong play of Dan Williams and rookie Mario Edwards, and the star turn of Mack, McKenzie should at least add some quality depth pieces to the front seven.
However, with a promising young quarterback, a rising young wideout, and a second-year pass rusher who should at least be in the discussion for the best defensive player in the league, the Raiders have a lot to look forward to. Assuming continued growth from Carr and Cooper, and assuming McKenzie is able to effectively address the team's defensive issues, this is certainly a team that can compete in the AFC West.
Information from Over The Cap was used in the creation of this post. Photos courtesy of USA Today Sports Images.
Follow @PFRumors