Pending free agents:
Top 15 cap hits for 2016:
Notable coaching/front office changes:
Draft:
Other:
Current projected cap room (via Over the Cap): $52.58MM
Must exercise or decline fifth-year option for 2017 for S Eric Reid.
Signed CFL WR Eric Rogers.
Al Guido assuming Paraag Marathe's front-office duties (business operations).
Overview:
To say that things did not go as planned for the Niners in 2015 would be a severe understatement. Last offseason, the 49ers parted ways with Jim Harbaugh and opted to promote from within, elevating Jim Tomsula from defensive line coach to head coach. While Tomsula cannot be solely blamed for the team's struggles last season, he clearly did not have the attention of his team and shortly after New Year's, he was let go. Harbaugh's reign included a 44-19-1 regular-season record and three playoff appearances in four years. The Tomsula-led Niners finished the 2015-16 campaign 5-11 (the franchise's worst mark since 2007) and suffered nine losses by double-digit deficits.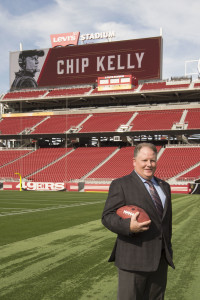 This time, the 49ers went out-of-house to find their next head coach when they tapped Chip Kelly. The boisterous Kelly enjoyed full personnel control in Philly, but he will have to comfortably co-exist with general manager Trent Baalke and CEO Jed York in San Francisco. Of course, Kelly's departure from Philadelphia stemmed in part from him wearing out his welcome within the organization, having been at odds with former Eagles GM Howie Roseman.
Kelly was fired last year at the end of his third season coaching the Eagles. During his three seasons as Eagles head coach, Kelly had a solid 26-21 record. However, after consecutive 10-6 seasons, the wheels came off a little in 2015 as the new-look roster, which was supposedly tailored to Kelly's vision, struggled to produce on the field. Although Kelly only took over final say of Philadelphia's roster moves from Roseman a year ago, he influenced the team's moves before then as well, and many talented players left town after not always seeing eye to eye with the head coach. DeSean Jackson, LeSean McCoy, Jeremy Maclin, and Evan Mathis are a few of the players that departed Philadelphia within the last couple years.
The 49ers are hopeful that Kelly can turn things around, but he and Baalke have something of a mountain to climb after the way things turned out last season. San Francisco struggled in every facet of the game, but most notably, the team watched its franchise quarterback go from hero to zero practically overnight. Not long after signing a hefty $114MM extension, Colin Kaepernick struggled mightily and looked nothing like his former self. Eventually, Kaepernick's struggles led to backup Blaine Gabbert taking over the starting job and, for the most part, playing decently.
The Niners now have to figure out exactly what it is that they have in Kaepernick and whether he's the right fit for the new regime. While in Philadelphia, Kelly was often connected to Kaepernick and many believed that Kelly saw him as an ideal QB for his offense. However, it appears that may not be the case. Kelly has reportedly only spoken with the QB once since he was hired, and that could be an indication that the coach does not see him as being a part of the team's future. If Kaepernick is not part of the team's plans, he would reportedly like to join the Jets, though there are conflicting reports as to whether that interest is being reciprocated by Gang Green.
What can the 49ers do to regain their position as one of the NFC's most dominant teams? Here's a look at San Francisco's offseason needs and potential options.
Key Free Agents:
Nose tackle Ian Williams is last in alphabetical order, but No. 1 on the 49ers' free agent list this spring. Luckily for the Niners, Williams hasn't been shy about his desire to sign a new deal in San Francisco. When asked if he wants to re-sign with the 49ers, Williams said, "I would love to. This is where I've been. This is where I know guys on the team. This is where I'm comfortable at. I'd love to be back."
Of course, a new contract for Williams isn't going to come cheap. The veteran defender enjoyed his best season yet in 2015, racking up 65 total tackles, one forced fumble, one fumble recovery, and a sack across 16 games (all starts). Prior to 2015, Williams had a combined 15 games on the gridiron from 2011-2014. Back in January, Jason Fitzgerald of OTC projected that the Niners would lock up the 26-year-old (27 in August) to a three-year deal before the start of free agency. As of this writing, however, the Niners have not gotten that deal done.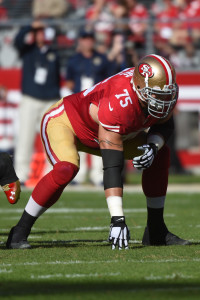 Offensive guard Alex Boone stands as another of the 49ers' top priorities in terms of their own free agents. However, he isn't coming off of a strong platform year. Boone, who was placed on IR in late December, graded out as a rather average starting guard according to Pro Football Focus. Ironically, Boone was critical of Harbaugh as a coach, but seemed to take a step back under Tomsula.
"I think he just pushed guys too far," Boone said of Harbaugh back in April 2015. "He wanted too much, demanded too much, expected too much. You know, 'We gotta go out and do this. We gotta go out and do this. We gotta go out and do this.''And you'd be like, 'This guy might be clinically insane. He's crazy.' I think that if you're stuck in your ways enough, eventually people are just going to say, 'Listen, we just can't work with this.'"
The Ohio State product was a second-team All-Pro selection in 2012, but he didn't look the part in 2015. Still Boone should see a raise over the $3.4MM he earned in 2015. Boone fought tooth and nail for a reworked contract that would prevent the 49ers from using the franchise tag on him but, as it turns out, he did not have the kind of year that would warrant such consideration anyway. We don't expect Boone to command top-five money for his position, but he should still be in line for a decent payday, whether it comes from San Francisco or another club.
Running back Reggie Bush stands as the biggest household name on the 49ers' list of free agents, but he is not the highest priority thanks to his age and an injury-shortened 2015. Bush played only five games for the Niners before tearing his left ACL on the concrete at the Edwards Jones Dome in St. Louis. The 31-year-old, who sued the St. Louis Regional Convention and Stadium Authority over his injury in January, rushed for just 28 yards before his season was brought to a premature end. During Super Bowl weekend, Bush told reporters that he plans to continue playing in 2016.
49ers kicker Phil Dawson will turn 41 next month, which would make him one of the NFL's oldest players, but the 17-year veteran wants to sign a new contract and continue his career next season. Dawson also believes he can still handle kickoff duties, a role the Niners handed over to rookie punter Bradley Pinion this season.
"I miss [kicking off]," Dawson said in December 2015. "I've always enjoyed that aspect of the game, and I still feel like I can do it. But Bradley has done a tremendous job, and he's helped the team. So (there's) no problem here on that front."
As of late December, Dawson said he hasn't spoken to the 49ers about signing an extension with the club. However, he indicated that he wanted to stay in San Francisco.
Veteran wide receiver Anquan Boldin is also expected to hit the open market, as his contract will void this spring. Boldin, 36 in October, looked like a shell of his former self in 2015, posting his lowest yardage total (789) since 2007. Boldin's next deal will probably be his last, so he may choose to link up with a contender.
Possible Cap Casualties:
Of course, this list starts with Kaepernick and his ~$15.9MM cap hit for 2016. After a disastrous 2015, the 49ers are expected to consider all options involving Kaepernick, including dropping him outright and starting from scratch at the position. Kaepernick's massive contract gives the Niners a great deal of flexibility with rolling salary guarantees that aren't due until April 1st of each year. Dropping No. 7 could create nearly $8.5MM in cap savings. Alternatively, the 49ers could trade him and try to get something of value in return, even if it's only a mid- or late-round draft pick.
On the other side of the ball, the 49ers could part ways with linebacker Ahmad Brooks. Brooks, 32 in March, earned a Pro Bowl selection in 2013 but he hasn't looked like the same guy in the last couple of seasons. In 2015, Brooks had 42 tackles and 6.5 sacks, which is nothing to sneeze at, but the overall production just wasn't there. Cutting Brooks would save the Niners roughly $6MM, and they're widely expected to make some sort of move there.
Defensive back Antoine Bethea currently stands as the 49ers' sixth-highest cap hit at just over $6MM. Like Brooks, Bethea is an ex-Pro Bowler who is no longer justifying his salary. The Niners may want him back for 2016, but it probably won't be at that price.
Positions Of Need:
The 49ers need to quickly determine whether or not they Kaepernick can get back to his old form. If they're pessimistic, then the Niners have a number of potential options, though none are slam dunks. If Sam Bradford isn't retained by the Eagles, one has to imagine that Kelly could push for a reunion with him in San Francisco. Veteran quarterback Ryan Fitzpatrick could serve as a solid transitional option for the 49ers, though he is widely expected to reach agreement on a new deal with the Jets prior to the start of free agency.
In the draft, the 49ers could have a crack at a pair of impressive young QBs in Jared Goff (California) and Carson Wentz (North Dakota State). However, there are multiple teams that are looking for their next franchise QB and the Niners may have to move up from No. 7 if they want a shot at either player.
Beyond QB, the 49ers will have to address their offensive line. Obviously, if Boone goes elsewhere, the need becomes that much greater. If Boone stays and Anthony Davis opts to return from retirement, then the need to bolster the O-Line becomes much less severe. Of course, with so much time away from the game, it's not a certainty that Davis will be able to pick up where he left off. The 49ers should also get a boost from having Daniel Kilgore at the starting center position rather than Marcus Martin, who had a rough year by just about any metric.
Boldin could be heading elsewhere this spring and even if he stays in San Francisco, he's not the needle-mover that he once was. The 49ers signed Torrey Smith to a five-year, $40MM deal last March with $22MM guaranteed and, so far, that deal looks like a mistake. One has to imagine that the Niners will be seeking help at wide receiver. With major cap room to work with, could the 49ers get in the mix for expected free agent Alshon Jeffery? Ole Miss standout Laquon Treadwell is expected to be on the board when the 49ers pick at No. 7, so he could also be an option.
The 49ers also have some serious question marks on the defensive line. Defensive end Arik Armstead did not impress in his rookie season and defensive tackle Glenn Dorsey is recovering from a torn ACL. And, as discussed earlier, Ian Williams is slated to hit the open market.
Extension Candidates/Contract Issues:
Safety Eric Reid is an extension candidate for the 49ers, but the club also holds a fifth-year option on his deal, so San Francisco doesn't necessarily have to get a deal done this offseason. As it stands, Reid carries just a ~$2.7MM cap hit for the 2016 season and the Niners could give him a significant pay bump while also keeping him under contract at a potentially under-market price. In 2015, Reid started all 16 games, racking up 66 tackles and 7 pass deflections.
The Niners could also explore an extension with quarterback Blaine Gabbert. Even if Gabbert isn't used as the Niners' starting quarterback, he does hold value as a strong backup if he continues to perform like he did in 2015.
Overall Outlook:
Armed with a boatload of cap space, the 49ers have an opportunity to give coach Chip Kelly a completely revamped roster in 2016. However, they need to spend their money more wisely than they did in 2015 if they hope to make an impact in the NFC West.
Information from Over The Cap was used in the creation of this post. Photos courtesy of USA Today Sports Images.
Follow @PFRumors