8:36am: According to Field Yates of ESPN.com (via Twitter), the Saints have made the following adjustments to Ellerbe's contract for 2016:
Reduced base salary from $4.1MM to $1.7MM (fully guaranteed, per Aaron Wilson)
Reduced roster bonus from $1MM to $750K (guaranteed for skill and injury, per Wilson)
Reduced workout bonus from $100K to $50K
Added $700K in playing-time incentives
Taking into account Ellerbe's $700K in prorated bonus money, it looks like New Orleans trimmed the linebacker's cap hit for 2016 from $5.9MM to $3.2MM, as Wilson tweets. That number would increase if Ellerbe earns some of his incentives, but for now, it looks like those won't count against the cap.
Ellerbe's 2017 year will now feature the same contract terms as 2016, but that year could be voided if he plays 80% of the Saints' defensive snaps this year, says Yates.
11:32am: The Saints won't release linebacker Dannell Ellerbe, but have restructured his contract to reduce his 2016 cap hit, reports Mike Triplett of ESPN.com. The details of Ellerbe's reworked deal aren't yet known, but the veteran linebacker almost certainly agreed to a pay cut as part of the move.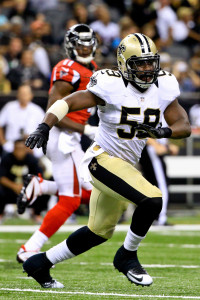 [RELATED: Saints cut Jahri Evans, David Hawthorne, Ramon Humber]
Ellerbe, who was acquired by New Orleans last March in the trade that sent Kenny Stills to the Dolphins, was limited to six games in his first season as a Saint due to nagging toe and hip injuries. The team apparently saw enough in those games to want him back for 2016, however, so Ellerbe didn't meet the same fate as fellow linebackers David Hawthorne and Ramon Humber, who became cap casualties earlier this week.
Ellerbe had been set to count for $5.9MM against the cap in 2016, including a $4.1MM base salary. As Joel Corry of CBSSports.com details, that salary was initially guaranteed for injury only, but would have become fully guaranteed today if the Saints had kept the 30-year-old on their roster without adjusting his contract.
Here are a few more Saints-related notes for Wednesday:
Referring to the last time the Saints and Drew Brees negotiated a contract as a point of reference, Evan Woodbery of the New Orleans Times-Picayune says the quarterback will be a tough adversary this offseason, if and when the club enters contract talks with him.
In a separate Times-Picayune piece, Woodbery explores what a new (and potentially final) contract for Brees might look like, writing that it's "hard to imagine Brees' camp seeking anything lower than $20MM a year." The fact that the veteran QB currently counts for $30MM against the 2016 cap gives him leverage, since a 2017 franchise tag would be unpalatable for the Saints.
In a piece focusing on the three NFL teams with the worst salary cap situations, Joel Corry of CBSSports.com discusses the Saints, referring to Brees' $30MM cap charge as "the elephant in the room." Corry suggests New Orleans ought to restructure Cameron Jordan's contract, and adds that it may be time for the club to part ways with longtime Saints Marques Colston and Zach Strief.
Follow @PFRumors