The NFL's Rooney Rule, which requires teams to interview at least one minority candidate before hiring a head coach or a general manager, will be expanded in the near future, commissioner Roger Goodell announced today. According to Goodell, the NFL will institute a Rooney Rule for women for executive positions around the league.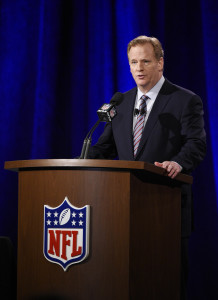 "You can see that progress is being made," Goodell said, per Kevin Patra of NFL.com. "And our commitment is we have something called the Rooney Rule, which requires us to make sure when we have an opening, that on the team or the league level, that we are going to interview a diverse slate of candidates. Well, we're going to make that commitment and we're going to formalize that we, as a league, are going to do that for women as well in all of our executive positions. Again, we're going to keep making progress here and make a difference."
While Goodell's announcement signals a positive step forward for diversity in the NFL, there are still a handful of unanswered questions about the initiative. For one, the commissioner's comments don't entirely clarify whether the NFL is simply instituting the new guidelines for league office positions, or if the league will require each of its 32 teams to follow similar guidelines. I imagine it's the latter, but it's not entirely clear yet.
Assuming the new rules apply to all NFL teams, the league will need to specify whether they apply to all front office positions, or only to particular jobs. The Rooney Rule, for instance, requires teams to interview a minority candidate before hiring a head coach, but doesn't require them to do the same for offensive or defensive coordinators.
It's also unclear when the new guidelines will officially be instituted. There are certain NFL teams that will make changes to their front office following the draft, so we'll see if the league's new Rooney Rule for women has been formally instituted by then, or whether the NFL intends to have it in place for the 2017 hiring cycle.
Photo courtesy of USA Today Sports Images.
Follow @PFRumors