The Rams made some of the most notable cuts since this offseason Friday by releasing James Laurinaitis, Chris Long and Jared Cook. Team CEO Kevin Demoff told Vincent Bonsignore of InsideSoCal.com the veterans, especially long-tenured Rams Long and Laurinaitis, deserved an advanced opportunity to catch on with other teams.
"We weren't entirely positive moving forward on the best fits for these guys, and when you head into the combine, and with everything going on with the change in our offseason, we didn't want people to move their families, come out here and maybe go into camp on uncertain footing. Especially guys like (James) and Chris, who have been the longest-tenured players on our team. They deserved the clarity; they deserved the chance to go into free agency and be free agents and not have it dangled."
Demoff did not rule out any of the three returning but knows that's the less likely route.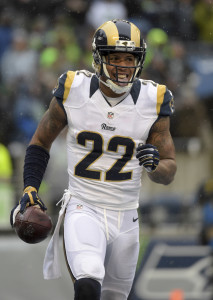 "When (head coach) Jeff (Fisher) and (general manager) Les (Snead) and I talked to them today, we all wished them well and we would never close the door on that as a potential option. But when you make these kinds of moves it's always with the understanding it's likely the players won't come back by their choice or by our choice. Could we bring them back? Sure. But rather than talk to them about a pay cut, it's better for them to see the market and understand the market, and then if they want to come back we can revisit those discussions at a later time."
Los Angeles also has decisions to make on whether to retain Janoris Jenkins and Trumaine Johnson, who are two of the top cornerbacks on this year's free agent market, should they get there. Last night, we heard Johnson could be a transition tag candidate. Demoff told Bonsignore negotiations between the Rams and the corners have been ongoing.
"We've been talking to Janoris and Trumaine for over a year and we've been close to deals at times and we've been far apart on deals at times. It's a process. I think the great part is, they both love playing for coach Fisher, they're excited about the move to Los Angeles, they want to be part of this."
Since relocating in January, the Rams are still in search of a training camp home as well as a place to conduct OTAs. Demoff said finding a permanent practice facility for the team won't come until much later in 2016, but he expects the bulk of these location-based decisions to be made by March 1.
"We are looking mainly at Oxnard for the offseason workouts. It's a turn-key facility with what the Cowboys have done up there. From there – the Cowboys will be coming back in July – we need to find a new training camp home and we've talked to a number of different universities about that opportunity. We're looking for what I call permanent/temporary space all around Los Angeles, with a focus on the (San Fernando) Valley area."
Demoff stressed the pressure to win isn't necessarily greater than it was in St. Louis but views 2016 as a seminal year in terms of attracting Southern California-stationed fans and turning them into Rams supporters. The Rams haven't made the playoffs since 2004. Their final five years in Los Angeles, 1990-94, also didn't feature a playoff berth after the franchise appeared in 14 playoff brackets — in four- and five-team fields, respectively — between 1973 and 1989.
"We've been at the cusp. But we need to make sure we develop a winner. That's true every year. But I think you'd be naive to think it doesn't play a bigger role this year than it has past years. Not that your try more or you care any more, but I do think the microscope and the spotlight are on our organization in a way it has not been the last few years."
Photo courtesy USA Today Sports Images
Follow @PFRumors