Unless Cowboys cornerback Brandon Carr is willing to take a hefty pay cut, it appears that his tenure in Dallas is coming to an end. Yahoo! Sports Charles Robinson writes that the team is expected to release the highly-paid cornerback. The team is expected to pursue Bengals free agent Adam Jones to take Carr's spot on the roster.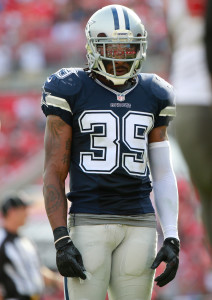 Carr is set to count for more than $13.8MM against the cap next season, with $9.1MM in base salary and another $4.7MM in bonus money. As Robinson notes, this would place Carr behind only four other cornerbacks (two of whom were franchised today): Darrelle Revis, Richard Sherman, Josh Norman, and Trumaine Johnson. If the team cuts bait with Carr prior to June 1, they can free up $6.4MM worth o cap space. If they wait until after that date, they can open up $9.1MM in cap room.
A Chiefs fifth-round draft pick in 2008, Carr joined Dallas on a five-year, $50.1MM deal in 2012. The 29-year-old hasn't missed a game during his four years with the Cowboys, although he hasn't necessarily lived up to his contract. Carr hasn't recorded an interception in two seasons, and his passes defended have dropped drastically over the past two years. He finished last season with 76 tackles and six passes defended.
If the team ultimately cuts bait with Carr, sources told Robinson that the team would eye former cornerback Adam Jones. The 32-year-old, who played with the Cowboys in 2008, has spent the past six seasons with the Bengals. The cornerback and his agent were reportedly at an Indianapolis steakhouse on Friday evening, the same night that Cowboys ownership and executives were at the restaurant. Jones and his agent were spotted "briefly exchanging pleasantries" with Cowboys director of player personnel Stephen Jones.
Jones appeared in 14 games last season, compiling 62 tackles, three interceptions, and 12 passes defended.
Follow @PFRumors