As we approach the final week of March, just one top-20 player from our list of this year's top 50 free agents remains unsigned. There continues to be mutual interest between quarterback Ryan Fitzpatrick and the Jets in a reunion, but there's also still a significant gap between what the player is demanding and what the team is offering.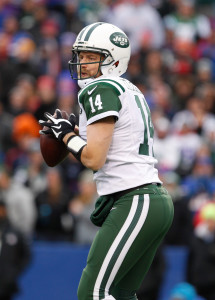 On Monday, Jets owner Woody Johnson spoke about the ongoing talks with the 33-year-old and passed along the message that he hopes Fitzpatrick will "come back to the Jets."
"I kind of hope so because he had such a good year last year," Johnson said of Fitzpatrick, according to Rich Cimini of ESPN.com. "I mean, it seems like an ideal [situation]. I like him a lot as a person. He's very engaging. He's great with kids, great with our fans, great with our players. They really respect him. He's two guys. He's the Harvard guy and then he's the normal guy. They all make fun of him for being a Harvard guy, but he's a normal guy, too."
While some observers are surprised that Fitzpatrick isn't already under contract with the Jets, Johnson said that he's not surprised by the ongoing negotiations. He also hinted that the Jets would be comfortable with Fitzpatrick missing the offseason program since he already has a handle on Chan Gailey's offense.
Johnson declined to discuss the Jets' Plan B if Fitzpatrick is not re-signed, but GM Mike Maccagnan previously indicated that Geno Smith is a "definite possibility" to step into the starting role. The Jets also have reserve Bryce Petty under contract and have explored a few other out-of-house options. The team recently met with Robert Griffin III, but Cimini writes that the Jets do not have "strong interest" in him. For what it's worth, Johnson says that the team was very impressed with RG3 as a person.
When it comes to quarterback, Johnson admits that the team has swung and missed on at least one tremendous opportunity.
"We could've drafted Russell Wilson in the second round [in 2012]," he said. "We've had shots at players, but we didn't take those. Hopefully, we're getting better at evaluating talent, particularly at quarterback."
Photo courtesy of USA Today Sports Images.
Follow @PFRumors