The entire scope of this year's draft has changed since PFR's first mock draft was published earlier this month — the Rams and Eagles moved up to the No. 1 and No. 2 overall picks, respectively, with their eyes on landing a franchise quarterback. The real action, then, starts with the Chargers at pick No. 3, and doesn't let up until the end of Round 1, where the Broncos hold the 31st selection.
To be clear, this is our projection of what will happen – not necessarily the choices we would make – based on reports and information gathered from beat and national writers, our general assessment of this year's crop of prospects, and of course, team needs. Let's dive in…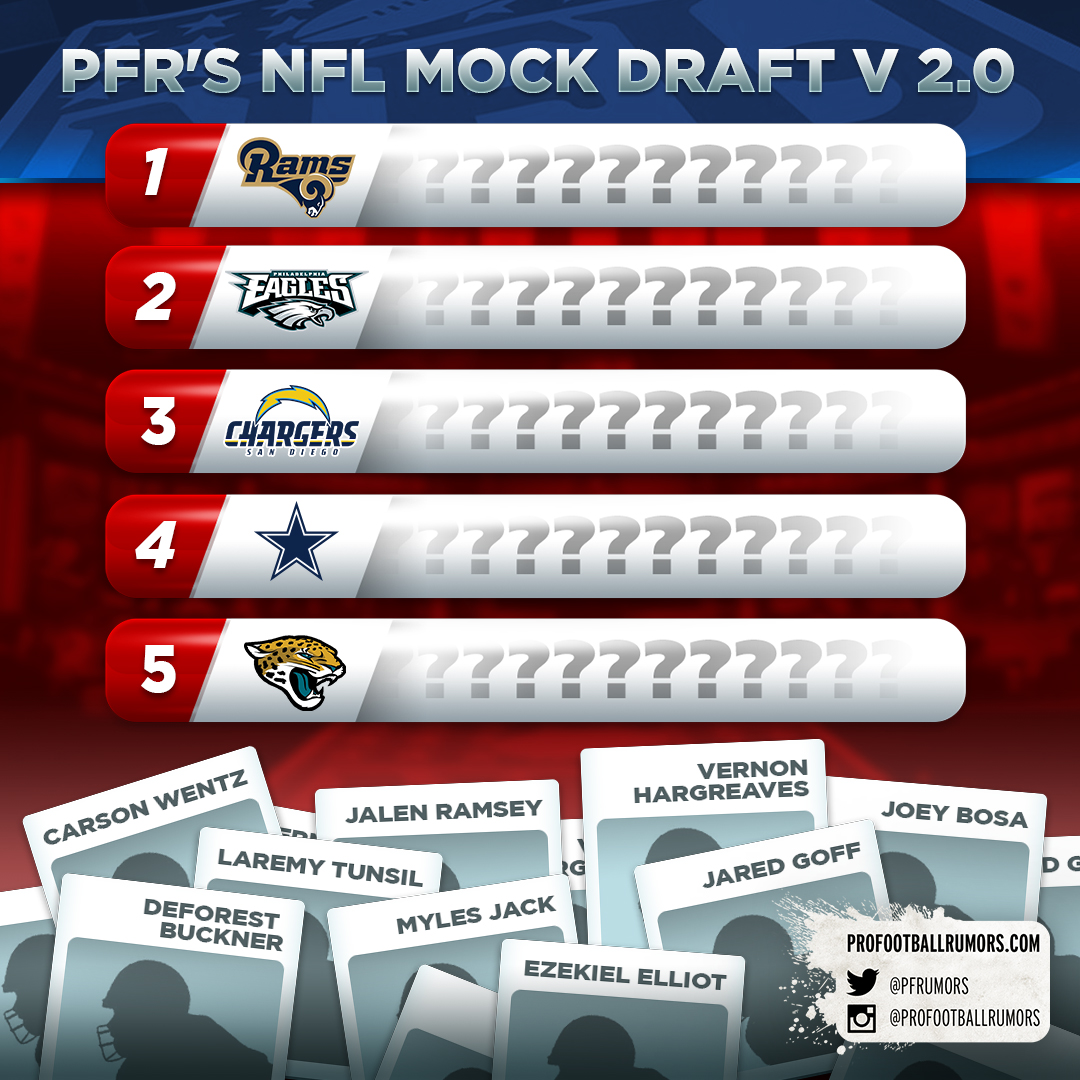 1. Los Angeles Rams (from Tennessee) – Jared Goff, QB, California
The NFL may have asked the Rams to keep their choice a secret as a way to build suspense for the draft, but all indications are that Goff will be the pick at No. 1. And after giving up a king's ransom to secure the first overall selection (the club sacrificed two firsts, two seconds, and two thirds to swap picks with the Titans), Los Angeles better hope they've chosen the right quarterback. For what's it worth, Goff narrowly edged out Carson Wentz in a recent PFR poll asking readers who they thought should go No. 1.
2. Philadelphia Eagles (from Cleveland) – Carson Wentz, QB, North Dakota State

Less than a week after the Rams moved up, the Eagles followed suit, sending a bevy of picks to the Browns in order to obtain the No. 2 pick. Wentz will arguably land in a better situation than Goff — with Sam Bradford (unless he is traded) and Chase Daniel in Philadelphia, the North Dakota State product won't be counted on to start right away, potentially giving him a better chance to develop. He has the arm strength and the frame (6'5″, 225 pounds) to be successful, but Wentz has thrown fewer than 700 passes at the FCS level. It's difficult to call this anything but a risky pick, but the Eagles seem convinced.
3. San Diego Chargers – DeForest Buckner, DL, Oregon
Trade talks concerning the No. 3 pick have cooled considerably, but it still wouldn't be a shock to see the Chargers move this pick on draft day. Laremy Tunsil is a consideration for San Diego here, but although the club's offensive line was poor in 2015, it's also relatively stable, with most of the front five under control for years to come. Therefore, Buckner, who is an ideal fit for the Chargers' 3-4 defense, is the pick.
4. Dallas Cowboys – Jalen Ramsey, DB, Florida State
The Cowboys organization as a whole is reportedly split between Ramsey and Joey Bosa, while owner/GM Jerry Jones personally likes Ramsey and Ezekiel Elliott. We'll split the difference and give Dallas Ramsey, whom some believe is the best player in the entire draft class. Capable of playing both cornerback and safety, Ramsey will team with 2015 first-rounder Byron Jones in an improving Cowboys secondary.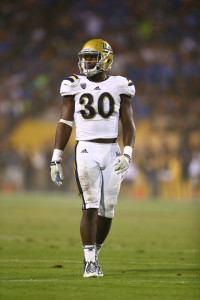 5. Jacksonville Jaguars – Myles Jack, LB, UCLA
The Jaguars have been heavily linked to Jack, and despite recent reports clarifying the worrisome nature of Jack's knee injury, he's still one of the best defenders in this class, and the type of player Jacksonville simply can't pass up. The 6'1″, 225-pound Jack of all trades is the modern-day linebacker, as he's able to stay on the field in sub packages, and can even cover the slot. The question is how long he'll be effective, and whether he'll only be able to remain a playmaker through his rookie contract.
6. Baltimore Ravens – Laremy Tunsil, T, Ole Miss
Ozzie Newsome and the rest of the Ravens front office don't let Tunsil – who was commonly projected to go first overall when the Titans still held the top pick – fall too far, nabbing him at No. 6. Baltimore doesn't sound sold on incumbent left tackle Eugene Monroe's future with the team, and if they designate him as a post-June 1 release, the Ravens could create $6.5MM in cap savings by cutting Monroe. Some analysts (including Andy Benoit on a recent MMQB podcast) believe the Ravens are shifting to a 4-3 defense, and if so, Joey Bosa could also get consideration here.
7. San Francisco 49ers – Paxton Lynch, QB, Memphis
I'm in the camp – along with Mark Dominik of ESPN.com – that believes a Colin Kaepernick-to-Denver deal is already complete, with the precondition that the 49ers are able to land a quarterback. In this scenario, GM Trent Baalke lands his quarterback of the future, and while Lynch certainly needs some time to develop, Chip Kelly is intrigued by the idea of working with Blaine Gabbert, who could act as a bridge QB in 2016. Baltimore is a team that might look to trade down as other clubs attempt to move ahead of the Niners with Lynch in their sights.
8. Cleveland Browns (from Miami via Philadelphia) – Ronnie Stanley, T, Notre Dame
With the top options at quarterback off the board, the Browns will probably be in a position to draft the best player left on their board. Defensive end Joey Bosa is an option here, as is trading back to acquire even more draft capital, but Cleveland ultimately decides to upgrade its offensive line by adding Stanley. He'll act as a ready-made replacement for Mitchell Schwartz at right tackle for the time being, before taking over on the blindside for Joe Thomas in the future.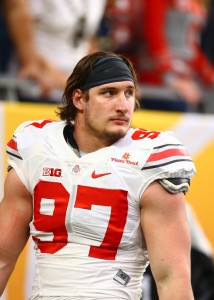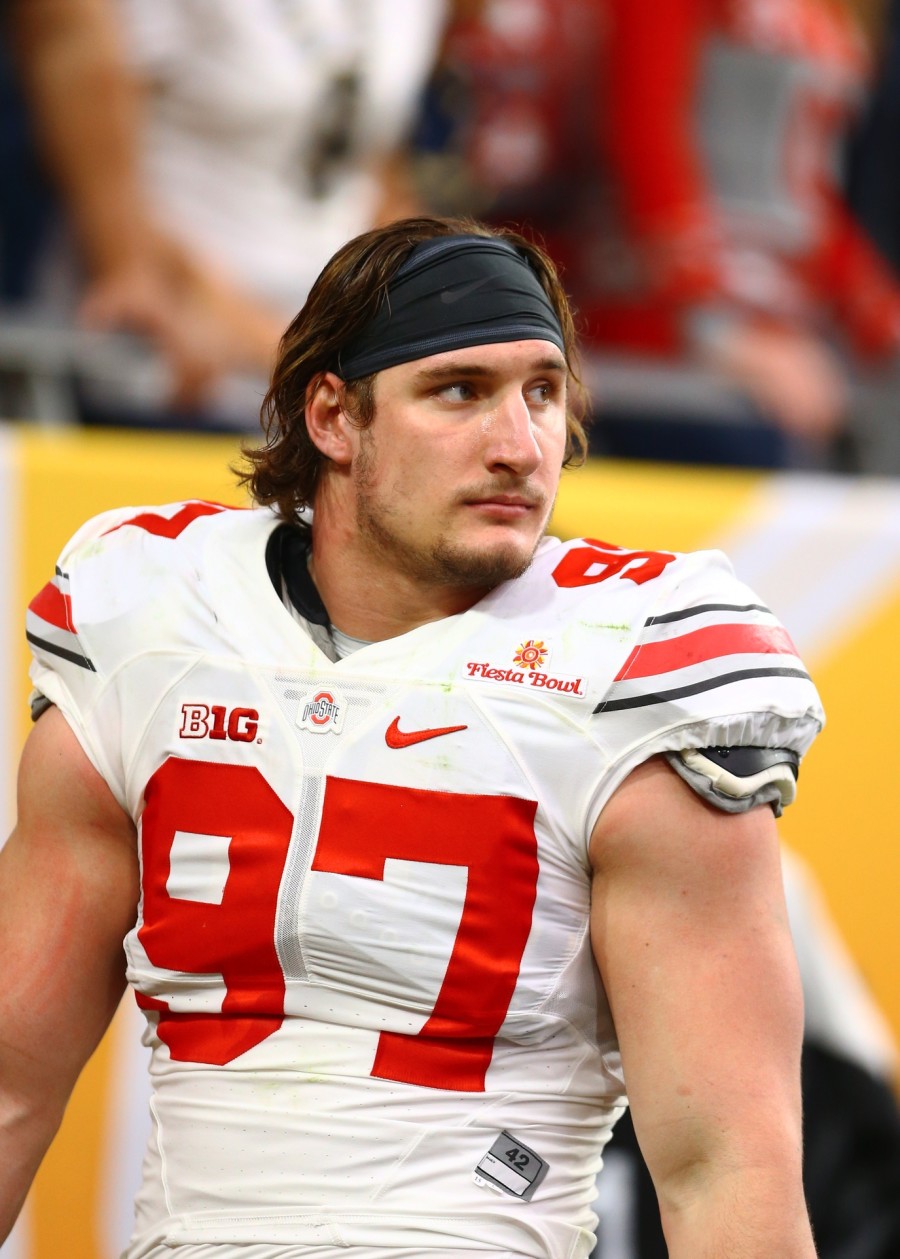 9. Tampa Bay Buccaneers – Joey Bosa, DE, Ohio State
Defensive tackle Gerald McCoy is a superstar, but the Buccaneers are sorely lacking at talent on the edge, as Jacquies Smith was the only Tampa defensive end who picked up more than five sacks last season. Bosa, who is ranked as the top player in the entire draft by some outlets, would be an instant upgrade at end for the Bucs, and if he falls to No. 9, Tampa Bay will run to turn in its card.
10. New York Giants – Leonard Floyd, LB, Georgia
The Giants added a lot of talent to their front seven over the offseason, bringing in Olivier Vernon and Damon Harrison while re-signing Jason Pierre-Paul. But the additions won't stop there, as New York brings in Floyd to aid its pass rush even further. Jordan Raanan of NJ.com, who last year listed eventual pick Ereck Flowers as Big Blue's most likely selection, identifies Floyd as the favorite to be plucked at No. 10.
11. Chicago Bears – Vernon Hargreaves III, CB, Florida
The Bears spent quite a bit of money on their front seven during free agency, adding linebackers Jerrell Freeman and Danny Trevathan, along with defensive lineman Akiem Hicks. Chicago's secondary could still use some work, however, and with Ramsey off the board, Hargreaves is the next best secondary option. He's undersized at 5'10", but NFL clubs are in nickel defenses so much now that even if he's relegated to the slot against three-wide formations, Hargreaves will be a valuable asset.
12. New Orleans Saints – Shaq Lawson, DE, Clemson
At 26.1% below average (per DVOA), the 2015 Saints defense ranked as the NFL's worst D since 2000 — only five other clubs have surpassed the 20% mark during that span, and none reached New Orleans' lows. So while New Orleans could consider adding a wide receiver to Drew Brees' arsenal, it's almost irresponsible not to give the Saints a defensive player. Lawson is an excellent bull-rusher, and he can be an instant terror off the edge opposite Cameron Jordan.
13. Miami Dolphins (from Philadelphia) – Ezekiel Elliot, RB, Ohio State
After striking out on C.J. Anderson and Chris Johnson, and considering a running back trade with the Chiefs, the Dolphins finally find their franchise back, landing the consensus No. 1 runner in Elliott. Miami is said to be high on second-year back Jay Ajayi, but given his injury concerns, the club simply can't pass on the opportunity to add Elliott to its backfield. The Dolphins could consider trading up to snag Elliott, but clearly a scenario exists where they won't need to.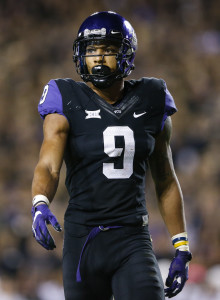 14. Minnesota Vikings (projected trade with Oakland) – Josh Doctson, WR, TCU
With Elliott gone, the Raiders decide to trade down and accrue more picks, and Vikings GM Rick Spielman, who is never afraid to leap around the draft board, is more than happy to move ahead of Detroit, Atlanta, Buffalo, and Houston, all of which could be in the market for a wide receiver. Doctson is a nice fit in offensive coordinator Norv Turner's vertical passing game, and he'll act as complement to 2015 standout Stefon Diggs.
15. Tennessee Titans (from Los Angeles) – Jack Conklin, T, Michigan State
The cost of losing Laremy Tunsil at No. 1 was worth it for the Titans as they continue their rebuild, but offensive tackle is still a position of need. Conklin gives Tennessee a pair of tackles from the state of Michigan, and the club can use training camp to decide whether he or incumbent Taylor Lewan stays on Marcus Mariota's blindside. The buzz around Conklin league-wide is growing, and Matt Miller of Bleacher Report recently reported that the Michigan State product could enter into top-10 consideration.
16. Detroit Lions – Sheldon Rankins, DT, Louisville
With Ndamukong Suh and Nick Fairley having left as free agents prior to the 2015 season, the Lions didn't generate much pressure from the interior last year. Rankins will change that. At 6'2″ and 285 pounds, he's undersized, but so were Aaron Donald and Geno Atkins. The former Cardinal will team with Haloti Ngata and Ziggy Ansah on a fearsome Detroit defensive line.
17. Atlanta Falcons – Chris Jones, DT, Mississippi State
Jones has some off-field issues, but they aren't anything that should force him too far down draft boards (driving on a suspended license paired with concerns about a few family members). The Mississippi State product is a high-upside, athletic freak who would fit in nicely as a three-technique in Dan Quinn's defense, and even if the club does have concerns about Jones' character, Falcons GM Thomas Dimitroff might need to hit a home run in this draft to keep his job.
18. Indianapolis Colts – Noah Spence, LB, Eastern Kentucky
The presence of a franchise quarterback in Andrew Luck has helped mask poor roster management by the Colts front office over the past several years, but a quick look at the Indianapolis depth chart shows that the club could use help at offensive and defensive line, the secondary, and perhaps even running back with Frank Gore entering his age-33 season. Still, the most immediate area of focus should be the edge rush, and Spence – whose draft stock appears to be rising – would aid in that regard.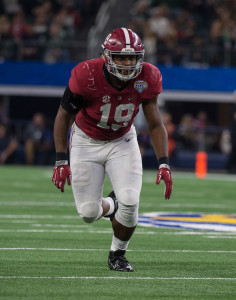 19. Buffalo Bills – Reggie Ragland, LB, Alabama
The Bills made one of my favorite under-the-radar signings of the offseason, bringing in former Titans linebacker Zach Brown on a cheap, one-year deal. But there's little doubt that Ragland, who met with Buffalo earlier this month, would represent an improvement over Zach and/or Preston Brown, acting as the de facto quarterback of Rex Ryan's defense. Teams drafting below the Bills, including Washington, New York, and Green Bay, have all been linked to Ragland, so Buffalo probably can't hope to trade down and still get him.
20. New York Jets – Taylor Decker, T, Ohio State
Even after acquiring Ryan Clady from the Broncos, offensive tackle is still a need for the Jets — Clady is essentially signed to a one-year deal with an option for 2017, while right tackle Breno Giacomini wasn't overly productive in 2015 and could be released with little financial distress. Even if Giacomini does stick around, New York should have an insurance policy in place for Clady, whose recent track record of health is lackluster. Decker is the last of the first-round tackles, and the only one, if this scenario plays out, that might not step into a starting job.
21. Washington – Jarran Reed, DT, Alabama
GM Scot McCloughan is clearly trying to build a bully on both offense and defense. Brandon Scherff and Preston Smith were among the large players brought in by Washington in last year's draft, and Reed, a 6'3″, 310-pound wall, is capable of lining up all along the defensive line. Washington's Chris Baker has indicated he's not interested in replacing Terrance Knighton at nose tackle, so Reed could begin his tenure in the nation's capital on the interior.
22. Houston Texans – Corey Coleman, WR, Baylor
There are receivers I like more than Coleman, but the buzz around him is undeniable, and I think he'll ultimately be drafted ahead of guys like Laquon Treadwell, Sterling Shepard, and Michael Thomas. Coleman is a good fit in a Texans offense that already has an amazing route-runner in DeAndre Hopkins and a veteran slot option in Cecil Shorts. As Matt Harmon has detailed in his Reception Perception series, Coleman essentially ran four routes — screens, slants, curls, and nines — during his time at Baylor. But that doesn't mean he's not capable of learning other routes, and besides, a playmaking deep threat could be just what Brock Osweiler and the rest of Houston's offense needs.
23. Oakland Raiders (projected trade with Minnesota) – Robert Nkemdiche, DT, Ole Miss
Unless Ezekiel Elliott remains on the board, the Raiders should only be targeting defensive players with their first-round pick, as they're pretty solid at every position on the offensive side of the ball. The off-field concerns with Nkemdiche are obvious, as he was charged with possession of marijuana after falling out of hotel window in December. But read through Seth Wickersham of ESPN.com's excellent profile of Nkemdiche earlier this month, and you'll get the impression that the Ole Miss defensive tackle is simply a unique personality, one that doesn't fit into the the usual NFL player mold. Some might view that in a negative light, as one club's scouting report notes: "He thinks he's a philosopher." No one is doubting Nkemdiche's talent, however, and Raiders GM Reggie McKenzie adds an elite prospect on the interior next to Dan Williams.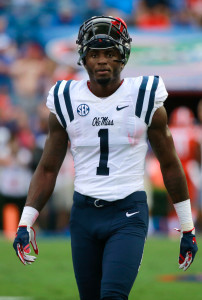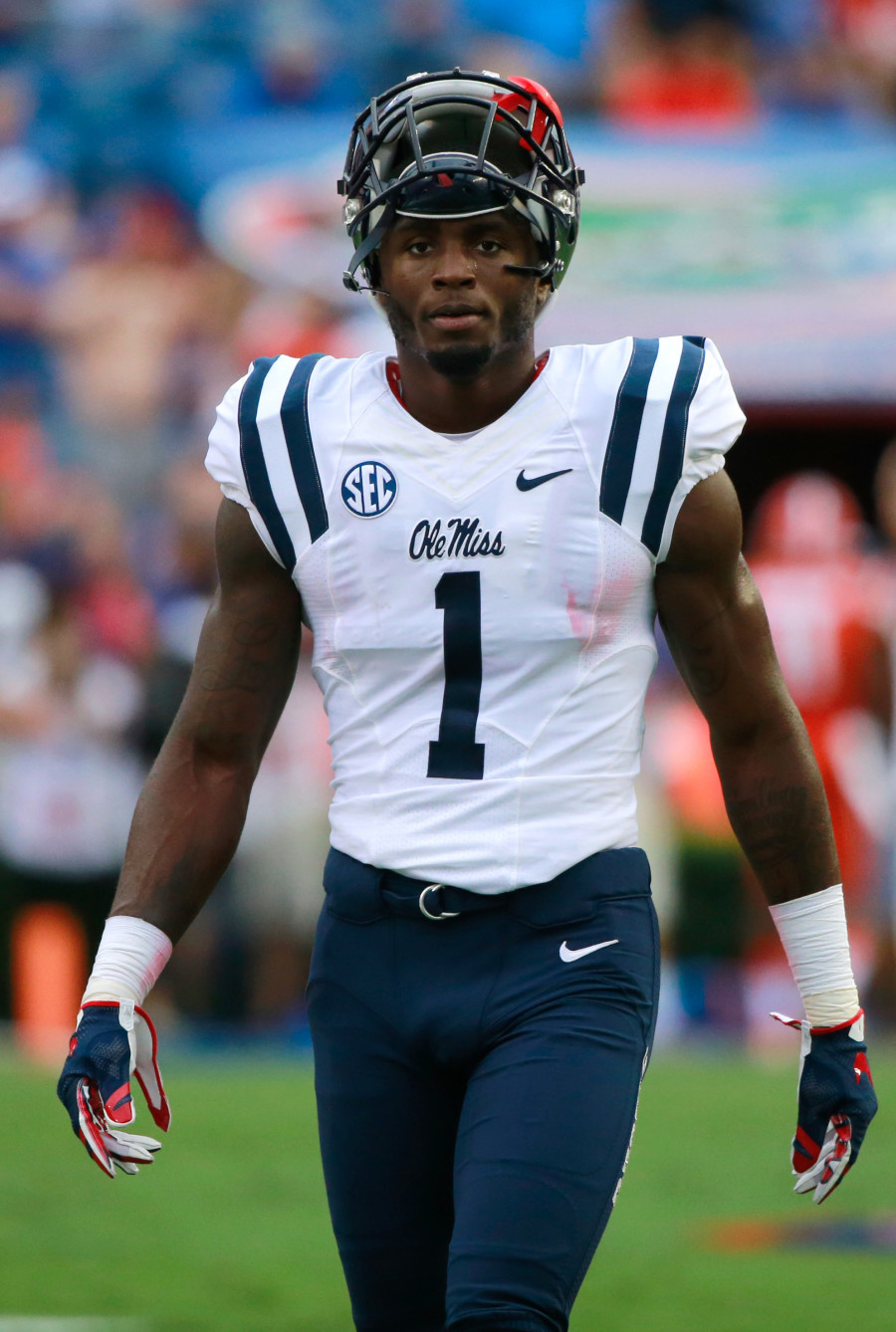 24. Cincinnati Bengals – Laquon Treadwell, WR, Ole Miss
Even after adding Brandon LaFell via free agency, the Bengals could still use another wideout opposite A.J. Green. In Treadwell, they find one who was widely projected as a top-15 pick before a slow 40-yard dash time, among other concerns about his game, lowered his draft stock. I think a lot of the critiques of Treadwell are rather nitpick-y — I'm still a big fan of his, and he's an excellent fit in Cincinnati given that he won't have to be the No. 1 receiver. Defensive tackle is another position the Bengals could address, or they could draft another first-round corner.
25. Pittsburgh Steelers – William Jackson III, CB, Houston
As Mark Kaboly of the Pittsburgh Tribune-Review wrote earlier this week, the Steelers shouldn't feel obligated to take a cornerback in the first round of this year's draft — but it just so happens that a pretty good prospect is available at pick No. 25. Matt Miller of Bleacher Report heard earlier this month that Jackson might end up being the second corner taken, even ahead of Vernon Hargreaves. Obviously, we don't see that happening, but it speaks to how highly regarded Jackson is as a prospect. The Steelers don't have the ammo to trade up, so they'll have to get lucky to land a solid defensive back at the tail end of the Round 1.
26. Seattle Seahawks – Darron Lee, LB, Ohio State
The Seahawks are thought to be proponents of the SPARQ metric, a measurement that that helps determine how explosive an athlete is — Christine Michael, Luke Willson, and more recently, Frank Clark are among the Seattle draft picks to rate well according to SPARQ. Lee ranks first among off-the-ball linebackers in terms of SPARQ score, and coincidentally, the Seahawks have a need at LB following the departure of Bruce Irvin. Offensive line is an obvious need area for Seattle, making Ryan Kelly and Jason Spriggs options here, but the club has shown no willingness to seriously invest in its front five.
27. Green Bay Packers – Andrew Billings, DT, Baylor
The Packers don't have a ton of obvious needs, so they can afford to truly go best player available here. Green Bay re-signed Letroy Guion this offseason, but at around 300 pounds, he might better suited to play end in the Packers' 3-4 scheme, if only the club could find a suitable nose guard. Enter Billings, a mammoth of a man who can clog up room in the middle of the line. As Josh Norris of Rotoworld (who ranks Billings as his ninth overall prospect) writes, Billings can do more than just eat space, since he has the skills to line up in a variety of gaps along the defensive front.
28. Kansas City Chiefs – Cody Whitehair, OL, Kansas State
Kansas City's problems at left tackle get the most press, given that former No. 1 overall pick Eric Fisher had struggled until the latter part of the 2015 season. But the Chiefs' issues on the interior are now becoming more a problem, with Jeff Allen having defected to the Texans and Ben Grubbs (formerly a solid starter) having been handed his release. Whitehair, a tackle in college, is projected to shift inside to guard in the NFL, and would be an immediate upgrade next to second-year center Mitch Morse.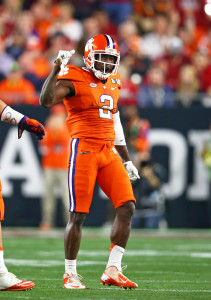 29. Arizona Cardinals – Mackensie Alexander, CB, Clemson
Alexander infamously didn't record a single interception during his collegiate career, but that factoid is being completely overblown. Not only did he allow a low completion percentage against when targeted, but Alexander played primarily man coverage, not zone, where it's easier to accrue INTs. The Cardinals have yet to re-sign (or find a replacement for) Jerraud Powers, and even if they do bring him back eventually, it would be wise for Arizona to find a younger option to play opposite Patrick Peterson.
30. Carolina Panthers – Emmanuel Ogbah, DE, Oklahoma State
Because they just rescinded the franchise tag on Josh Norman (and subsequently saw him sign with Washington), the Panthers might seem like an ideal landing spot for a cornerback like Ohio State's Eli Apple. But Carolina general manager Dave Gettleman has consistently eschewed spending money or draft capital on defensive backs, instead opting to invest in the front seven. Kony Ealy had the game of his life in the Super Bowl, but he's more of a role player, while veteran Charles Johnson probably doesn't have many productive years left. Ogbah can start his career as a rotational end while he learns to play the run with a bit more consistency.
31. Denver Broncos – Ryan Kelly, C, Alabama
The Broncos could add another piece to their vaunted defense (such as Alabama's A'Shawn Robinson), or take a chance on a quarterback who might need some developmental time. I'm guessing Denver will find a way to add another veteran signal-caller to its arsenal in the next few weeks, so I've given them Kelly, the best interior offensive lineman remaining on the board. Incumbent center Matt Paradis actually played pretty well in his first season as a starter, but the Broncos can draft Kelly and then use the summer to decide which young lineman will shift to guard.
Best available entering Round 2: Eli Apple, CB; Jonathan Bullard, DL; Vernon Butler, DT; Kevin Dodd, DE; Karl Joseph, S; A'Shawn Robinson, DT; Sterling Shepard, WR; Michael Thomas, WR.
The Patriots lost their first-round pick as a result of the Deflategate controversy, but we'll take a look at a few second-round options to ensure that New England isn't completely left out. In his mock draft, my colleague Rob DiRe listed two potential Pats targets — Ohio State safety Vonn Bell and Rutgers receiver Leonte Carroo — that I really like and think could be available when New England is on the clock. But I'll go with two different prospects for the sake of mixing things up:
61. New England Patriots – Jordan Howard, RB, Indiana
LeGarrette Blount and James White fill a very specific role in the Patriots' backfield, Dion Lewis is recovering from injury, and recent signee Donald Brown will likely see the majority of his snaps on special teams. As such, New England might want to invest in a "do-it-all" back, and Howard can be that guy. He'd land in a great situation with the Patriots, one where he could play 15 or so snaps per game as he gets acclimated to life in the NFL.
62. New England Patriots – Nick Martin, C, Notre Dame
Tackle might seem like a more dire need for the Pats, especially with Sebastian Vollmer and Marcus Cannon entering the final year of their respective contracts, but if Martin is available, New England can't pass up the chance to add an upgrade on the interior. Martin shouldn't be expected to produce immediately like his brother, Cowboys guard Zack Martin, but he's the kind of smart, tough football player the Patriots seem to covet.
Photos courtesy of USA Today Sports Images.
Follow @PFRumors