The NFL draft is less than three weeks away, and teams are in a fervor trying to adjust draft boards and uncover every little piece of information they can about each prospect. A lot can and will happen between now and April 28th, and there are still plenty of teams near the top that could go in a number of different directions on draft day.
As draft day nears, teams are forced to tip their hands at least a little — by bringing in specific players for private workouts and attending certain pro days with more enthusiasm than others, clubs' needs and targets are becoming more public. Of course, that's in direct conflict with the amount of bad information and smokescreens most teams are putting out to mask which prospects they truly value.
Pro Football Rumors' first mock draft of 2016, which can be found below, starts with a pair of picks that aren't outside the realm of possibility, but certainly aren't the consensus selections for the Titans and Browns. Unlike in some past seasons, those top two selections aren't set in stone yet, and the direction taken by Tennessee and Cleveland will have a significant impact on the rest of the board, as this mock shows.
For now, here is – to the best of my abilities – a breakdown of which players teams might be targeting in the first round at the end of April, even if these clubs ultimately take an approach much closer to chalk on draft day….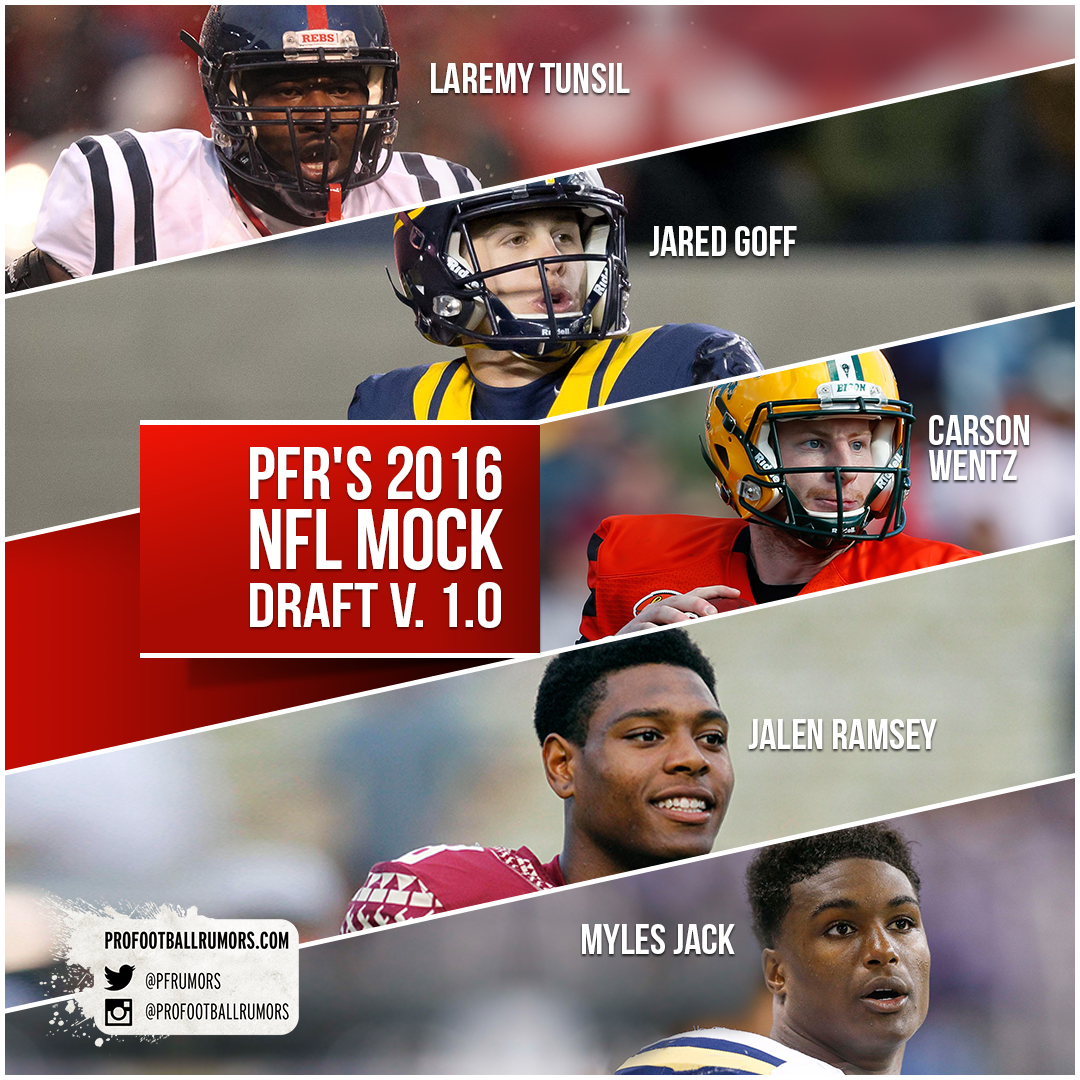 1. Tennessee Titans – Jalen Ramsey, CB, Florida State
Laremy Tunsil is still the leading candidate for this pick, based on the idea that left tackle Taylor Lewan could move to the right side, where he could produce more consistently and effectively. However, I see Lewan as an ascending player, one whom Pro Football Focus ranked as the 12th-best offensive tackle in the NFL in 2015. The Titans seem to be considering Ramsey, and it shouldn't be a surprise if they target him with the first pick.
2. Cleveland Browns – Myles Jack, LB, UCLA
If Ramsey is a slight curveball at the top of the draft, that probably makes Jack at No. 2 a gyroball. The signing of Robert Griffin III doesn't solve the Browns' problems at quarterback, but it would be difficult to justify having RGIII split reps with a high pick and failing to commit to developing either player. Joey Bosa isn't a perfect fit in a 3-4 and Tunsil doesn't fit a pressing need unless he will be destined to the right side for the rest of Joe Thomas' tenure in Cleveland. But Jack could be the outstanding athlete that the Browns look at as the cornerstone of a rebuilding defense. The team could still draft a quarterback in a later round.

3. San Diego Chargers – Laremy Tunsil, OT, Ole Miss
The craziness stops, as the Chargers take the best player available and fill a huge need on their crumbling offensive line. Tunsil has been compared to Tyron Smith, with his elite athleticism giving him the chance to anchor the line in San Diego. DeForest Buckner would be another great fit, who could step in and immediately become an impact player as a 3-4 defensive end. The Chargers could be a dark horse for a quarterback as well — every reason pundits believe the Cowboys need to draft a QB applies even more strongly to the Chargers, who should be in rebuilding mode with a possible move to Los Angeles looming.
4. Dallas Cowboys – Joey Bosa, DE, Ohio State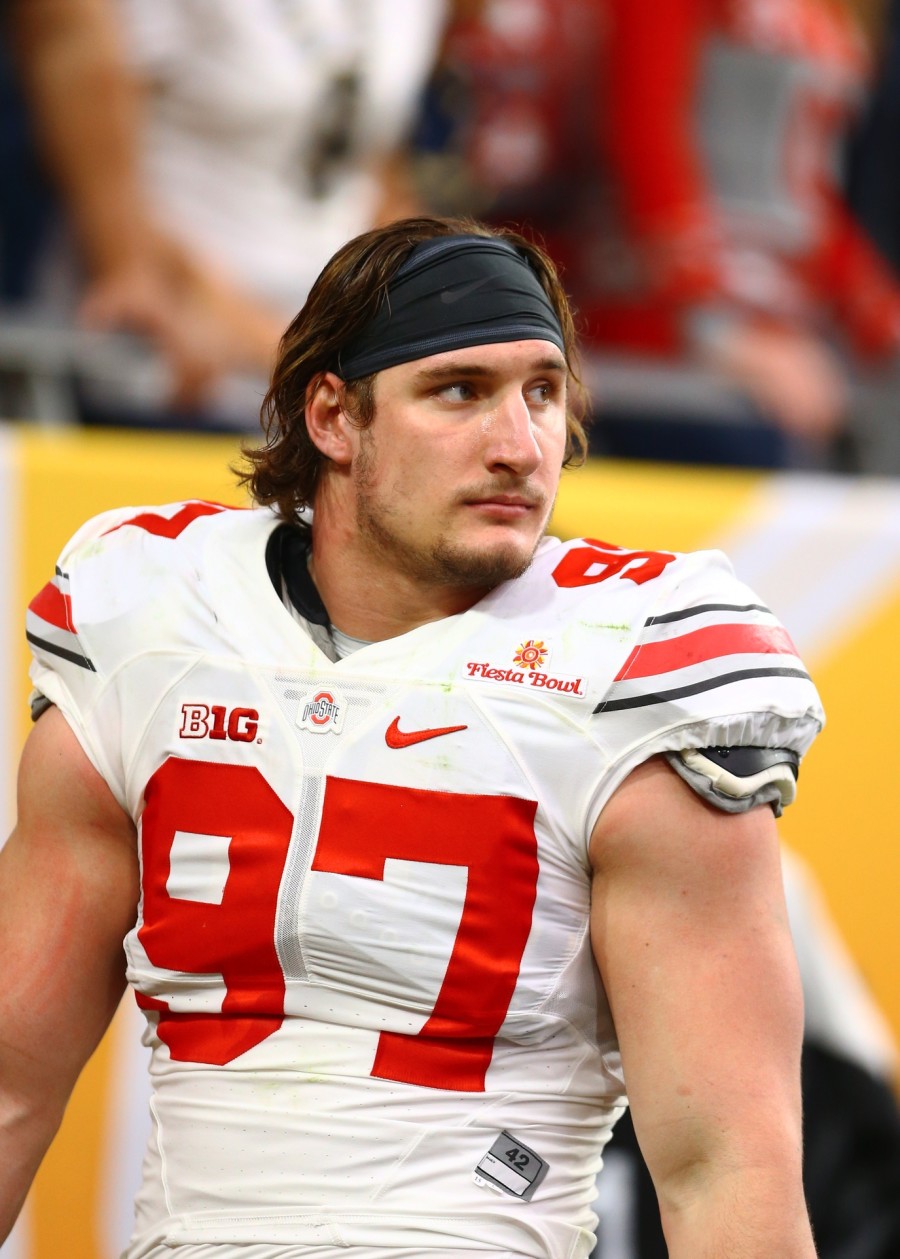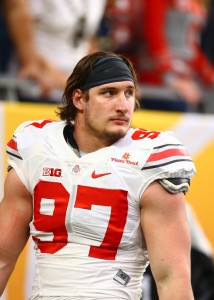 The Cowboys will have a tough time passing on the best player available, even with their choice of quarterbacks still on the board. While I would applaud the Chargers for thinking ahead, the Cowboys have a window open right now to win a Super Bowl and they'd better be in love with a passer in order to pass up an impact player on defense. Bosa could replace Greg Hardy and eventually form an unbelievable tandem with Randy Gregory, if last year's second-round pick can manage to work through his off-the-field issues. Ezekiel Elliott is also interesting here, but with Darren McFadden returning and Alfred Morris now in the mix behind a standout offensive line, running back isn't a huge issue that needs to be immediately resolved with a high pick.
5. Jacksonville Jaguars – Vernon Hargreaves III, CB, Florida
The board breaks badly for the Jaguars in this scenario. Jacksonville will hope at least one quarterback is selected in the top four, with an eye toward landing one of the four players drafted ahead of them. DeForest Buckner might be the best player available, but the Jags' tremendous need at corner could push them to consider Hargreaves if Ramsey and Jack are already off the board.
6. Baltimore Ravens – Ronnie Stanley, OT, Notre Dame
DeForest Buckner continues to be a great option, but Stanley could become the future at left tackle in Baltimore. He isn't the prospect that Jonathan Ogden was, but getting by with Bryant McKinnie, Eugene Monroe, and moving star guards over to left tackle can't be the long-term plan for success. Owner Steve Bisciotti wants to add corners and pass rushers to the struggling defense, but the board dictates those will have to wait for the later rounds.
7. San Francisco 49ers – Carson Wentz, QB, North Dakota State
Colin Kaepernick is still in the fold (for now) but the 49ers need to consider quarterback very strongly, and while local kid Jared Goff is a safer pick, Wentz may be the more likely selection, given the traits Chip Kelly values. The 49ers have considered trading up, which points to Wentz as the preference. By all accounts, he is a smart player who makes quick decisions and throws with great accuracy, while also providing some value as a runner with very good athleticism. It doesn't hurt that Kelly has a history of taking chances and outside-the-box thinking, so the fact that Wentz isn't a Division I-A athlete shouldn't be a major deterrent.
8. Philadelphia Eagles (from Miami) – Jared Goff, QB, California
The Eagles' apparent interest in quarterbacks might be a smokescreen, but sitting with the eighth pick and having Goff drop to them makes it hard to ignore. Sam Bradford's contract – while pricey in the short-term – is only guaranteed for $4MM in 2017, and though Chase Daniel is familiar with Doug Pederson's offense, he's far from a surefire starter. Goff would make it a crowded quarterback competition, but his talent is tantalizing enough to warrant this selection.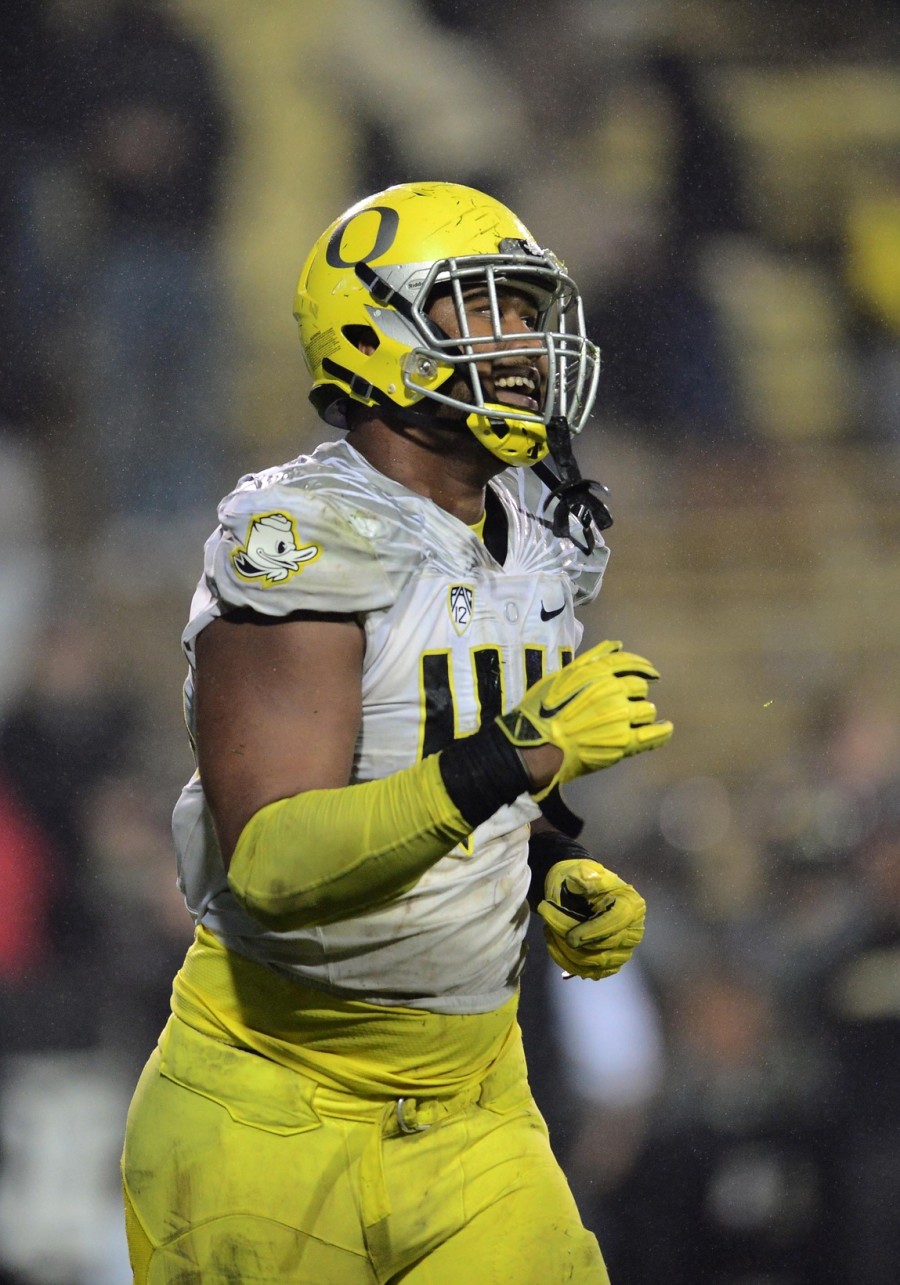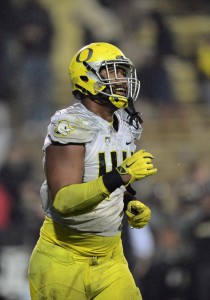 9. Tampa Bay Buccaneers – DeForest Buckner, DL, Oregon
The Buccaneers haven't been associated with a lot of the big names in the draft, but Buckner is too good to fall any farther than this. He isn't the pass rusher they need, but could help bolster the defensive line next to Gerald McCoy. If Buckner is off the board, Shaq Lawson would make sense for the Bucs, and if there was demand for Buckner at this spot, they could consider trading back a few spots in this scenario.
10. New York Giants – Ezekiel Elliott, RB, Ohio State
The offseason was about defense, as the Giants revamped their D-line and secondary. They were probably hoping Stanley would fall to them, with the thinking that they could move Ereck Flowers to the right side. However, a pair of skill position players could be at the top of their wishlist. Laquon Treadwell ran poorly at his pro day, but his size and strength might make him the perfect complement to Odell Beckham Jr.. Still, running back is the bigger need and Elliott is the better player, so he slots in here as Eli Manning's new buddy in the backfield.
11. Chicago Bears – Paxton Lynch, QB, Memphis
When general manager Ryan Pace says he likes the quarterback class, he probably means he sees value in the later rounds. However, the team seems to be moving away from Jay Cutler, or at least looking ahead to the future, and it may benefit Lynch to learn for a year as a developmental passer. The Bears have also been rumored to be interested in Muhammad Wilkerson, and this pick would certainly be enough to get the Jets to consider moving their franchised star.
12. New Orleans Saints – Darron Lee, LB, Ohio State
The Saints are another team that hasn't been associated with a lot of high-ranking prospects with any consistency, and they could go in a number of directions with this pick. Cornerback would be an option, but the front seven needs an upgrade and a number of players fit the bill. Shaq Lawson would give New Orleans the second pass rusher the team desperately needs, but Lee is an athletic marvel at linebacker. The former quarterback and safety from Ohio State can do it all from outside linebacker, and could cover up a lot of weaknesses as a three-down linebacker.
13. Miami Dolphins (from Philadelphia) – Mackensie Alexander, CB, Clemson
Cornerback and running back are the biggest needs in Miami, and the Dolphins' roster is in such bad shape that they are forced to draft for need more than they would like to admit. With the top running back off the board and no other runner carrying value at this slot, Alexander is generally considered to be in discussion as the third cornerback in this class. The Dolphins did host William Jackson III, and some draftniks consider him a rising prospect in this class as well, even if he is more likely to be selected in the back half of this round.
14. Oakland Raiders – Robert Nkemdiche, DT, Ole Miss
The Raiders have been doing their due diligence on defensive linemen in this draft, meeting with potential first-day selections such as Jonathan Bullard and Vernon Butler. However, after a great free agent period that left them in the position to take the best player available, the Raiders might have the right opportunity to take a chance on Nkemdiche despite the baggage he brings. These aren't the old Raiders who were a hotbed for troubled players under Al Davis, but the signing of Aldon Smith shows the club still isn't afraid of taking a chance on a risky player if the talent is there. Nkemdiche would have been in the discussion as high as No. 1 if not for character questions, but he could drop even more precipitously if he falls past Oakland.
15. Los Angeles Rams – Laquon Treadwell, WR, Ole Miss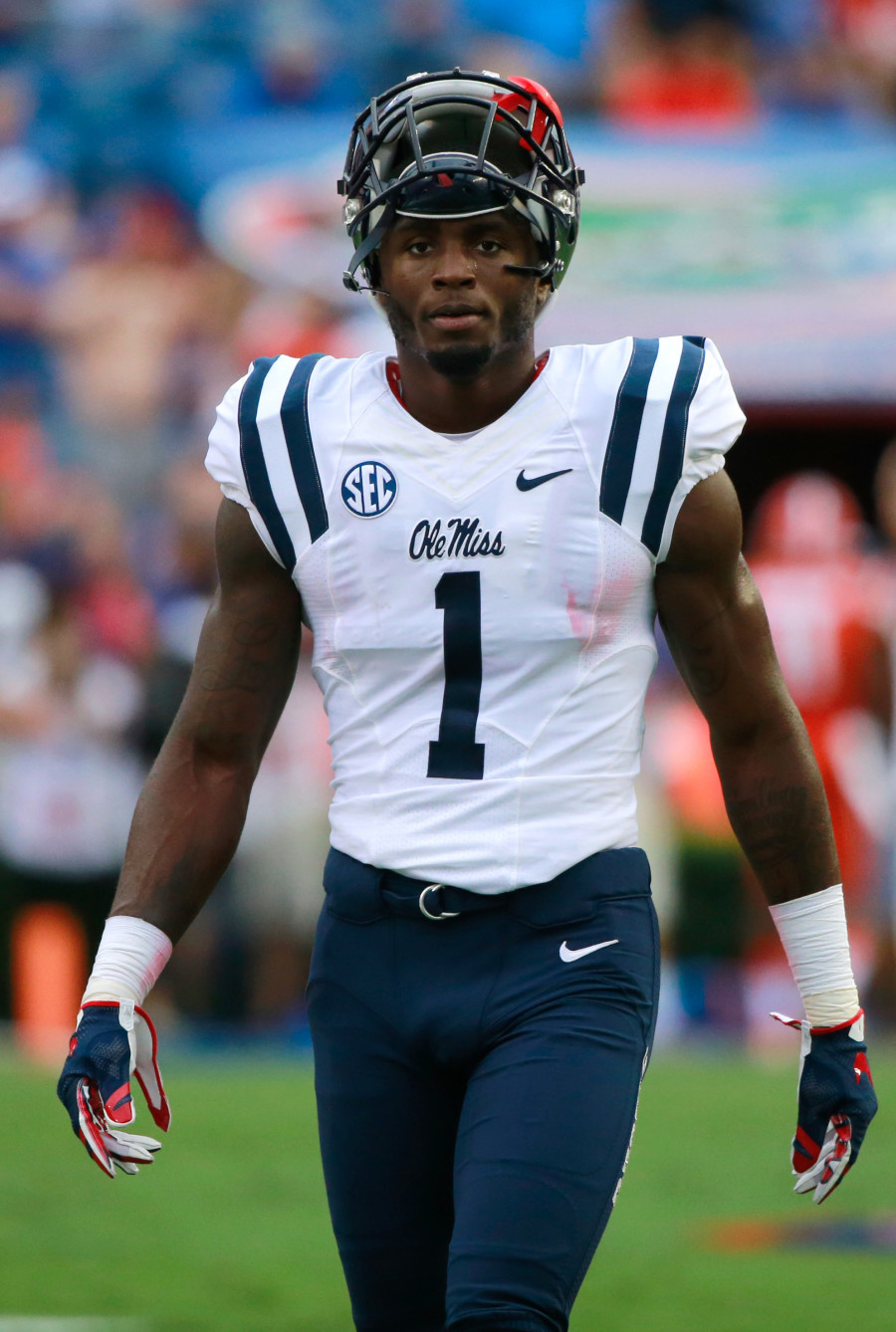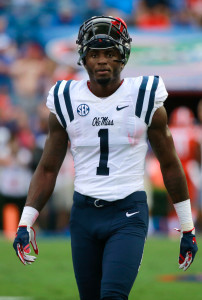 Treadwell has a chance to tumble down boards after a slow 40-yard dash, but with the top three cornerbacks already off the board, his size makes him valuable to a Rams offense with questions at quarterback. Some teams will have taken Treadwell off their boards, preferring other receivers, but the Rams have smaller contributors and the size and strength of the big Ole Miss wideout – along with his production – make him a strong candidate to be the first receiver taken.
16. Detroit Lions – Shaq Lawson, DE, Clemson
The Lions have been looking for defensive line help, but the surprising fall of Lawson should have them running to the podium. Detroit expressed interest in him, but having one of the best 4-3 defensive ends in this class fall to No. 16 certainly wasn't a sure thing. Lawson will provide pass rush and run support on the edge, and will be a great bookend along with budding star Ezekiel Ansah as the Lions rebuild on the line.
17. Atlanta Falcons – Reggie Ragland, LB, Alabama
Ragland isn't as flashy as Jack or Lee (or Jaylon Smith before the injury), but he is the prototypical linebacker on the inside. At Alabama he was the leader of the defense in the middle – a role the Falcons would likely allow him to take over – but he also provided value as a pass rusher both on blitzes and by putting his hand in the dirt on passing downs. Although some observers worry he's only a two-down player, Ragland actually has good instincts in coverage and probably will only have to be replaced by a defensive back in the most obvious four-wide sets on third and long.
18. Indianapolis Colts – Noah Spence, DE, Eastern Kentucky
The Colts need a lot more help than even they might realize, especially with a huge Andrew Luck extension looming, but pass rusher and pass protection are the two needs squarely at the top of their list. Spence has the most upside of any pure pass rusher in this draft, with the versatility to play 4-3 defensive end or 3-4 outside linebacker. The Colts have expressed interest in Spence, who was productive in the Big 10 for Ohio State before transferring to Eastern Kentucky, where he continued to produce.
19. Buffalo Bills – Taylor Decker, OT, Ohio State
Rex Ryan and his staff have taken an interest in the group of prospects from Ohio State, which isn't surprising considering the depth of talent among them, including a number of potential first-rounders. Eli Apple and Vonn Bell would be contributors in the secondary, and the Bills might be hoping either Lee or Elliot tumbles to them, but Decker makes a lot of sense for a team that needs to hit this pick after a quiet free agency. Cordy Glenn's future is uncertain even if he signed his franchise tag, but Decker would fit in at right tackle, with potential to play guard if he's needed there.
20. New York Jets – Hunter Henry, TE, Arkansas
The Jets could consider adding to the defensive line again with the Muhammad Wilkerson situation looking less likely to resolve itself, and a player like Jonathan Bullard would complement the aggressive nature of Sheldon Richardson and Leonard Williams. Grabbing Henry might be a reach, but tight end represents by far the most glaring hole on the team (other than quarterback), and unless Gang Green trusts Jace Amaro to rise to another level, the club needs to address the position. Before making this selection, the Jets would likely explore moving back a few picks.
21. Washington – Karl Joseph, S, West Virginia
Even head coach Jay Gruden knows Washington's depth chart at safety is pretty scary, but the team's unwillingness to bring in a player like Donte Whitner, as well as its resistance to re-signing Dashon Goldson, leaves Gruden's club with the ability to add to the position. Enter Karl Joseph, who might be the best safety in the draft. Keanu Neal, Vonn Bell, and Darian Thompson have their respective backers, but if Joseph had been healthy all season, his tape may have separated him from the pack. Washington is also likely to consider Michael Thomas of Ohio State, who is reportedly the top receiver on its board.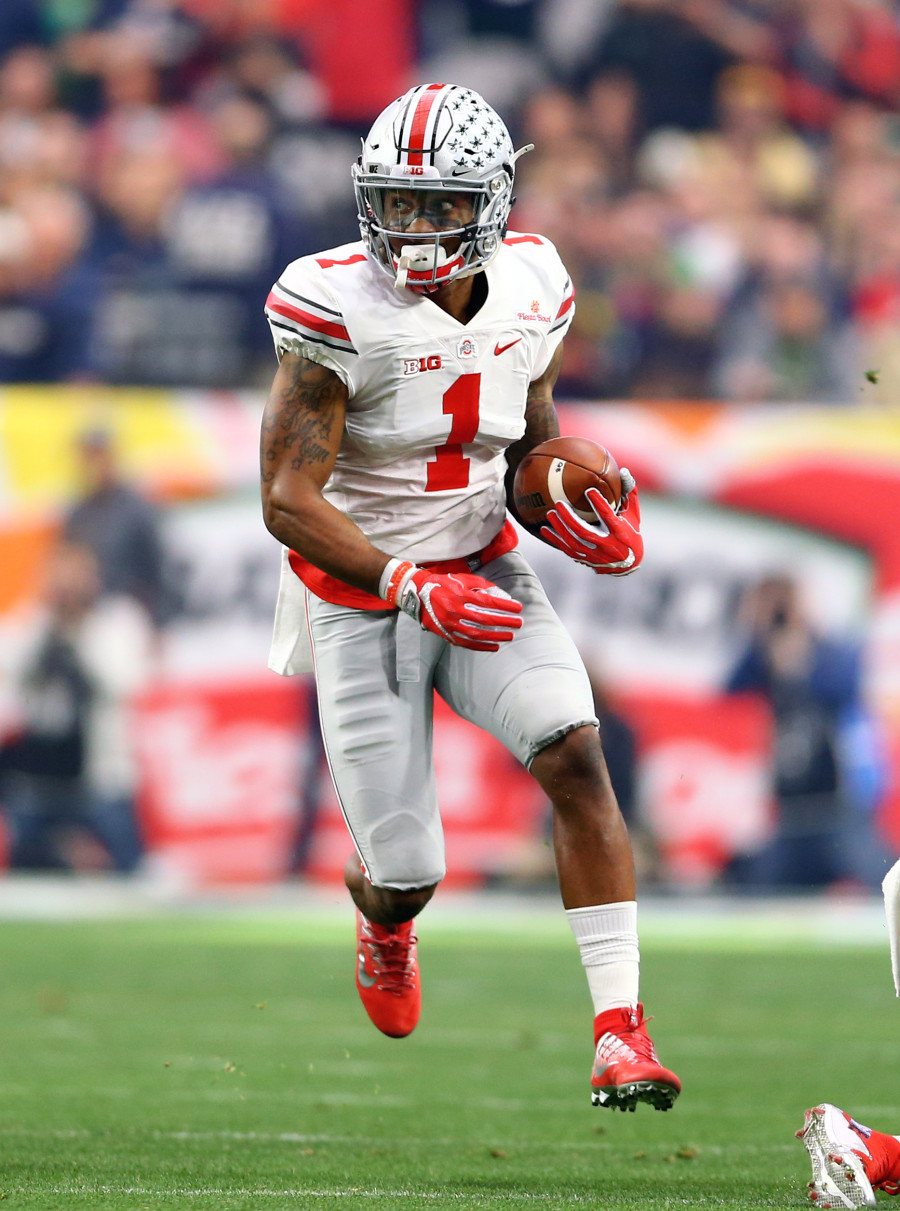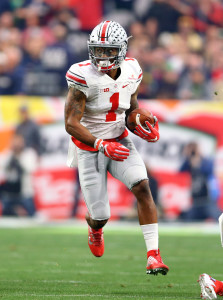 22. Houston Texans – Braxton Miller, WR, Ohio State
Unfortunately for Michael Thomas, the draft boards at receiver are all over the place this year, with six different players probably ranked as the No. 1 wideout in at least one team's draft room. The Texans are in need of a speed receiver, and have long been intrigued by Miller, who has only spent one year at the position but has a long history of success with the ball in his hands. Most teams would be happy to see Houston reach for Miller, and common sense says even if the Texans target him, they'll have the sense to move back or wait until round two. Still, there's at least a chance they take a shot at pairing Miller with DeAndre Hopkins in round one.
23. Minnesota Vikings – Josh Doctson, WR, TCU
There is a run on receivers here – one that could have started one spot earlier if Washington had nabbed Thomas – which is partly due to the needs of these teams, but also due to the value of receivers in this class. The Vikings have been particularly interested in Doctson and wideouts in general, and are specifically looking for a big receiver for Teddy Bridgewater. Mike Zimmer has said the team isn't looking to add a veteran, and that sentiment makes it even more likely the Vikes select one early in the draft.
24. Cincinnati Bengals – Corey Coleman, WR, Baylor
The Bengals are probably excited to see Coleman left standing at the end of this run. After losing Mohamed Sanu and Marvin Jones in free agency, they are in need of a complement to A.J. Green on the outside. They have also exhibited interest in Miller and Treadwell, among other receivers. The Bengals have signed Brandon LaFell and recently worked out Mike Williams and Hakeem Nicks, but that shouldn't take receiver off their radar if the guy they like is there.
25. Pittsburgh Steelers – William Jackson III, CB, Houston
The Steelers' defense is falling behind the offense, and the organization will certainly look to bolster that side of the ball in the draft. Pittsburgh could also target a receiver after the Martavis Bryant suspension, but the team is more likely to go after a pass rusher like Kamalei Correa or add to the secondary. Jackson is a player in whom the Steelers have shown a lot of interest, and many teams would consider either he or Eli Apple to be the top corner on the board at this point in the draft.
26. Seattle Seahawks – Jonathan Bullard, DL, Florida
Common sense would dictate the Seahawks target the offensive line, and with Jack Conklin still on the board it would make a lot of sense for Seattle to jump on him. However, the team hasn't valued those positions highly in recent years, and the Seahawks' defensive mentality could bring them to the D-line. Bullard seems to be working out for every team in the back half of the round, but his discipline, strength, and versatility make him an ideal candidate to serve as an impact player across the front four in Seattle.
27. Green Bay Packers – Jack Conklin, OT, Michigan State
No team has played this draft closer to the vest than the Packers. Perhaps to the chagrin of Mike McCarthy, general manager Ted Thompson will almost definitely stay true to his board and take the best player available. That player will likely be the top defensive tackle available – Andrew Billings, Jarran Reed, or A'Shawn Robinson, presumably – or Conklin. If there's a tie to be broken, it will go to helping out Aaron Rodgers, who is coming off a somewhat rough season by his standards. Conklin has the ability to play right tackle with left tackle potential, but also could be an impact player at guard.
28. Kansas City Chiefs – Kamalei Correa, EDGE, Boise State
The Chiefs aren't in huge trouble at pass rusher with Tamba Hali back in the fold and Dee Ford ready for increased role, but the depth behind them is bleak, given the uncertainty surrounding Justin Houston's injury. Adding Correa will give Kansas City a versatile player who can rush from multiple spots on the field. Correa is comfortable playing off the edge on the line or at linebacker, but also showed the ability to play inside linebacker at times in Boise State. That versatility means he'll have ample opportunities to get on the field, and can provide a backup plan at multiple positions.
29. Arizona Cardinals – Eli Apple, CB, Ohio State
The Cardinals will be in the market for a quarterback, and pass rusher is still a consideration even if trading for Chandler Jones mitigates that need, but they have a chance to go after the best player available. If Arizona doesn't want to pull the trigger on a defensive tackle, Apple sits there as an obvious fit across from Patrick Peterson. Apple is a very big and very athletic corner, and his presence would allow Tyrann Mathieu to return to his joker role in the defensive backfield when the Honey Badger comes back from injury.
30. Carolina Panthers – Vernon Butler, DT, Louisiana Tech
There are a ton of options available here for the Panthers, who could use upgrades at cornerback, offensive line, and receiver. However, best player available could bring the team to defensive tackle, even with Kawann Short and Star Lotulelei manning those positions. The Panthers would have a plethora of options, and have shown interest in the big man Butler, who could immediately command the middle and eventually replace one of those two veterans.
31. Denver Broncos – Ryan Kelly, C, Alabama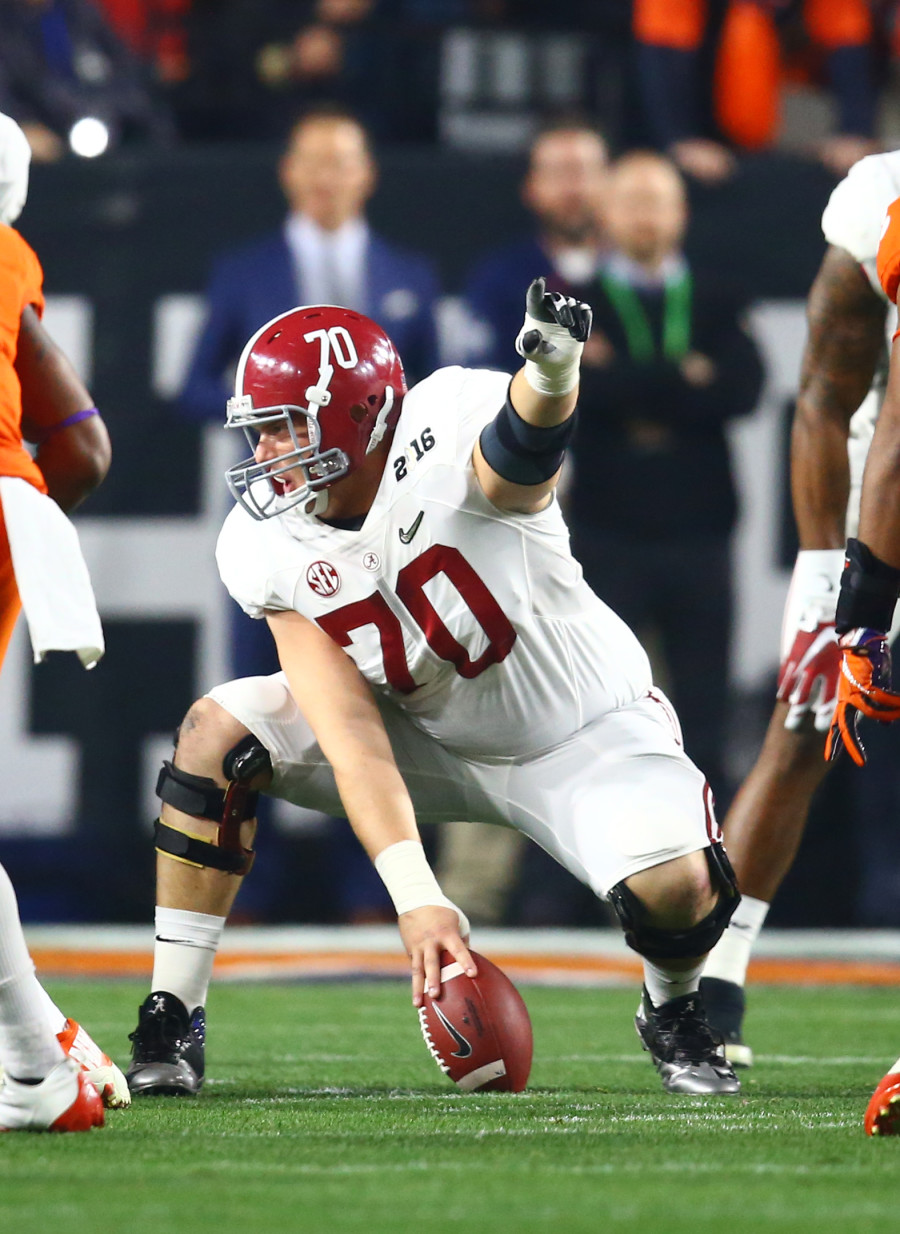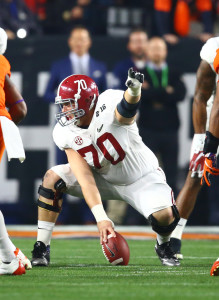 Quarterback is far and away the Broncos' biggest need, but they probably would have hoped Paxton Lynch fell to them at No. 31 here. Grabbing Connor Cook, Christian Hackenberg, or Cardale Jones would be a reach at this spot. Dak Prescott might have been a better fit, but his recent DUI will likely push him into the third or fourth round. At No. 31, bolstering the offensive line should be a priority for Denver, and Kelly is a great fit who can play at center and take control of the line.
Without a first-round pick due to Deflategate, the Patriots have to sit out of this mock draft. Still, by trading Chandler Jones and acquiring an extra second-round pick – giving them back-to-back picks at the end of round two – the Pats have the ability to make an impact through the draft. Offensive line and wide receiver are big areas of need, and so is pass rusher now that Jones is gone. To ensure they aren't left out completely, here are two possible options that could still be on the board when the Patriots come to the podium late in round two.
61. New England Patriots – Vonn Bell, S, Ohio State
Even after adding Jonathan Cooper, the Patriots still need to revamp an offensive line that crumbled as the season went on in 2015. However, Bill Belichick knows that reaching for an offensive lineman at the end of round two isn't going to solve any short-term problems, and sticking to their board is better for the long-term health of the team. The Patriots love defensive backs in the second round, despite struggling to hit on those picks — they'd be thrilled to get one of Urban Meyer's players here. Bell could fall as other safeties continue to rise up boards, and he would complement Devin McCourty very well.
62. New England Patriots – Leonte Carroo, WR, Rutgers
Belichick loved Meyer's players when he was at Florida, but also had a penchant for drafting prospects out of Rutgers. The connection isn't as strong now that Greg Schiano's players have come and gone, but Carroo just seems like a perfect Patriot. He excels with his polished route running and sure hands, and could find himself on the field as a rookie on the outside. Even if Carroo doesn't produce a big rookie season, New England often uses that position more to provide a threat and open up things underneath for their slot guys Still, Carroo is reliable enough to earn Tom Brady's trust quicker than most rookies.
Photos courtesy of USA Today Sports Images.
Follow @PFRumors