In January, Bills owner Terry Pegula announced that head coach Rex Ryan and general manager Doug Whaley would be returning to the team for the 2016 season. However, according to one report, Pegula also told the duo that they would be let go after the 2016 season if they were unable to guide Buffalo into the playoffs.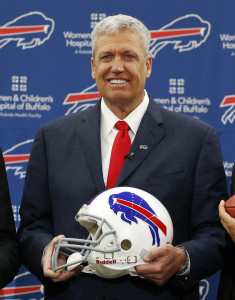 Soon after, the Bills locked up both Ryan and Whaley on multi-year extensions that could keep them in Buffalo through the 2019 season. While those deals would seem to be pretty solid endorsement of both men, it's far from a guarantee of their long-term job security. The Pegulas spent $1.4 billion to purchase the franchise in 2014, so they probably wouldn't worry about eating a few million dollars to replace a GM and/or head coach if they felt it was necessary.
Today, Jenny Vrentas of The MMQB released a bit of material that was left on the cutting room floor of her recent interview with Rex and Rob Ryan. During their lengthy chat, Rex dismissed the notion of their being a hard and fast postseason ultimatum for 2016.
"The media looks at it [like], Well, we have to win this year," the Bills head coach said. "Or what? Oh, I am going to be fired? I don't think so. I'm not going to worry about it, because we are going to win anyway. But it's like, that is an ultimatum. No."
On a related note, Rex also indicated during the interview that the business staff Buffalo might not be big fans of his. Some speculated that he was referring to team president Russ Brandon, but Vrentas notes that the two men have a solid relationship. Instead, she believes that Ryan was "simply picking a department in the building that he doesn't interact with on a daily basis, and making the point that they might not buy in because they don't know him well."
Photo courtesy of USA Today Sports Images.
Follow @PFRumors