Several days ago, Jason Reid of TheUndefeated.com shed some light on the beginning of the end of Mike Shanahan's tenure as head coach of the Redskins. In 2012, Robert Griffin III's rookie campaign, Washington grabbed the NFC East title behind it's dynamic young quarterback before succumbing to the Seahawks on Wild Card Weekend.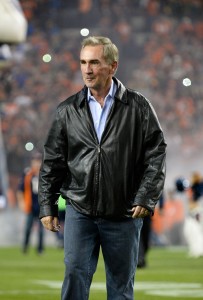 Despite the loss, and despite the fact that RGIII would need surgery to repair the damage to his knee that he sustained during that matchup with Seattle, the 2012 campaign was widely regarded as a harbinger of good things to come for the Redskins. But about a month after Washington was bounced from the playoffs, Griffin held a summit with Shanahan, then-OC Kyle Shanahan (Mike's son), and then-QBs coach Matt LaFleur to discuss changes he wanted to make to the offense. Mike Shanahan, who was very candid and expansive in his interview with Reid, knew from the language that Griffin used during his audience with the coaching staff and the substance of the concerns that Griffin voiced that the young signal-caller was either acting on the orders of team owner Dan Snyder, or at least had ownership's blessing to call the meeting. All that did was further strain the relationship between head coach and owner, and both Shanahans were fired after the 2013 season, which saw the Redskins stumble to a 3-13 record.
As Mike Florio of Pro Football Talk writes, Shanahan's openness with Reid suggests that his career as an NFL head coach is officially over. Per Florio:
"Shanahan's decision to speak so openly and candidly—and critically—regarding one of his former NFL bosses reflects an acknowledgment that the two-time Super Bowl winner[']s chances of getting another NFL head-coaching job are slim and none. Whatever they were before his comments were published, his prospects are dimmer now, because owners don't want to have to worry about a former coach putting the organization on blast after walking out the door, voluntarily or otherwise."
Florio's conclusion is a logical one, but it is noteworthy because Shanahan was recently a finalist for the 49ers' head coaching job before San Francisco hired Chip Kelly to fill the vacancy. Shanahan did say at the beginning of April that, if he were to return to the NFL as a head coach, it would have to be a perfect situation, and he conceded that he may be better suited to a consultant position at this stage of his life. Nonetheless, the fact that he was apparently a viable head coaching candidate just a couple of months ago do render his remarks to Reid somewhat surprising, but if Shanahan simply does not want to coach anymore, he really does not have anything to lose. And, as Florio observes, he may have something to gain, because his comments help to absolve Kyle Shanahan of responsibility for much of went wrong in Washington during the early RGIII era. As such, Mike Shanahan may be attempting to help get his son, once predicted to be a head coach himself sooner rather than later, reestablish his head coaching candidacy.
Photo courtesy of USA Today Sports Images
Follow @PFRumors