Free agent linebacker/defensive end Dwight Freeney is still available, and he still wants to play. Now 36, Freeney has continued to be effective at getting to the quarterback in the twilight years of his career, and he proved in 2015 that he still has enough gas left in the tank to be a viable situational pass rusher. In just 11 games for the Cardinals last season–Freeney did not sign with Arizona until the second week of October–the surefire Hall-of-Famer picked up eight sacks and three forced fumbles, grading out as the 51st-best edge rusher in the NFL out of 110 qualified players per Pro Football Focus' advanced metrics (subscription required) despite being on the field for just 317 regular season snaps.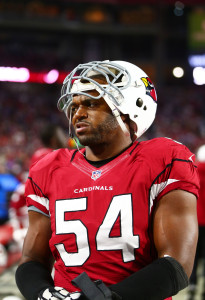 His 2015 performance was consistent with what he displayed in his 2014 campaign, his only full season with the Chargers. In 2014, Freeney amassed just 3.5 sacks, but he placed third among qualifying 3-4 OLBs with 40 quarterback hurries, and 14th with nine QB hits. In today's NFL, one would think that there is plenty of demand for that type of production.
But Freeney, our fourth-best defensive free agent still on the board, is yet to find a new home. He visited and took a physical with the Bengals a few days ago but left Cincinnati without a contract, and he is set to visit the Falcons this week. Ravens head coach John Harbaugh brought up Freeney's name unprompted when speaking with reporters during March's owners meetings, but Baltimore ultimately selected three young pass rushers in the draft and already have aging veterans Terrell Suggs and Elvis Dumervil at outside linebacker.
On the surface, the Cowboys appear to be a perfect fit for Freeney–they are a contender with an obvious need for an experienced pass rusher–but Dallas has professed to have no interest in the Syracuse alumnus. It could be that Freeney's contract demands are too rich at the moment, though there have been no real reports as to his asking price, and he did ink a veteran's minimum deal with Arizona last season, so the fact that Freeney remains unsigned probably has nothing to do with financial considerations.
Freeney's preference is to return to the Cardinals, though he has described a possible stint with the Patriots as a "win-win" for both sides, and he appears to be open to playing for any contending club. But there has been no movement on the Arizona front, and New England is fairly well-stocked with edge rushers, so he may need to look elsewhere.
With all of that said, where do you think Freeney will land? Will it be one of the teams mentioned above, or someone else entirely? Indeed, our own Dallas Robinson, in compiling the above-referenced list of top defensive free agents still available, also listed the Panthers, Jets, Lions, Chiefs, and Bills as possible destinations. Or, maybe you think Freeney will have a change of heart and hang up the cleats, thereby setting his Hall of Fame countdown in motion.
Cast your vote below, and feel free to discuss in the comment section.
Photo courtesy of USA Today Sports Images
Follow @PFRumors