Former Giants coach Tom Coughlin is out of football for the 2016 season, but he's eager to get back into the NFL in 2017, as Peter King of The MMQB writes. While Coughlin's experience and resume are a positive, he also understands that his age could be a barrier to finding another head coaching opportunity.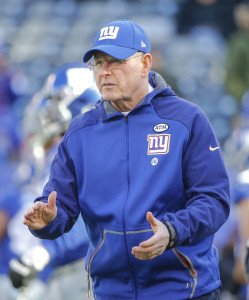 "I've coached 47 years of my life," the 70-year-old said. "You take it away, and that's not an easy thing to duplicate."
Coughlin, a two-time Super Bowl champ in New York, has been criticized by some players for being too much of a disciplinarian. His temperament could be a turnoff to some clubs, but his age is probably a bigger concern. At his age, Coughlin openly acknowledges that another head coaching stint would probably be a "three- or four-year thing."
The Giants left the door open for Coughlin to assume a role within the organization after he stepped down as the team's head coach, but indicated earlier this offseason that he is not interested. Coughlin interviewed for the 49ers' vacancy this offseason as well as the Eagles' head coaching job. Late in Philly's search, however, Coughlin withdrew his name from consideration. Reportedly, Coughlin could have landed the job had he not had a change of heart.
Coughlin has coached in the NFL for 20 of the past 21 seasons, a streak broken only by his 2003 hiatus from the league.
Photo courtesy of USA Today Sports Images.
Follow @PFRumors