The Eagles announced that they have extended defensive tackle Fletcher Cox through the 2022 season. The six-year, $103MM deal includes $63MM guaranteed, which is the largest guarantee for a non-quarterback in league history, as Adam Schefter of ESPN.com tweets. The contract contains $36.299MM fully guaranteed, including a signing bonus of $26MM.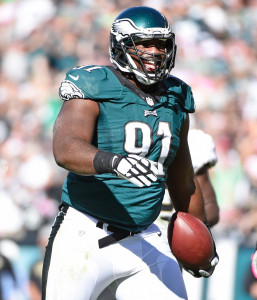 Reports in mid-April indicated that Philadelphia was close to working out a long-term contract with Cox, but with no agreement hammered out, Cox skipped voluntary Eagles workouts in May before reporting to minicamp last week. A deal always seemed likely, as club management has been adamant about Cox's value to the team — de facto general manager Howie Roseman called Cox a "huge part" of the Eagles' future, and was certain that Philadelphia would find a way to keep him around for the long haul.
Cox, 25, will average just under $17.2MM per season on his new deal, a number that makes him the second-highest paid defender in the NFL, behind Ndamukong Suh and just ahead of Olivier Vernon. The $63MM in guarantees is a massive figure and although that doesn't account for the full guarantees, Cox still came away with a ton of fiscal security thanks to the deal's details:
$1.299MM guaranteed 2016 base salary, 2017 $6MM guaranteed option bonus, $3MM guaranteed 2017 base salary.
$11.5MM 2018 base salary, which fully guarantees in March 2017
$15.6MM 2019 base salary; $7.75MM fully guarantees in March 2017, $7.75MM fully guarantees in March 2018
$12.9MM 2020 base salary (plus $1MM roster bonus); $15MM 2021 base salary (plus $1MM roster bonus); $16.1MM 2022 base salary (plus $1MM roster bonus)
The deal is structured in a way that would harshly penalize the Eagles if they were to part ways with Cox before many of those vesting guarantees trigger next March. As a result, Cox is effectively guaranteed an eye-popping $55.549MM at the time of signing. That's about $1.5MM more than Aaron Rodgers, but still roughly $5MM less than Ndamukong Suh.
Cox had arguably the best season of his four-year career in 2015, setting a new career high with 9.5 sacks. He also racked up 71 tackles, three forced fumbles, and a pair of fumble recoveries. The performance earned the Mississippi State alum his first Pro Bowl nod, along with a top-10 spot on Pro Football Focus' rankings of interior defenders — he placed ninth out of 123 qualified players.
As a first-round pick in 2012, Cox was under contract for one more season, scheduled to play out the 2016 season under a fifth-year option worth $7.799MM. He'll now make much more than that in 2016, and he'll also be asked to play a different role as the Eagles shift to a 4-3 defense under new coordinator Jim Schwartz. While Cox played end in Philadelphia's old 3-4 look, he'll shift to tackle this season, aligning at the three-technique where he'll the opportunity to rack up more sacks and create more disruption.
The Eagles have made a habit of extending players this offseason, reaching long-term deals with tight ends Zach Ertz and Brent Celek, safety Malcolm Jenkins, offensive tackle Lane Johnson, and defensive end Vinny Curry. That entire core is now under contract through at least the 2020 season.
Photo courtesy of USA Today Sports Images. Details provided by Ian Rapoport of NFL.com (Twitter link) and Mike Florio of Pro Football Talk. Zach Links contributed to this post.
Follow @PFRumors