Late last year, the NFL was rocked by an Al Jazeera documentary in which several superstars were ID'd as potential performance enhancing drug users. Months later, we have little in the way of any additional word on the allegations. In a column today for The MMQB, Emily Kaplan writes that bureaucratic tension between the NFL and the NFLPA could be holding things up.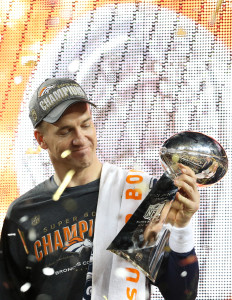 In the documentary, Indiana-based Charles Sly was secretly recorded as he blabbed about supplying Peyton Manning, James Harrison, Clay Matthews, Mike Neal, Julius Peppers, and others with PEDs. On the cusp of the six month anniversary of the bombshell, however, the league has yet to interview one current player who was named in the report, Kaplan hears. The league has conducted interviews "in relation" to the documentary, but the NFL is champing at the bit to talk directly with the players named.
"We have pushed to do them sooner," NFL spokesman Joe Lockhart said of player interviews. "[The union has] articulated some reasons why they can't be done right away."
Lockhart went on to say that the league office is aiming to complete the interviews before training camp begins, but he said that the interviews will be conducted during camp, if necessary.
Since Manning is no longer an active player, he cannot be forced to speak to the league about the accusations though, by the same token, he is free to discuss anything he wants with the league without being hindered by the union. However, Manning is reportedly hoping to hold a front office position at some point, and that could motivate him to discuss things with the NFL.
Neal, meanwhile, still wants to play football and he believes that the documentary has "heavily, heavily, heavily, heavily, heavily" influenced his extended free agency.
Photo courtesy of USA Today Sports Images.
Follow @PFRumors