8:11am: Monroe has formally announced his retirement via The Players' Tribune.
"Today, I am making my exit from the game of football. I'm leaving the sport I love — the sport that has consumed my existence for the last 18 years — to start a new life. I'm nervous, but I feel like I'm ready for whatever comes next. I have three beautiful children and an amazing wife, and they will be with me as I take these next steps," Monroe writes.
Monroe goes on to explain that he is fearful of CTE and the long-term ramifications of playing professional football:
"I'm only 29 and I still have the physical ability to play at a very high level, so I know that my decision to retire may be puzzling to some. But I am thinking of my family first right now — and my health and my future. The last 18 years have been full of traumatic injuries to both my head and my body. I'm not complaining, just stating a fact. Has the damage to my brain already been done? Do I have CTE? I hope I don't, but over 90% of the brains of former NFL players that have been examined showed signs of the disease. I am terrified."
7:42am: Last month, Eugene Monroe became an intriguing late addition to the crop of offensive linemen on the free agent market when he was cut loose by the Ravens. Now, he's planning to retire, according to Josina Anderson of ESPN.com (on Twitter).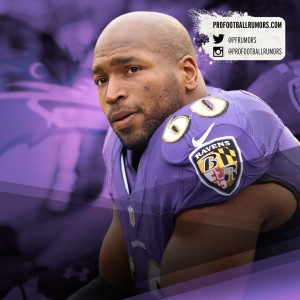 [RELATED: Follow Pro Football Rumors On Instagram]
Monroe, who has 90 starts and 93 appearances under his belt during his seven-year career, recently said that he was taking his time in free agency in order to find the best fit for him and his family.
"I don't feel like I have to jump on one of the first opportunities that come up. I'm just trying to be patient, wait on the right opportunity, and also just decide what's going to be the best move for my family," he said. "I have a wife and three children. There's a lot more at stake than simply just jumping on a deal."
Soon after the Ravens cut Monroe loose, PFR's Dallas Robinson ran down a handful of other clubs that could have potentially had interest. Some of those teams – like the Giants, 49ers, and Seahawks – reached out to Monroe's camp to express interest. In the case of the Giants, Monroe probably would have been asked to switch from left tackle to right tackle. It's not clear if the 6-foot-5, 310-pounder would have been willing to make that change.
The Jaguars selected Monroe with the No. 8 overall pick in the 2009 draft. Midway through the 2013 season, he was traded to the Ravens in exchange for Baltimore's fourth- and fifth-round selections. After a solid season, Monroe inked a five-year, $37.5MM with the Ravens that could have taken him through the 2018 season. However, the Ravens cut Monroe loose last month, leaving them with $2.2MM in dead money but also with $6.5MM in cap savings. Some speculated that Monroe's advocacy for medical marijuana led to his release, but the Ravens have said that the move was strictly a football decision.
Photo courtesy of PFR on Instagram.
Follow @PFRumors