The old adage that defense wins championships may or may not be true, but you'll be hard-pressed to find a title-winning team that didn't build heavily through the draft. Rookie classes, naturally, are evaluated on the perceived upside of the NFL newcomers, but which rookies are ready to contribute right out of the gate? And, how do they fit in with their new team schematically?
To help us forecast the immediate future of these NFL neophytes, we enlisted the help of draft guru Dave-Te Thomas who has served as a scouting personnel consultant to NFL teams for multiple decades.
Today, we continue PFR's Impact Rookie series with his insight on the Cleveland Browns' draft class:
Whether the formula works, or not, Cleveland came out of the draft after making a flurry of trades with fourteen youngsters to vie for roster spots. By trading down from the second overall spot, the Browns definitely added quantity, but you can see that they still have a primary need – quarterback. The Eagles packaged a deal with the Browns and went home happy with their quarterback catch in North Dakota's Carson Wentz. Meanwhile, Cleveland invested $15MM in a quarterback who could go down as one of the biggest draft day mistakes ever, Washington castoff Robert Griffin III.
For a sum of $15,072,000 in 2016, Cleveland enters training camp with a quarterback stable that includes Griffin (7.5 mil), Josh McCown (4.7 mil), Austin Davis ($2.025 mil) and Cody Kessler (847K). While the coaches are saying all nice things about Griffin coming out of mini camp, one has to wonder if they're not sold on him since they also kept McCown.
By the time the team was able to pick in the first round, they were not in love with the quarterback left behind (Paxton Lynch) and went after filling their second-biggest need at wide receiver, bringing in the electrifying Corey Coleman. The Browns stepped away from the usual "best available athlete" draft mode used by most teams, as they went for needs with their first four selections. Checking off the big need at receiver with Coleman, UCLA's Jordan Payton and Colorado State's Rashard Higgins, the team turned their attention to the defensive line that featured one of the worst sack units in the league.
In fact, they doubled down at the defensive end position, first, taking Oklahoma State's Emmanuel Ogbah in the second round, followed by Penn State sack artist Carl Nassib in the next phase. There is talk of turning Ogbah into an outside linebacker, rather than playing him on the front wall, but the team should look back at their recent draft history to see how they utterly failed in their attempts to convert Barkevious Mingo, the team's first pick in the 2013 draft, into a stand-up second level performer.
That plan could change by training camp, as recent pectoral muscle surgery by Desmond Bryant will sideline the starting left end for four-to-six months. That could give both their second and third round selections great opportunities to join the first unit. Early money says it will be Nassib, who rocked the backfield to the tune of 15.5 sacks during his breakout 2015 season. Ogbah chipped in with thirteen sacks and nineteen quarterback pressures. Last year, Cleveland finished with 29 sacks, which ranked 28th in the NFL.
When you look at the Browns' entire draft picture, unless the first four players contribute immediately, if could be a head scratcher by the end of the season and yet another front office blow up. They invested a fourth round pick in Princeton tight end Seth DeValve, who was rated no better than the 47th-best tight end in the draft on most war room boards. He enters camp listed fourth on the depth chart and will battle five other tight ends for what will likely be three spots on the roster. The rest of their draft picks might be the perfect formula to put an insomniac to sleep.
There are plenty of question marks in this group, but these players could put exclamation points on their frosh seasons in the NFL:
First Round – Corey Coleman, WR (Baylor University, No. 15 overall)
Whether it is a fellow former Baylor Bear at quarterback or the aging veteran (perhaps the rookie from USC can make some noise later in the year, if all else fails), the Browns knew they could not go into the season with their obvious lack of depth at the wide receiver position. Knowing they needed a playmaker who could replace the 68 receptions recorded by Travis Benjamin, who left via free agency, their logical choice was Coleman, preferring the little speedster over other blue chip first round talent like Will Fuller, Josh Doctson, and Laquon Treadwell.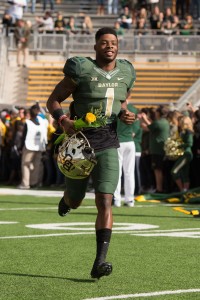 Sports hernia surgery prevented the Bears prospect from playing past the 2015 regular season schedule, but despite missing bowl action, he pulled in 74-of-127 targeted passes (58.27%), as he had twelve passes batted away from him and dropped four others. Even though Baylor quarterbacks often misfired (37 targeted passes to Coleman failed to reach him), his 74 grabs rank fifth on the school season-record list. He finished ninth in the NCAA Football Bowl Subdivision ranks with 1,363 receiving yards and he led the nation with a school-record 20 touchdown catches, shattering the previous mark of fourteen by Kendall Wright in 2011.
Among Coleman's 74 receptions, he recorded 47 first downs (63.51%), converting 9-of-17 third-down opportunities. He gained at least ten yards on 38 grabs, including going distances of 20 yards or longer on 20 of those receptions. In addition to his 20 touchdowns, he had key catches to set up five other touchdown drives.
[RELATED: Browns Have No Plans To Cut Isaiah Crowell]
After he generated 216 yards behind eleven receptions in the Kansas State contest, Coleman started to feel the effects from a nagging groin injury. During the course of his next four appearances, he failed to reach the end zone and averaged 46.25 yards per game on a total of sixteen catches. The sports hernia discovery would keep him out of action vs. North Carolina in the Russell Athletic Bowl. Soon after, Coleman announced that he would not be returning to school in 2016 and had entered the draft.
Coleman's best asset is his timed speed, as he has more than enough quickness to elude in the open field, with adequate strength to fight for the ball in a crowd. He is the type of player that teams covet – one with the rare playing speed to stretch the defense, showing the burst needed to beat angles. He demonstrates excellent athleticism for his position, as few opposing defenders can mirror him on deep routes due to his speed. He not only has the speed to threaten the deep secondary – he also has the body control, lateral quickness, and change of direction agility to make the underneath catches.
The former Baylor star he has good eyes for locating the soft areas to settle in and shows good awareness for the comebacks. He is quick to recognize coverage and adjust to what the secondary gives him. He also is alert enough to know when he has to work back to the ball, especially when dealing with an erratic quarterback. Coleman is a classic deep threat, used mostly to stretch the field. He gives good effort working underneath, but there are still times when he will short arm when going for the ball over the middle or when facing the quarterback.
He can make some noise in 2016, particularly if Gordon is not reinstated.
Continue reading about the Browns' rookie class..
Third Round – Carl Nassib, WR (Penn State, No. 65 overall)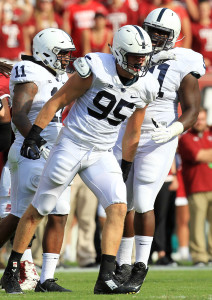 Ogbah, the Ted Hendricks Award finalist, was the nation's leading active player with 28.0 career sacks, posting thirteen QB drops, nineteen pressures and 17.5 stops-for-loss last season, along with 65 tackles, three forced fumbles and two fumble recoveries. Nassib was also a dominating force as a pass rusher, recording 15.5 sacks, 19.5 stops behind the line of scrimmage and 467 tackles. A much harder hitter than Ogbah, he caused six fumbles hitting the opposing passers. His six fumbles were the most by a Nittany Lion in a season since Michael Haynes forced seven in 2002. Nassib also posted five multiple sack performances last season.
With Desmond Bryant possibly on the sidelines for the 2016's first half of the schedule, the former Nittany Lion only has to shine better than his practice squad-type competition – Dylan Wynn and 2013 seventh rounder, Armonty Bryant. If Nassib fails to impress, either Ogbah could take over or the two could split playing time. 2012 third rounder, John Hughes is backing up 2015 third round pick, Xavier Cooper, at right end.
Nassib is a "newcomer" to the defensive end early round draft discussions, as barely any scout covering his area recognized him as a valid prospect – that is, not until this year. Prior to 2015, Nassib's "claim to fame" was being the little brother of Giants backup quarterback Ryan Nassib. The Penn State defender had managed just fifteen tackles, two sacks and five stops-for-loss during his first two seasons at the school. With Anthony Zettel suddenly forgetting how to get into the backfield, Nassib more than filled that gap in 2015.
Nassib has shown marked improvement utilizing pass rush moves (better rip, swim and club moves). He lacks the lower body thickness to split double teams, but possesses the change of direction flexibility to drop his weight and redirect when the gaps are plugged. When he keeps his hands active, his long arm reach allows him to defeat the combo block and reroute in back side pursuit, but he needs to use those hands with more consistency. When he keeps his pads down, he gets good leverage and that allows him to get penetration. If he can improve his upper body power and shoot his hands more, he would be more effective at beating double teams. Still, he excels at timing his jumps and anticipating the flow of the ball.
Third Round – Shon Coleman, OT (Auburn University, No. 76 overall)
With Mitchell Schwartz and Alex Mack signing elsewhere, the Browns' offensive line will undergo yet another overhaul in 2016. The left side of the line, featuring perennial All-Pro tackle Joe Thomas and rising star, guard Joel Bitonio, will remain intact, unless those whispers of Cleveland trying to check out the market for Thomas again begin. 2015 first round disappointment, Cameron Erving, showed that he is better off playing an interior position, rather than struggle with the pass rush as a tackle. He gets the first call to replace Mack as Cleveland's center.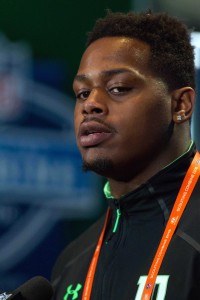 John Greco is listed as the first unit's starting right guard, with Jacksonville waiver wire pick-up, Austin Pasztor at right tackle. It is doubtful that Pasztor will survive training camp with the first unit, especially if Coleman adjusts to pro life quickly. Greco will also hear a rookie behind him, as Spencer Drango showed at the Senior Bowl he is a physical trap blocker, but bends too much at the waist to handle edge rushers at the tackle slot.
As for Coleman, it has been a whirlwind collegiate career for the Memphis native. Prior to enrolling at Auburn, the five-star recruit was diagnosed with acute lymphoblastic leukemia. He received treatment for the disease and after he recovered, he enrolled at the university. He earned his first playing time in 2013 as the backup left tackle to Greg Robinson. In 2014, Coleman became a starter for the first time, taking over left tackle duties. In 2015, the All-Southeastern Conference second-team pick posted an 84.7% grade for blocking consistency, delivering twelve touchdown-resulting blocks and 78 total knockdowns. Despite two years of eligibility remaining, he declared for the 2016 draft.
Coleman has a linear frame with good upper body length in his arms and good width in his chest, but needs to add at least another fifteen pounds of bulk. He also needs to improve his upper body power, as he does not strike with a forceful punch. That leads to times when he tries to compensate with explosion off the snap, but he can get too reckless and when he over-extends, his adequate change of direction agility makes him look sluggish trying to recover. He has the functional hip snap and enough flexibility to sink his pads and run fluidly off the line of scrimmage, along with the "heavy feet" to anchor vs. the bull rush though.
Coleman has quick, nimble feet with good balance and body control playing in the trenches (struggles playing in space). He moves well going forward off the snap and does a nice job of using his frame to pinch the defenders back inside. When he stays low in his pads, he can fire low off the snap with good explosion to gain instant advantage. While not explosive, he is rarely late off the line and is quick to make contact and impact the defender. With those long arms and big hands, he is very good at gaining advantage on a defender when he flashes suddenness coming off the ball. With a good get-off and proper hand technique, it should put him in the right place to make the block most of the time.
The Auburn tackle is better served blocking along the line, as he does not have the burst or the balance to get out and make plays in space (gets narrow and crosses his feet). However, he is a good position blocker with nimble feet (needs to improve his retreat shuffle though) moving along the line. He demonstrates the functional hip snap needed to generate movement, but he needs to do a better job of keeping his feet and staying on the defender when working in the second level. Even though he looks fluid enough working down the line, he will get sluggish running long distances and lose balance when he gets his base too narrow (inconsistent working in space).
With more bulk added for his anchor, along with more explosive quickness when he sets his base, Coleman won't get into the problems he has when trying to separate, but additional weight could result in a loss of quickness. He has the reach ability to keep defenders at bay and while not explosive rolling his hips, at least he is not a waist bender. He sustains best at the line of scrimmage, where he does a good job of running his feet, locking on and finishing (not as good playing in space). He might be a better fit at right offensive tackle earlier in his career, as he works well in combination with other lineman, but despite his quick feet and athleticism, he tends to wait for edge rushers to come to him rather than step forward and attack his man.
Dave-Te Thomas owns and operates The NFL Draft Report, a service providing insight to league scouting departments for over 40 years. All year round, you can read Thomas' in-depth reviews of both blue chip prospects and diamonds in the rough by visiting the NFL Draft Report blog.
Photos courtesy of USA Today Sports Images.
Follow @PFRumors