SATURDAY, 12:10pm: The Broncos and Miller are expected to talk more today, tweets Cole. However, the reporter notes that it's still "iffy" as to whether Miller will accept the team's offer.
FRIDAY, 4:39pm: Elway and Branion still haven't engaged in their scheduled discussion for today, though they are expected to, writes Mike Florio of Pro Football Talk. Florio also throws cold water on the notion of the Broncos' willingness to fully guarantee a non-injury third year earlier (mentioned in the 11:27 a.m. update) being real progress.

2:12pm: The Broncos are currently offering $61MM in guaranteed money as part of a six-year, $114MM contract, according to Cole, though he notes it's shy of Cox's $63MM in guarantees and well short of Andrew Luck's $87MM (Twitter link).
1:19pm: There remains a wide chasm between the sides, per Rand Getlin of NFL Network (Twitter link), with both guaranteed money and the structure of the contract serving as roadblocks.

12:10pm: Denver still isn't guaranteeing enough money for Miller's liking, says Jason Cole of Bleacher Report (video link). Further, Miller's "extremely upset" with Elway and the Broncos over the public nature of the negotiations, per Cole.
11:27am: The Broncos' improved offer to Miller comes with a willingness to trigger the non-injury guarantee for the third year earlier than before, tweets Werder.
11:10am: The Broncos submitted an offer with more guaranteed money to Miller on Thursday, according to Mike Klis of 9News.
10:58am: With the clock continuing to tick toward the July 15 deadline for teams to sign franchise-tagged players to new contracts, the Broncos and linebacker Von Miller's agent, Joby Branion, will talk over the phone Friday, reports Ed Werder of ESPN. This comes less than a week after general manager John Elway did his best to ease the tensions via phone with Miller, the reigning Super Bowl MVP. Elway also had a conversation last weekend with Branion.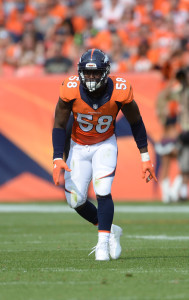 The Elway-led Broncos and Miller previously ceased communication after the sides could not agree on total guaranteed money in a long-term deal last month. Denver presented Miller a six-year, $114.5MM offer that satisfied the pass-rushing force in both contract length and total value, but it fell way short of his asking price in guaranteed cash. The previous proposal contained $39.8MM in full guarantees, a sum worth less than defensive tackle's Marcell Dareus' 2015 extension with the Bills. The offer, one the Broncos technically rescinded after Miller declined it, also did not provide the four-time Pro Bowler as much guaranteed money within the first nine months as the Eagles included in the extension they recently gave defensive lineman Fletcher Cox.
In the event the Broncos and Miller do agree on a contract, he stands a strong chance to become the highest-paid defender in NFL history, slightly surpassing tackle Ndamukong Suh's 2015 Dolphins accord. Suh received $59.5MM fully guaranteed at signing. While the Broncos haven't shown a willingness to approach that figure yet, it stands to reason they'll have to in order to lock up Miller, whom they took second overall in the 2010 draft.
Miller has not been amenable to signing the Broncos' $14.26MM exclusive franchise tender to this point and could sit out the season in lieu of accepting it. First, though, next Friday's deadline will have to pass without an agreement between him and the team. Elway, however, has signed each of the three Broncos previously tagged under his watch — Matt Prater (2012), Ryan Clady (2013) and Demaryius Thomas (2015) — and is now aiming to do the same with Miller.
Sam Robinson contributed to this report. Photo courtesy of USA Today Sports Images.
Follow @PFRumors